Bao Bao, a 16-month-old panda cub at the Smithsonian National Zoo in Washington D.C., learned a painful lesson about life in captivity this week after receiving a powerful jolt from an electrified wire designed to keep her from straying outside her enclosure.
Zoo officials took to Facebook to say that Bao Bao was "fine" following the shock on Tuesday, but the young panda seemed profoundly affected by the incident nevertheless. As the Washington Post reports, after touching the "hot wire," Bao Bao scrambled high up into a tree where she remained in hiding for more than 24 hours, holding fast to the branches before finally descending on Wednesday evening.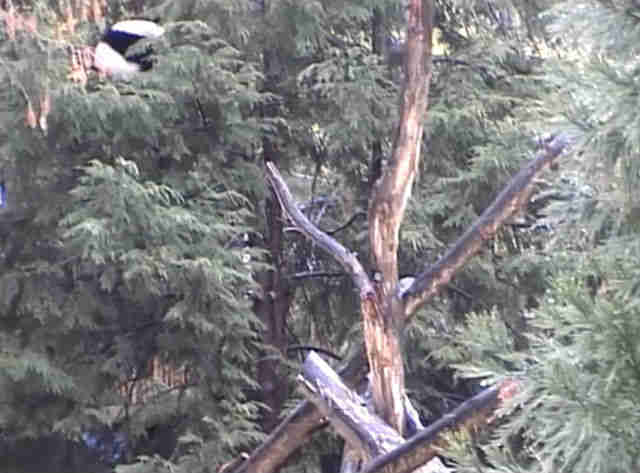 Although she was born in captivity, Bao Bao retains the curious nature of her counterparts in the wild, who at around 18 months of age typically begin branching out on their own. As a result, zoos must discourage this behavior through conditioning - a process that Born Free USA CEO Adam M. Roberts tells The Dodo is inherently incongruous with animal welfare concerns.
"Humans make a significant - and deliberate - mistake when they place wild animals in captivity for the visitors' amusement," says Roberts. "And no matter how much money is spent on these artificial exhibits, they are never foolproof and accidents will happen - with painful, if not deadly, consequences."
The zoo suggests that such little traumas are par for the course when it comes to animals learning to suppress their instincts to wander and explore. In fact, keepers described Bao Bao's reaction to the electrified fence as "predictable," explaining that she's "still learning the boundaries of her habitat."
In the wild, as few as 1,600 pandas remain in the bamboo forests of China, with more than 300 more held in in zoos and breeding centers throughout the world. Critics argue that money spent keeping them in captivity would be put to better use protecting their dwindling habitat where their natural behavior would be allowed to flourish and would not be restrained.