Painted Horses: A Novel of the West
Malcolm Brooks' debut novel carries us through the rock-strewn canyons of Montana on a search for artifacts and Mustangs.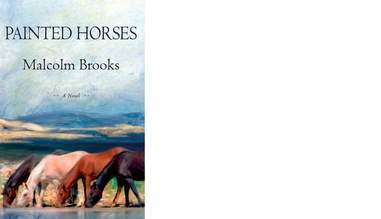 In the mid-1950s, America was flush with prosperity and saw an unbroken line of progress clear to the horizon, while the West was still very much wild. In this ambitious, incandescent debut, Malcolm Brooks animates that time and rugged landscape in a richly textured, sweeping tale of the modern and the ancient, of love and fate, and of heritage threatened by progress.
Catherine Lemay is a young archaeologist, Cambridge-educated, fighting against the social and professional limitations of 1950s, when she accepts a job in the West. Her employer hopes to prove the canyon empty of any historic value so that it can be flooded in an ambitious dam project. As her fiancé bluntly implies, Catherine has perhaps been chosen for this job because of her sex and youth, betting that a girl wouldn't be up to the task and the dam would proceed.
John H is a horseman and former mustang wrangler with his own private purpose in the canyon, and his own secrets. When these two characters meet, amidst the wildness and mystery, the past seems to climb up through the rocks and encompass them. It culminates in a heart-stopping gallop against time.
There is so much to love in this novel. The writing is reminiscent to me of McMurtry, although the author is also compared to Cormac McCarthy. He is not nearly as dark and violent as McCarthy, however. But the knowledge of horses is real, as is his understanding of archaeology and Native American history. I look forward to many more books by Mr. Brooks.