This Zoo Just Killed A Beloved Elephant For No Good Reason
"This is not by any means euthanasia — this is murder."
On Thursday, the Oregon Zoo killed Packy, a 54-year-old Asian elephant - and people aren't buying the reason why.
The senior elephant had tuberculosis (TB), a very common illness among captive elephants. But according to Toni Frohoff, an elephant biologist with In Defense of Animals (IDA), Packy didn't show any signs of the disease, and was actually a very healthy and happy animal.
"It's devastating because the information that we have access to indicated that Packy was playful and interactive and asymptomatic of TB," Frohoff told The Dodo. "This is not by any means euthanasia - this is murder."
The plan to kill Packy first became public when an elephant keeper and another employee at the Oregon Zoo (who both remain anonymous) posted it on a Facebook page called Team Packy. They'd been trying to garner public support to keep the killing from happening.
"It appears zoo management and Metro [local government] are about to make the decision to put Packy down and this decision is not based on science, safety or Packy's best interest," Team Packy wrote in a Facebook post on December 30, 2016. "It is a risk-based decision made by politicians, attorneys and other officials who fear the future repercussions of keeping him alive."
Prior to his death, Packy was reportedly the oldest Asian elephant living in North America. He'd also been living with TB since 2013. Yet the people behind Team Packy seem to believe that neither Packy's age, nor his TB status, were any reason to kill him.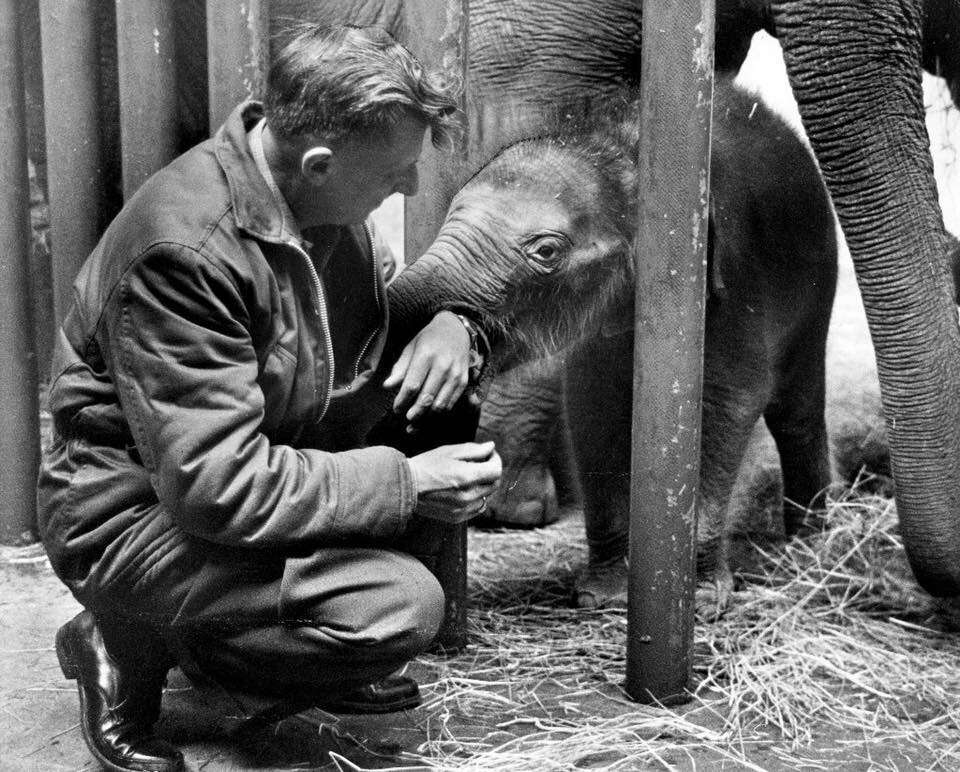 "Packy has never shown any signs or symptoms of the TB infection," Team Packy wrote in a Facebook post in December. "He is showing no signs of pain or discomfort. He is active, playful and engaged with keeper staff every day."
While TB is an infectious disease that can be transmitted to both humans and elephants, the zoo had strict quarantine measures in place, according to Team Packy. Packy was kept in an isolated enclosure, and the staff who worked with him wore protective masks.
"Packy is not a risk to staff [as] our safety protocols are more than sufficient," Team Packy wrote. "Packy is not a risk to the herd if he is not coming in contact with them and we are following our disinfection protocols."
So why did the zoo kill Packy? In a press release, Oregon Zoo claims it euthanized Packy because he was suffering from a drug resistant strain of TB.
"We'd run out of options for treating him," Dr. Tim Storms, Oregon Zoo's lead veterinarian, said in the statement. "The remaining treatments involved side effects that would have been very hard on Packy with no guarantee of success, plus a risk of creating further resistance. None of us felt it would be right to do that. But without treatment, his TB would have continued to get worse."
Yet Frohoff doesn't buy this explanation. "If the zoo is going to use the term euthanasia, then I call on them to immediately make public the clinical veterinary documents that support that this was truly to alleviate suffering as the only possibility," she said. "I am challenging them."
If anything, Frohoff believes the zoo killed Packy because he was no longer financially valuable.
"He was not a cash cow anymore, he was not a reproductive utilization, so they'll often do this at zoos to make room for fertile, more charismatic animals," Frohoff said.
Whatever the reasons for killing Packy, Frohoff believes that there's a bigger issue at stake of zoos killing animals for convenience. For instance, in 2014, Copenhagen Zoo killed a healthy, young male giraffe simply because he didn't fit the needs of their breeding program - the facility has also killed numerous lions, including an entire family of young cubs who had been bred by the zoo just a few months earlier.
"This happens all the time," Frohoff said. "It just usually happens behind the scenes. This is another example of why we're against zoos."
Oregon Zoo was also listed as one of the 10 worst zoos in the United States in 2016 by IDA, mainly for removing an 8-year-old Asian bull named Samundra from his mother, Rose-Tu, when he should have still been living with her, and also for beating Rose-Tu.
Team Packy could not be reached for comment, but they wrote of their sadness in a recent Facebook post: "As I am sure most of you have heard, the worst has happened. Packy was put down this morning. We want to thank you all for your help and support in trying to stop this from happening, we can at least live with ourselves knowing that we did everything we could to try to change the minds of the director and assistant director in this matter. Please understand that we will be offline for the most part as we take time to mourn the loss of our beloved family member."
Team Packy may not have been able to save Packy's life, but Frohoff applauds their efforts to try.
"As much as we don't like zoos, we greatly respect the commitment and courage that these handlers have shown," Frohoff said. "We're very moved that these keepers were literally putting their necks out to support this elephant. These individuals were Packy's herd in many ways. They were probably all he had."
The Oregon Zoo could not be reached for comment.
To help In Defence of Animals campaign for the health, safety and well-being of zoo animals, you can make a donation here.