In the 1980's, Colombian drug lord Pablo Escobar decided to bring four hippos (one male, three female) to Colombia to become part of his private zoo. Because, you know, as a drug lord, it's pretty imperative to your status to have your own zoo.
However, after Escobar's death twenty years ago, the majority of the zoo animals were dispersed to various other zoos and sanctuaries. The hippos, however, remained in their lake at the zoo, and the property eventually became overgrown. The hippos more or less adopted the surrounding environment as their own.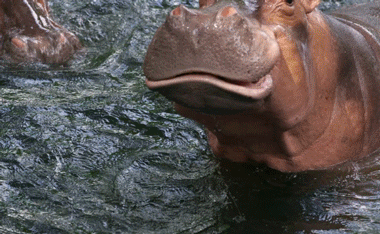 Surprisingly enough, Escobar's hippos have thrived in their Colombian home. Though hippos are native to Africa, the seasonal droughts serve as population control. The wetlands of South America, however, seem to be allowing for year-round mating at an earlier age, with the fertile female hippos giving birth to one calf every year.
Although, a large population of non-native hippos is a bit of a problem for the surrounding area. Some hippos have broken out of their man-made lakes, causing trouble for farmers and local fishermen. There is an upside, as the situation offers an unusual opportunity for researchers. A San Diego University ecologist told BBC, "It's just like this crazy wildlife experiment that we're left with. Gosh! I hope this goes well."