Family Finally Convinces Owl That He's Not A Person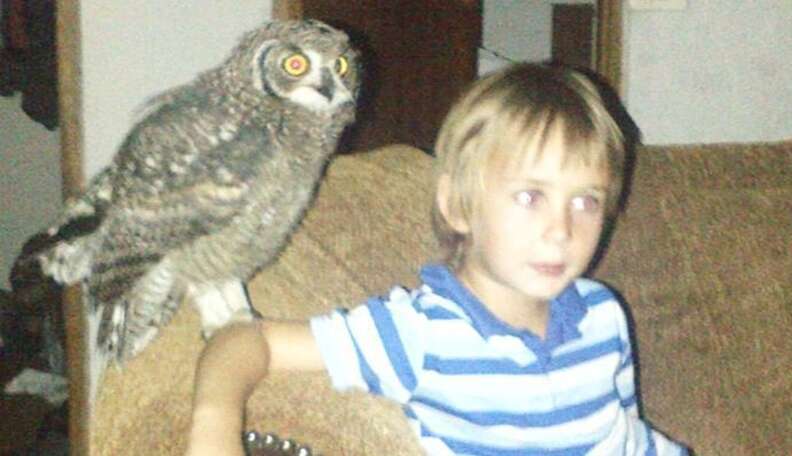 <p>Owl Rescue Centre</p>
<p>Owl Rescue Centre</p>
The woman who found an orphaned baby owl thought he would make an ideal pet.
Until she realized that an owl's belly is lined with more than love.
The spotted eagle owl, named Fluffy, had a seemingly insatiable appetite for rats. And, at 10 rand (about 70 cents) per rat at the pet store in Johannesburg, South Africa, it quickly added up.
So Fluffy ended up like a lot of wayward wildlife, surrendered to the care of professionals.
The first thing Brendan Murray, founder of the Owl Rescue Centre, noticed about Fluffy was his overwhelming tameness.
"We get hundreds in every year," Murray tells The Dodo. "But that specific one had a completely different character. Every single owl has his own unique personality, but this one, when he came in, he was not scared of humans at all. He wanted to be with you."
Murray was worried that Fluffy had imprinted, meaning he thought he was a human - a known problem with owls that can make it difficult for them to transition back to the wild.
"They won't breed with owls," Murray explains. "They won't recognize other owls."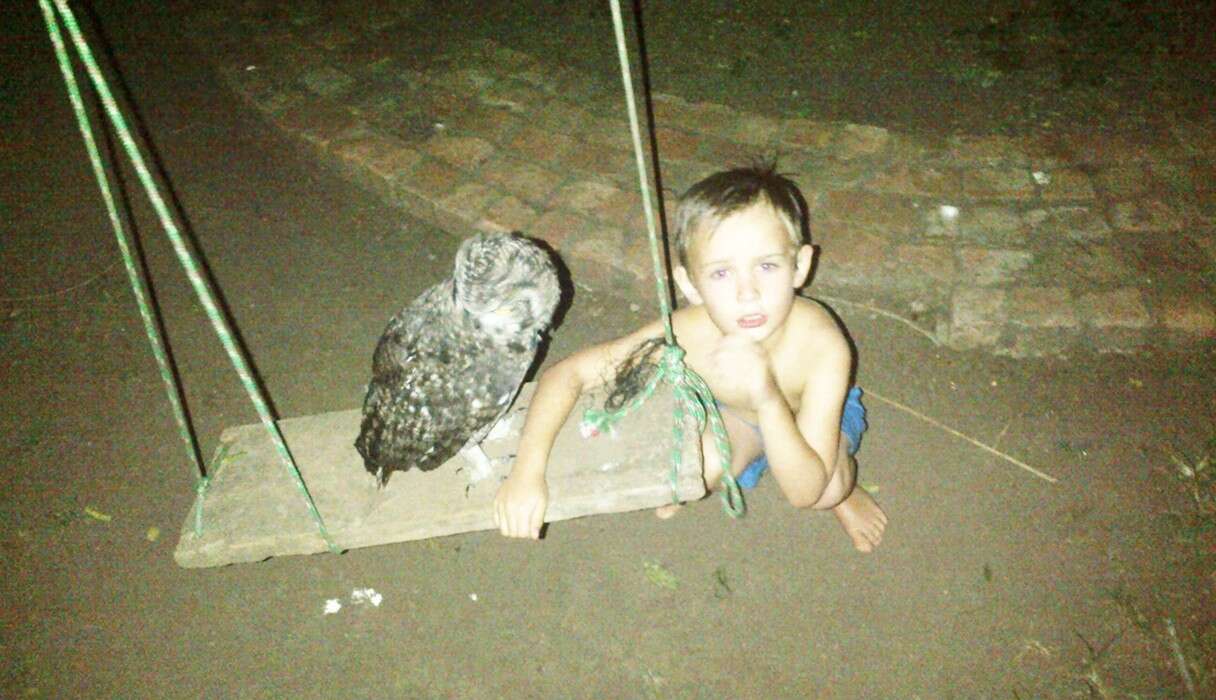 Staff at the rescue center went through the usual drills with the baby owl, rehabbing him, teaching him to fly - and ultimately, giving him a so-called soft release on the property, which was basically a feeding platform he could access at any time.
But Fluffy wouldn't have it.
"He'd just sit outside there in the middle of winter and he'd knock on the window until you'd open the door for him," Murray recalls.
Once inside, Fluffy would make himself right at home.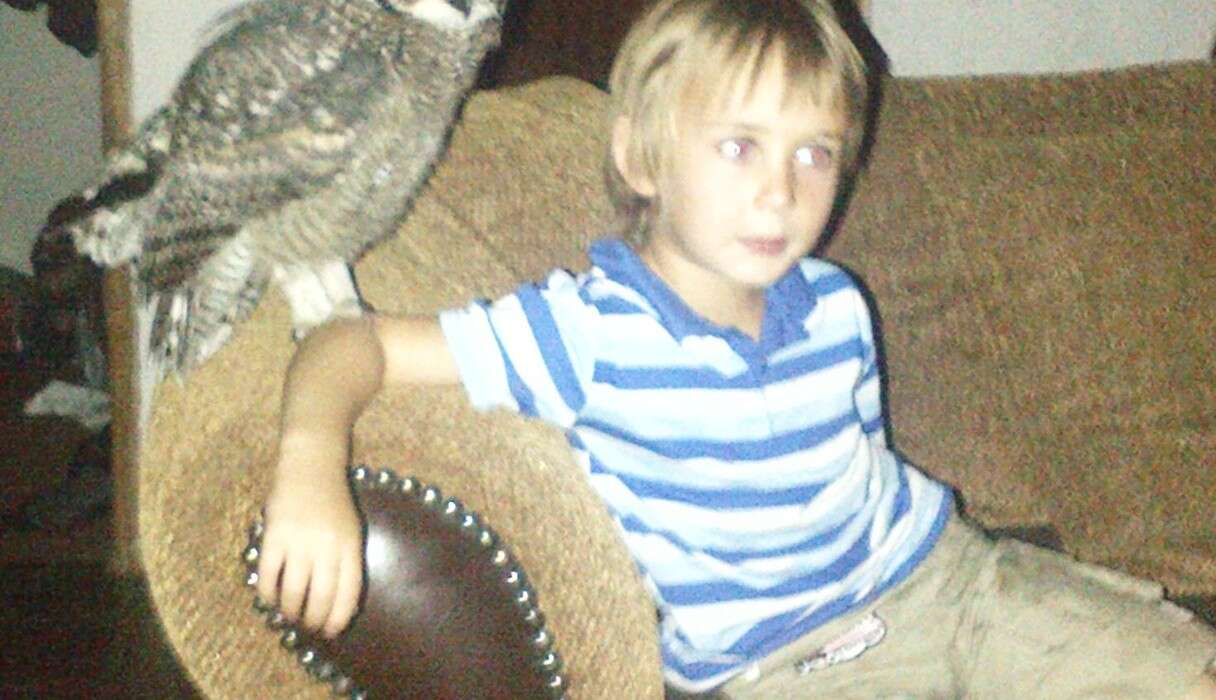 "He loved to watch TV," Murray says. "He'd watch TV for a good 45 minutes to an hour. Then he'd get bored of that and see what the wife's cooking."
And if that wasn't interesting enough for Fluffy, he could always troll the dogs.
"He'd come inside and then he'd walk up and down and chase after the dogs," Murray says. "Most owls would get away from dogs, but he'd chase after them or sit on them."
For about a year and a half, Fluffy was every inch the strange and doubtful guest.
But he did seem grateful to his hosts. Fluffy would frequently come bearing presents - snakes and rats, mostly. He would eat half in front of the TV and leave the rest for the humans to enjoy as they liked.
Fluffy would also swoop down and ever-so-gently perch on the arm of Murray's son Spencer.
But every baby must eventually grow up.
Fluffy's designated outdoor dining area was on top of a shed.
"You could see over the months, he wasn't that keen to come down anymore," Murray says. "And he wasn't that keen to come inside any more. He was basically weaning himself off of us up until he became a teenager. Then he realized he doesn't have to sit inside. He can fly around."
And like a teenager, Fluffy realized he could talk to girls. One day, he brought a fully wild female owl to the feeding platform.
And the whirlwind that he brought to this family's life began to subside, as Fluffy fell into another sort of tempest altogether - the love kind.
Breeding season arrived. And Fluffy, who was once supposed to be someone's pet, went fully, mercifully wild - just the way he was always meant to be - and started a family of his own.
"He would sit and watch you from a distance," Murray says, "just to make sure you're OK."
Love would eventually lure Fluffy from the human world. But it was also love that brought him into this family's life in the first place - the kind that comes from dedicated animal lovers at the Owl Rescue Centre.
Like many animals, owls are under siege from urbanization, constantly being edged out of their habitats by human development. Owls in particular, according to the center, have a high mortality rate as they struggle to deal with not only habitat loss, but poisoning - often from eating poisoned rats - and even deadly traffic collisions.
Want to support the Owl Rescue Centre's efforts to give owls like Fluffy a chance in this world? Consider becoming a member. And if you happen to be in Johannesburg, you can volunteer there or just pay a visit. Just don't bring any snakes.