You Won't Believe What This Rescued Dog Looks Like Now
When this poodle named Dave was discovered among a group of dogs abandoned on a freezing roadside, rescuers called it the worst case of neglect they'd ever seen. Dave was so filthy and matted, he was virtually unrecognizable as canine.
But beneath that pile of overgrown hair and caked-on mud was a sweet, scared dog just waiting to be loved. Thankfully, his wait is over.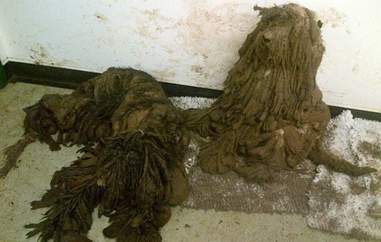 Word spread quickly about Dave and the other eight dogs rescued in Winchester, U.K., last January, in a state of neglect the RSPCA described as "incredibly upsetting." After being cleaned and shaved, the dogs were eventually adopted out into new forever homes to begin happy lives as beloved pets - but things weren't so easy for Dave.
The untold trauma preceding his rescue seemed to weigh heavily on the poor poodle's spirit, an emotional burden not as easily lifted as the muddied locks.
"He found it difficult to interact with other dogs and humans, and would even nip the staff's bums because he hated being on a lead," the RSPCA's Lucy Cooper told The Dodo.
RSPCA
What Dave needed most was someone to show him the way back to a healthy, happy life - and he found that in a retired nurse named Jeanette McDowell. Through her, the dog found hope, and a new place to call his own.
"Jeanette visited him every day for two weeks, feeding Dave chopped liver to win him over, and now has seen some big improvements in his behavior and trust. Despite him still finding it difficult to be confident enough to 'play,' he is showing some great signs of improvement and will hopefully go on to live the fulfilled life that he deserves," said Cooper.
"The RSPCA is delighted to hear that Dave has found a forever home."