After Losing His Family, Tiny Baby Otter Makes The Cutest Recovery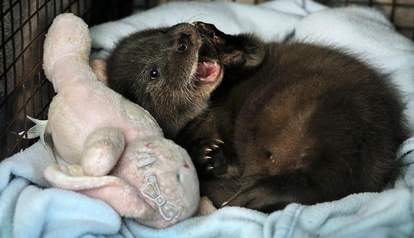 <p> <a href="https://www.facebook.com/thewildlifehaven/photos/pcb.912617025449421/912609368783520/?type=1&theater">Facebook/Wildlife Haven Rescue and Rehabilitation Centre</a> </p>
A very lucky little otter is recovering at a British wildlife center after getting separated from his family.
Otto was spotted by a father and son who heard the little otter mewing when they were out walking their dog, according to The York Press. They found him crying and unresponsive on the bank of a river.
Otto, who is around 6 weeks old, was taken in by The Wildlife Haven Rescue and Rehabilitation Center after rescuers were unable to find his family.
"At this age, he should still be in his holt, he is too young to swim and still is wobbling around on his baby legs," Wildlife Haven manager Krista Langley told The York Press.
"We always try to keep otters in their habitat, but he was very poorly, underweight, dehydrated and completely exhausted, so if he had been there a couple hours more he may not have been alive," she added.
Though it was touch and go for the first night, Otto is doing well and has reportedly become quite playful. Once he is weaned, according to the group's Facebook page, he will continue his year-long rehabilitation at a rescue center in south England, where he will have the company of another rescued pup named Snickers.
To stay updated on Otto's progress, follow Wildlife Haven on Facebook.