In October 2014, the DSWT rescue team was called to rescue a tiny, infant orphaned elephant from the Milgis in Northern Kenya. But, as our Keepers reached the runway to fly back to our orphanage in Nairobi, they were handed another unlikely package - two tiny ostrich chicks - found alone and rescued by the Kenya Wildlife Service.
Sadly, the baby elephant they were rescued alongside could not overcome the psychological and physical trauma of becoming orphaned, but the two chicks - aptly named Pea and Pod - have grown up among our orphaned elephant herd ever since and are now an intrinsic part of our nursery family.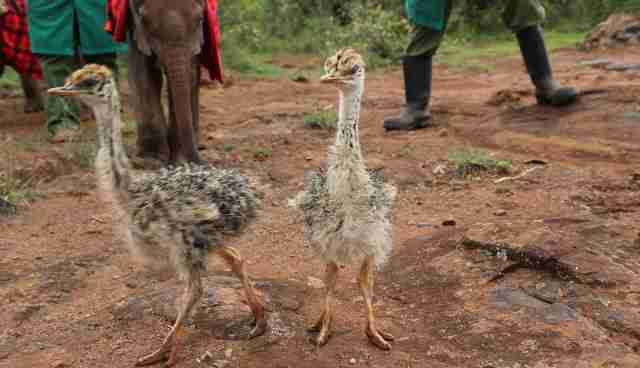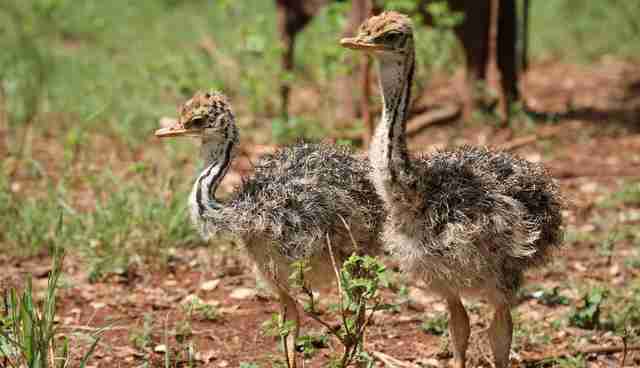 These feathered friends, who we believe to be sisters, provide endless hours of entertainment for the baby elephants who love to charge them, hug them, and positively maul them with affection. Chasing games are a favorite amongst the Nursery herd, but with ostriches capable of reaching speeds of up to 70 kilometers per hour (approx. 43 miles per hour), the babies have little chance of catching up and are always left confused as to who to follow when Pea and Pod split up and run in separate directions!
As the world's largest flightless birds, Pea and Pod stand head and shoulders above the orphans in our care, but that doesn't seem to bother the pair, who remain very protective of the herd they have grown up amongst. It is a most unlikely combination which has formed an enchanting, inseparable bond of friendship; though Pea and Pea have not yet shown a sign or wanting to join to the wild ostriches of Nairobi National Park, they will remain in our care until they choose to do so.
Returning home after a day with the elephant orphans in the Nairobi Bush, their stockade, a specially built structure that originally housed infant giraffe Kili, provides ample headroom at night for protection. Next door, the infant elephants also sleep from the night, protected from the weather.