Baby Giraffe Who Lost His Family Snuggles Up To His Rescuers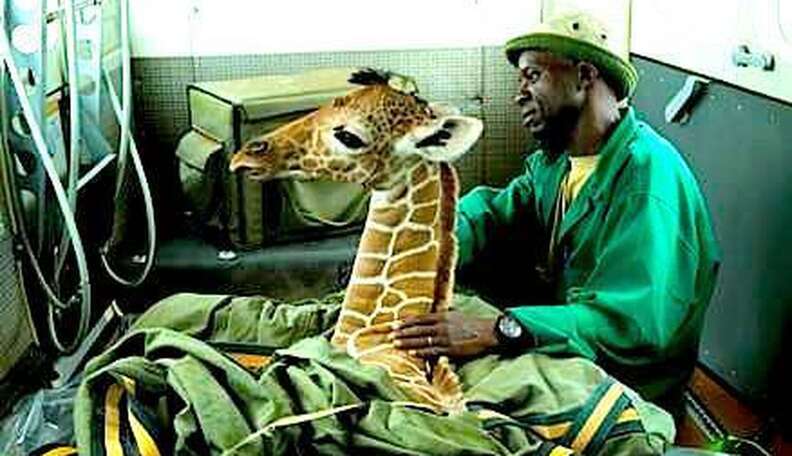 <p> <a href="https://www.facebook.com/thedswt/photos/pcb.10153640287674889/10153640285174889/?type=3&theater" target="_blank">Facebook/The David Sheldrick Wildlife Trust</a> </p>
People traveling through Meru National Park in Kenya came upon a newborn giraffe wandering around completely alone.
Luckily, these people are exactly the type of humans a vulnerable animal needs to see. Acting as guardians for animals in need like this one, they are a part of the Meru Mobile Veterinary Unit, supported by Kenya Wildlife Service (KWS) and the David Sheldrick Wildlife Trust (DSWT).
Rescuers found the giraffe on September 19 and brought him to the DSWT, where he's the tallest addition to the organization's herd of rescued orphaned animals. They named him Kiko.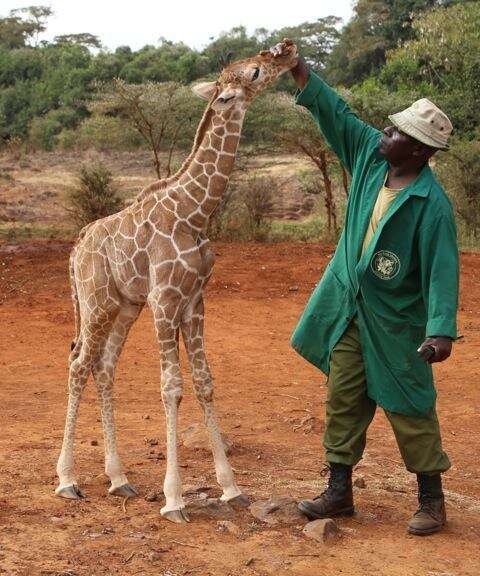 "Two days after his rescue, he went out into the Nairobi National Park with his keeper, and has been feeding very well on his milk which we hope he keeps up," a representative for DSWT told The Dodo. "As a newborn giraffe, he currently calls the elephant stockades home - too tiny to sleep in the specially built giraffe stockade, which is currently home to ostriches Pea and Pod."
DSWT added: "As the tallest mammal in the world, we suspect Kiko will soon dwarf his human carers, but for his keepers, feeding Kiko is a very different experience to bottle-feeding orphaned elephants, and soon, they'll use a special mobile feeding ladder to ensure he gets the nourishment he needs."
After photos of the giraffe's transport to safety were posted online, rescuers saw an outpouring of relief that the little guy (though he's already almost taller than his rescuers) had been saved.
"Such a tragedy he was orphaned or lost," one commenter on Facebook observed, "but at the same time, he's one very lucky little baby to find his way to DSWT where he will be safe and well cared for while he learns to be a giraffe and, hopefully, one day return to the wild to make more giraffes."
But why was newborn Kiko already all alone in the world? While they can't be sure, rescuers suspect that humans were involved. "The fate of tiny Kiko's mother has not been able to be confirmed, but it is assumed human wildlife conflict," the organization wrote on Facebook.
Alone, young giraffes are very vulnerable and cannot protect themselves from predators, according to DSWT. And the threats to giraffes are getting more dire. "As one of Africa's more unusual mammals, all giraffe across Africa have been severely affected by illegal hunting, increasing competition with humans for land and resources and ever-present human-wildlife conflicts which has led to their 30 percent decrease in numbers over the past decade," DSWT told The Dodo.
What's next for Kiko? Currently he's getting the best care possible at the DSWT, an organization accustomed to helping vulnerable animals in need. "[A]s with the orphaned baby elephants we rescue, we are currently giving Kiko the time and intensive care he needs to get over the trauma of being orphaned," DSWT wrote in a Facebook comment. "When we feel sure he has overcome this hurdle, our Facebook friends will be the first to know."
Have a tip? Email sarahv@thedodo.com.