Orphaned Bear Cub Stumbles Up Man's Driveway For Help After Wildfire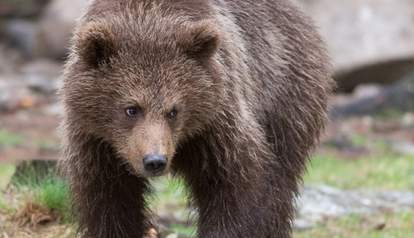 Caught in a wildfire and separated from her mother, a six-month-old black bear cub's chances at survival would normally be pretty bleak. But for this lucky bear, nicknamed Cinder, things are looking up.
After she suffered third-degree burns in Washington state's largest wildfire, the Carlton Complex fire, Cinder wandered up the driveway of a house, her fur singed and her paws raw. But, KOMO News reports, the homeowner spotted her, gave her apricots and water and approached her after the cub laid down.
Soon enough, a state Fish and Wildlife officer was able to capture the 37-pound cub and airlift her to a wildlife care center in California, thanks to the group Pilots for Paws. She was soon transferred to Lake Tahoe Wildlife Care in California, where she's receiving intensive care.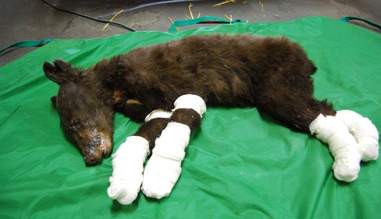 Facebook, KOMO News After a little recovery time, the bear should be back to normal again -- just in time to get back to the forest to hibernate for winter.