Tiny Baby Hippo Found In Mud Pit Loves Her New Family
Every night, she suckles on her keepers' fingers until she falls asleep.
A tiny orphaned hippo discovered all alone and helplessly stuck in a mud pit is loving her new life.
"The baby hippo had been observed for a few days in order to ascertain that it was, in fact, an orphan," DSWT wrote. "It was quite obviously bogged in mud and was surrounded by flapping catfish in the drying mud hole and it was evident that, without intervention, it was going to die."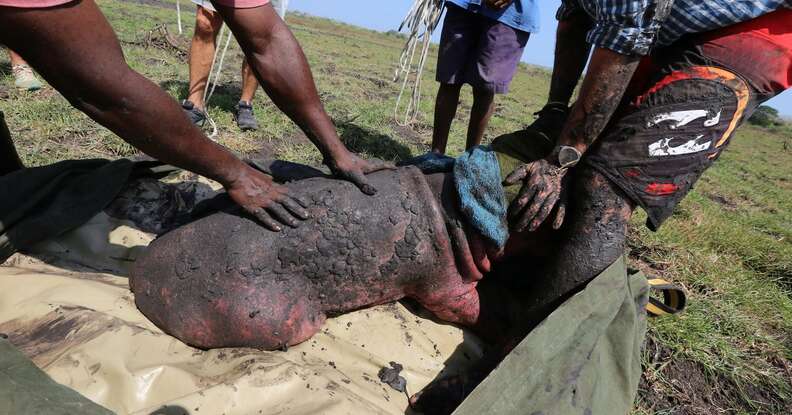 The area where the baby hippo was stuck was quite remote - people flew by plane and helicopter to reach her. Rescuers, knee-deep in mud, managed to capture her in a net and then wrap her in a blanket so she could be flown via helicopter and plane back to the DSWT orphanage for baby animals in need.
The baby hippo was first named Humphrey, but then renamed Humphretta, after rescuers discovered she was a girl. They call her Humpty for short.
Humpty is now being hand-raised by the DSWT keepers, who are used to raising all kinds of orphaned animals, including elephants, rhinos, zebras and antelope, for eventual release back into the wild.
But Humpty is special - she's the rescue team's first hippo orphan. Her rescuers hope that, once she grows up strong, she'll start spending time in the Athi River, home to many wild hippos. But that's still a long way off, as she's still very young, and she was in rough shape when she arrived at the orphanage.
Humpty was obviously exhausted from her plight in the mud pit. Her skin was sunburned and she was very dehydrated. Rescuers gave her a soothing bath with a hose, cleaning all the caked-on mud off her sensitive skin.
Then rescuers got to work teaching her to drink milk from a bottle.
It became clear pretty quickly how grateful Humpty is to the people who saved her life.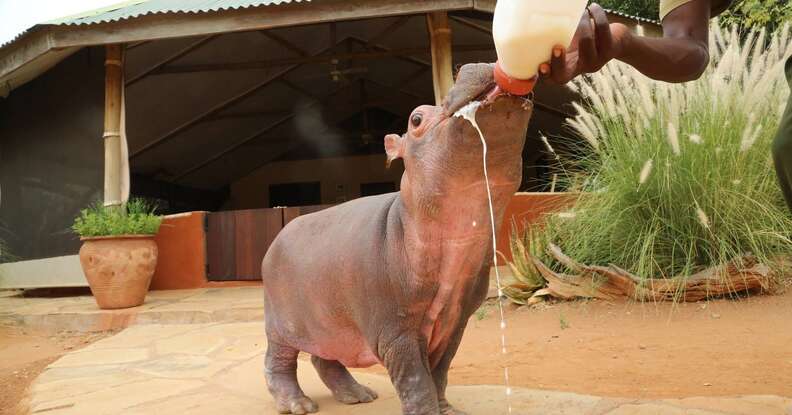 "A new hippo keeper was recruited and Humpty very soon became hooked on both her Keeper and Frans [the DSWT field operations manager], needing the close presence of one or the other at all times," DSWT wrote. "She now follows them everywhere."
After getting bottle-fed, Humpty likes staying close to her keepers during her naps.
Recently, she rested her little head on her keeper's foot, making it a pillow, and fell asleep.
Keepers built Humpty her own pool, with comfy sand surrounding it, big enough to fit her even as she grows and grows.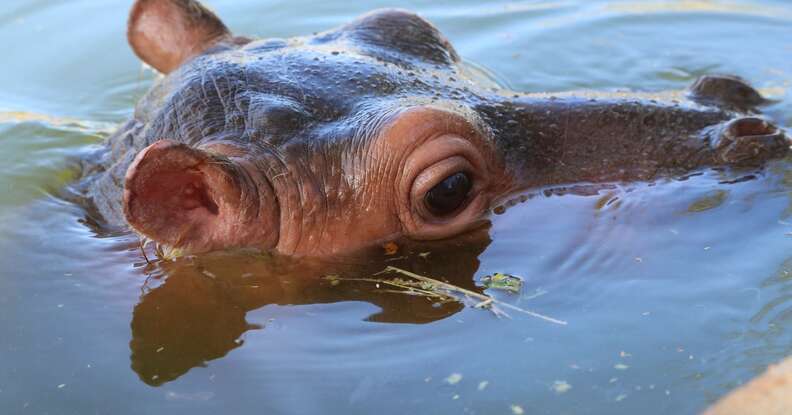 "She loves her new pool, but can be obstinate at night when she refuses to leave the pool to be safely put away in her customized night quarters which she shares with Joseph, her Keeper, who sleeps beside her on a bed beneath the necessary mosquito net," DSWT wrote. "Basically, Humpty very much has a mind of her own, and given half a chance chooses to stay in her pond until well after dark."
When she finally comes in for the night, she suckles on her keepers' fingers until she falls asleep.
"She is extremely loving, relishing close contact with those she knows and loves, and is thriving," DSWT wrote. "Our little orphan Humpty is an exceptionally spoilt and lucky little baby hippo."