Elephant Brings Her New Baby To Visit The People Who Saved Her Life
She doesn't even have a name yet but people are already ecstatic she's here.
"Hot, Hot, Hot off the press," The David Sheldrick Wildlife Trust (DSWT) proudly posted to Facebook early on Tuesday. "[E]x orphan Wendi has given birth to a tiny baby girl! We wanted to share this news with you all straight away, in fact we haven't even chosen a name for this tiny bundle of life."
Wendi was rescued by DSWT back in 2002. She was only days old and her mother had been killed by poachers.
Wendy as a baby. (DSWT)
"So young that we do not believe she even received her mother's colostrum [first milk], so we gave her powdered colostrum in her first bottles of milk," DSWT wrote of Wendi's plight. "Wendi surviving was a miracle, made possible by our dedicated team of carers and their knowledge and expertise."
Wendi as a baby. (DSWT)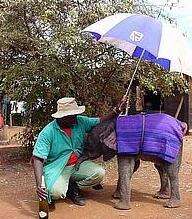 Flash forward to Tuesday, and Wendi, who has since been living with a herd in Kenya's Tsavo National Parks, is now a thriving new mother with a family of her own.
Just hours after giving birth, Wendi brought her calf to DSWT for a visit. Touched by Wendi's visit, DSWT staff sound just like proud family members. "We believe she gave birth during the night - and visited us just hours later!"
"As elephant numbers continue to plummet across the continent, Wendi's new daughter gives up hope for the future of the species, who haven't given up hope yet," DSWT told The Dodo. "We'll continue to work hard to keep this new family safe from poaching, human wildlife conflict and habitat destruction through our DSWT/KWS Anti-Poaching Teams and are blessed that she shared this special glimpse with us just hours after the birth of her daughter!"
One Facebook commenter asked DSWT if Wendi still tolerated people being around, now her new baby is here. "The elephants have a strong bond with their Keepers that rarely changes after birth," DSWT replied, "coming back to show their babies is an example. But this trust only extends as far as their former keepers."
Wendi and her baby attest to the ultimate success of the DSWT's Orphans' Project, where orphaned elephants are nursed back to health and supported as they grow; Wendi's story shows how these survivors can journey back to the wild and start families of their own.
"She probably wants you to keep her baby safe," one commenter wrote on Facebook. "Because she always felt safe with you. It's so bittersweet."
Watch a video of Wendi and her baby below: