'Organic' Farms Accused Of Denying Animals Access To The Outdoors
What does the label "organic" really mean when it comes to animals? According to a Wisconsin-based farm policy watchdog group, it may not mean much.
The Cornucopia Institute announced this week that it is filing formal legal complaints against 14 livestock operations in nine states. The group says the facilities are producing milk, meat and eggs that are illegally marked "organic."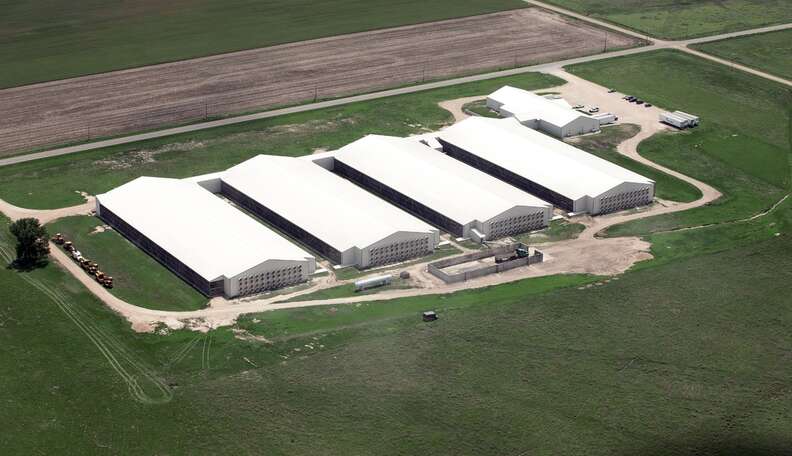 The farms reportedly confine farm animals and do not give them access to legitimate grazing areas or the outdoors - a requirement for food items that are certified organic. For cows, "certified organic" means they must have access to pasture areas for the grazing season - no shorter than 120 days. For chickens, the rules are vaguer, and farmers only have to provide an "outdoor" area, though it's not specified what this actually means.
The investigation used aerial photos of the facilities to see whether they complied with the USDA's National Organic Standards Board (NOSB) guidelines, which stress that the animal should be held in an area that promotes "health and natural behavior." They found many facilities without grazing areas, or no animals grazing outside at all.
"The federal organic regulations make it very clear that all organic livestock must have access to the outdoors and that ruminants, like dairy cows, must have access to pasture," said Mark A. Kastel, senior farm policy analyst at the Cornucopia Institute, in a statement. "The vast majority of these massive, industrial-scale facilities, some managing 10,000 to 20,000 head of cattle, and upwards of 1 million laying hens, had 100 percent of their animals confined in giant buildings or feedlots."
While the Cornucopia Institute says that the collection of photos are evidence enough, the The Organic Trade Association refuted this in a statement to the Washington Post:
"We continue to have confidence in the oversight of organic operations and in the checks and balances built into the organic certification system which includes regular inspections of operations, regular accreditation audits of certifiers, and complaint investigation procedures."
While stricter regulations on livestock productions usually benefit animal welfare, the photos suggest that such rules may not always be as stringent as they seem. While not eating animal products is the only way to be sure you're not supporting factory farming, you can also look for the Animal Welfare Approved label, which requires stricter standards than most others. See more information here.