Greyhound Racing's Nationwide Implosion Just Got A Lot Worse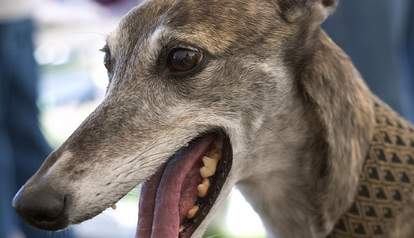 <p> <a href="https://www.flickr.com/photos/lizadaly/49186987/in/photolist-5m6zv-84Gdjz-bVEphj-fsUhWB-4vhUni-bh46Ng-nMCvA-s1emz-647aZv-evWJXK-5q2jHs-5pX6hF-4ZTm19-pyPjem-5CEWqb-K9eSx-hu1BGP-n9iZUF-p7jbjo-i1d3z-4uha65-btZt3h-cXRcRE-CMpUh-96zbHB-qemhQA-mjjVjM-2PKcN-cXRf6j-oEdgWn-HEjjf-5QCSdR-5pX5LH-5q2oHo-5pX4Lr-5q2nA1-5q2n4s-5q2mzq-5q2kcd-5q2jis-5pWT3k-6Rfo95-74Saed-5BEXQL-84t2Z1-nBcvUr-5q2f7d-5q2m65-CAypN-5k6sEa">Flickr/Lizadaly</a> </p>
Here's one more sign greyhound racing is on its way out.
On Thursday, animal advocates flooded the capital of Salem, Oregon, for Humane Lobby Day to speak to lawmakers about legislation regarding animals. High on the docket was a proposed bill to officially end greyhound racing in the state. More than 200 activists urged lawmakers to pass House Bill 2765 to ban the sport, which has been cited lately for high rates of dog injuries and deaths.
Oregon still has one greyhound racetrack, though it's currently not operational. But an owner could step in and revive the track, bringing racing back to the state. Along with Oregon, greyhound racing is currently legal in Florida, Alabama, Arkansas, Texas, West Virginia, Iowa, Arizona, Connecticut, Wisconsin and Kansas. Florida has most of the tracks - and the most dog deaths, at a rate of one every three days.
A study released this week revealed that greyhound racing has a miserable record for animal welfare: between 2008 and 2014, 909 greyhounds died and more than 11,000 sustained injuries on racetracks. The report also revealed 27 documented cases of animal cruelty, including dogs being electrocuted and starved to death.
Greyhound racing bans are sorely needed, but racing has been declining on its own in recent years as people begin to understand its impact on animals. In 2012, betting at dog race tracks dropped by 66 percent compared to the previous year.