Wild Orcas Give Kayaker The Most Exciting Experience Of Her Life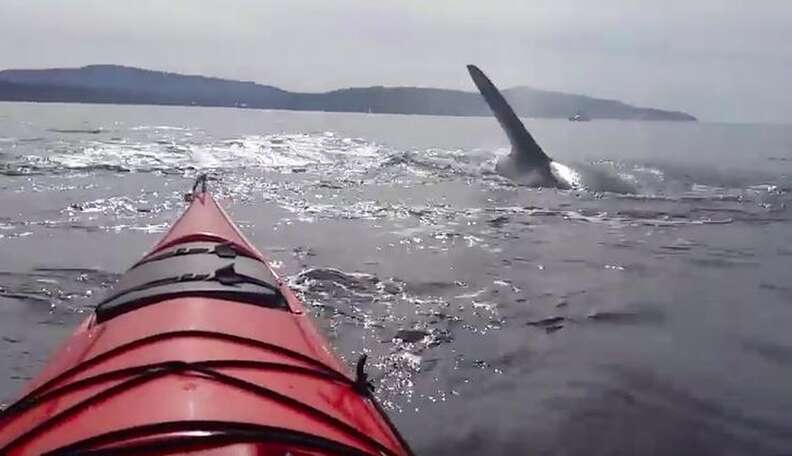 <p><a href="https://www.youtube.com/watch?v=pYgkWerSstk">YouTube/Michelle Feis</a><span></span></p>
A pair of kayakers off the coast of Washington recently had one of the most majestic surprises they could imagine.
Michelle Feis was out with a guide last week when she came across a group of orcas "playing, jumping and feasting on a salmon breakfast," she wrote under a video of the event. The intelligent animals soon noticed her and began to glide on over for a visit, cutting under her tiny boat as she tried to contain her glee.
At several points, the whales' dorsal fins were just inches from the boat, and one playfully turned on his side beneath the boat to get a better look at its occupants.
"I'm shaking," Feis said in the video. "I'm just frickin' dying. Oh my god. OH MY GOD."
The orcas are members of the J, K and L pods, the three families that make up the southern resident orca population in the Pacific Northwest. The population was decimated in the 1970s when an entire generation of baby orcas was captured and carted off to places like SeaWorld. The families have spent the past four decades trying to recover and are currently listed as endangered.
Only one of the kidnapped babies is still alive: Lolita was captured at age 4 and has spent the past 45 years at the Miami Seaquarium in the smallest orca tank in America while her family survives off the Washington coast.
But places like SeaWorld and Miami Seaquarium are pointless when you can have experiences like these on the orcas' own terms. As Feis notes in the video description, she got to experience the real SeaWorld.
You can watch the videos below for the full encounter. (The second video features more whale footage.)