An ingredient used in everything from Oreos to shampoo to margarine is killing some of the world's rarest animals. Now, companies are starting to see that it's bad for business, too.
Palm oil, found in roughly half of all supermarket household items and packaged foods, is often produced on enormous plantations that have displaced miles of pristine forest. Mainly in Southeast Asia, these forests were once home to endangered orangutans, elephants, rhinos, reptiles and others.
Orangutans in particular have been hit hard - almost 80 percent of their habitat has disappeared over the last 20 years. Each year, palm oil development kills an estimated 1,000 to 5,000 orangutans, who die when their trees are cut down or their food sources are cut off during development. Others are brought to rescue centers, where rescuers scramble to take them in or relocate them.
Needless to say, palm oil has been a scourge for rare species in one of the world's most biodiverse areas. But slowly the tide is turning - and even a man called the "palm oil king" understands that consumers don't want to buy products that kill endangered wildlife.
Kuok Khoon Hong, a 65-year-old Singaporean business magnate, was once a villain to conservationists and the world's largest palm oil trader. As head of the leading Asian agribusiness company Wilmar International, which processes a whopping 45 percent of the world's palm oil, he was criticized for ordering workers to set fire to massive tracts of land in Singapore to create plantations, and for threatening crucial tiger and orangutan habitat in Sumatra, Indonesia.
Environmental groups including Greenpeace alleged in 2013 that the $43 billion company was sourcing its palm oil from illegally cleared land - tracts of the last known Sumatran tiger habitat in the world, where just 400 of the big cats still roam free.
After the allegations were released, Wilmar said that it was was "currently reviewing our business practices, including our sourcing policy, working with certain international supply chain experts."
Environmentalists weren't the only people upset by the company's practices. Kuok said in a 2013 statement:
"We know from our customers and other stakeholders that there is a strong and rapidly growing demand for traceable, deforestation-free palm oil ... and we intend to meet it."
Lately, the "palm oil king" has followed through with big changes. In December, Kuok's company announced a policy to prohibit deforestation and destruction of peatlands, or wetlands with thick, rich soil that are important carbon sinks and absorb greenhouse gases, in its supply chain - a major move. At the same time, Unilever, the second-largest palm oil company, joined the fray, pledging to source only traceable palm oil by the end of 2014.
In January, Wilmar also became the first in the industry to offer outsiders, from customers to environmentalists, access to information about its 800 mills in Indonesia and Malaysia. The online dashboard of mills can be used to identify supplier plantations that are clearing forests against the company's policies. This has already happened more than once, and Wilmar ordered the supplier to stop clear-cutting forests. The step was seen as a major one, especially from such an enormous company.
In an interview last week with Bloomberg, Kuok said, "I would consider myself an environmentalist today. I changed a few years ago when I saw the damage climate change had on the environment in some countries."
Kuok's efforts are commendable, but the idea of "sustainable" palm oil has been criticized as not all it's cracked up to be. In order to be accredited, companies must commit to several standards relating to environmental responsibility. Some of these standards often still allow for plantations on cleared secondary forests.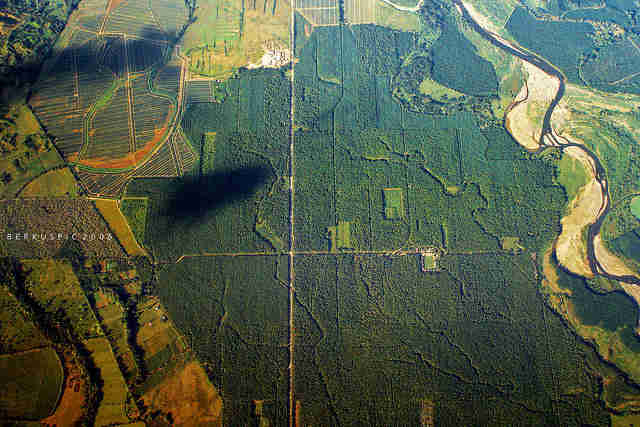 Nevertheless, other companies have been making small steps, too. McDonald's, Procter & Gamble and Starbucks have all made steps in recent years too, pledging to use only traceable palm oil by the end of 2015 - but many are still using high percentages of unsustainable palm oil in their products.
Unsustainable practices are still rampant on many plantations, driving native animals to the brink of extinction. As a recent interactive piece at the Guardian shows, only three merchandisers - Unilever, L'Oreal and Johnson & Johnson source only Certified Sustainable Palm Oil (CSPO) along with Wilmar. And while other companies delay improving their practices enough to gain the certification company-wide, orangutans are losing their homes, in some cases even starving for lack of food sources.