Orangutans 'Will Die' If They Stay In These Cages
<p> <strong></strong>Marison Guciano/ <a href="https://www.facebook.com/pages/Indonesian-Friends-of-The-Animals/1623327704606176"><u>Indonesian Friends of the Animals</u></a><span></span> </p>
A series of photographs sent to The Dodo shows orangutans housed in deplorable conditions at an Indonesian zoo.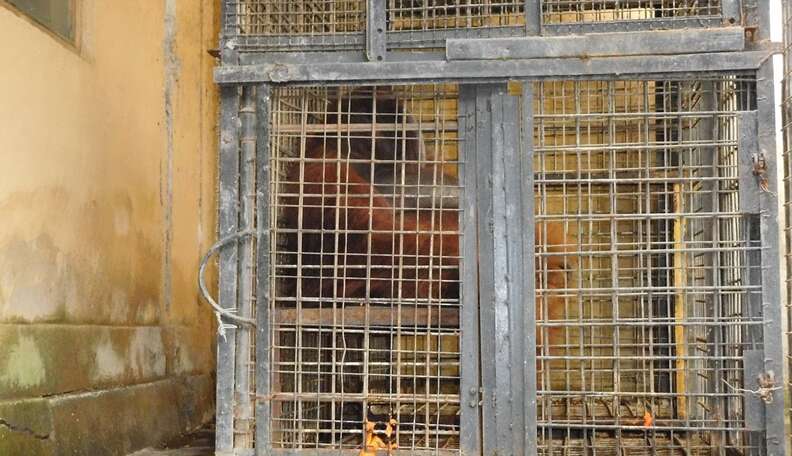 The orangutans didn't have water or appropriate sustenance, they were unable to socialize and they were confined to their barren cages day and night, Whyte says. Their ages and origins are unknown, which is common, due to poor record-keeping and alleged inbreeding, he adds.
Guciano returned to the zoo again in late August, but saw only two of the orangutans still on display. It is unclear what has happened to the others.
"Indonesian Friends of the Animals and its associate U.K. organization, Nature Alert, are desperately worried for these orangutans and government intervention to stop the cruelty and move them away from this zoo is urgently needed," says a joint press release from the two organizations.
Whyte says the groups have sent a letter of appeal to Bambang Dahono Adji, the director of biodiversity conservation at Indonesia's Ministry of Environment and Forestry, but no action has yet been taken. (The Dodo also requested comment from Adji but did not immediately receive a response.)
Gunung Gea, the founding director of the SCORPION Wildlife Trade Monitoring Programme, told The Dodo he was "very upset to know how Mirah Fantasi[a] handles the orangutans on its site. It seems that Mirah Fantasi management simply exploit orangutans to make money but do not pay attention to the quality of life of orangutans - the species which has 97 percent similarity with human DNA."
Gea was previously the deputy director of the Sumatran Orangutan Conservation Program, which aims to protect the remaining wild Sumatran orangutans in the region.
While many groups believe the orangutans at the Mirah are not receiving proper care or treatment, a representative from the Mirah Hotel in Banyuwangi, with which the Mirah Fantasia is associated, says otherwise. "I do believe that these animals are being held in appropriate conditions," Ketut Suadika, director of the Mirah Hotel, told The Dodo. "And we are working to provide proper and better housing for them."
Suadika says a new orangutan housing facility is being built. The animals will eventually be in a 7-acre animal camp with a private island surrounded by water, which will be finished by December 2015. The animals will also have a 13x13-foot house. "We really love the animal and we fully sorry for the moment our condition is not properly yet," Suadika adds.