Orangutan Chained In Crate Had Only A Scrap Of Fabric To Cuddle
She was locked up so long her poor bones were bent.
When the rescue team arrived, they didn't immediately see the orangutan. They just saw a crate - a small wooden structure propped up on old tires, with strips of corrugated iron nailed to the sides.
But they knew an orangutan was inside, and she'd probably been in there for a very long time.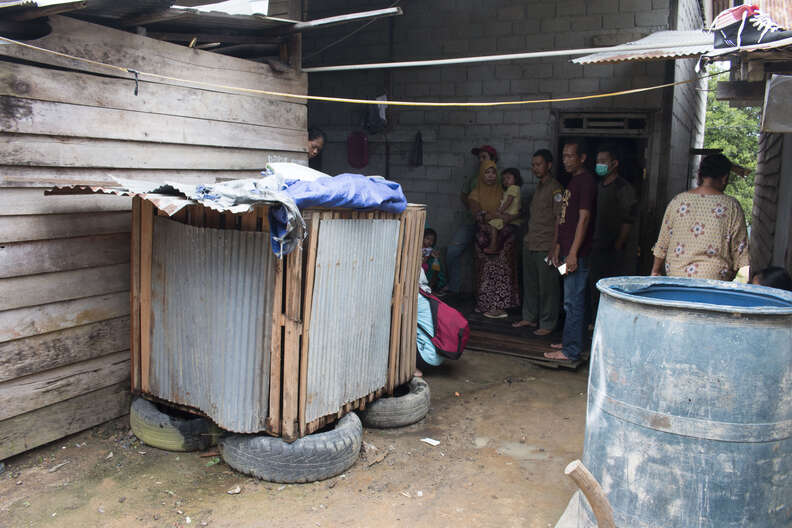 When they opened the crate, they found Amy, a 7-year-old female orangutan, slumped inside. She kept her head down, refusing to look at anyone. In her hands, Amy clutched an old scrap of gray cloth like a security blanket.
"She had the dead eyes and blank gaze that come from a lifetime of loneliness and neglect," a spokesperson for International Animal Rescue (IAR) wrote in a statement. "She seemed to have completely given up on life."
Sulhi Aufa, a veterinarian working with IAR, reached out to gently touch Amy's hand. With this small act of kindness, Amy looked up to meet Aufa's eyes. Then the orangutan moved closer to Aufa and grasped her hand.
Once they established that Amy was comfortable, the rescue team managed to cut the chain from her neck, and helped her out of the tiny crate to take her back to IAR's rehabilitation center.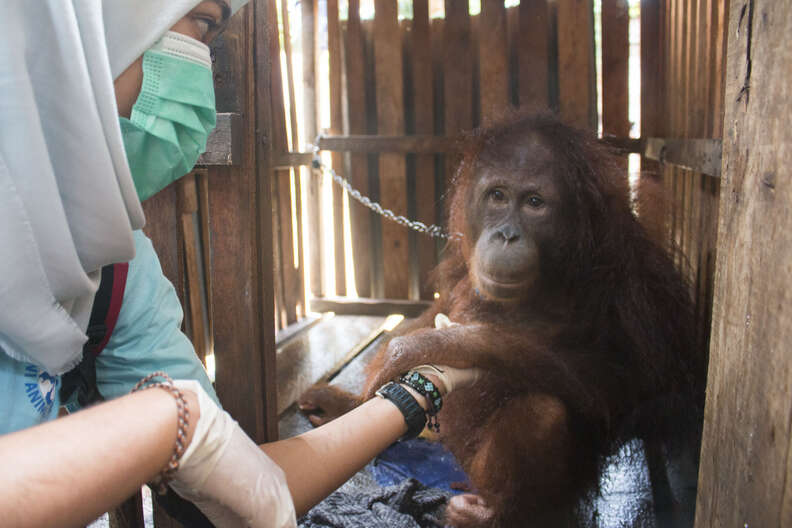 Amy's "owner" insisted that she had only been inside the crate for one month, and that he previously kept her inside his house as his pet. But Amy's physical condition told a different story - her limbs and backbone were severely bent, which probably meant she'd lived in the crate for a while.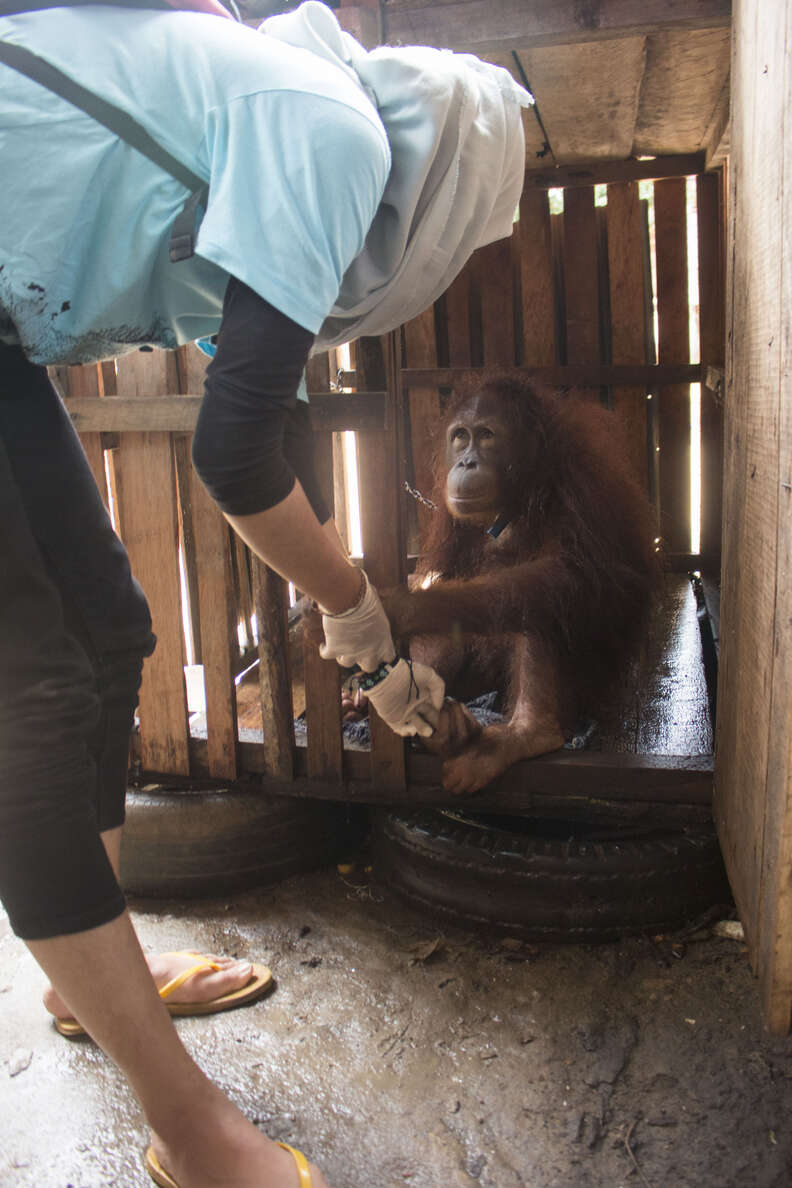 "Even if she had been kept in the man's house, she was probably chained up which would account for her bent legs and body," Lis Key, PR manager for IAR, told The Dodo.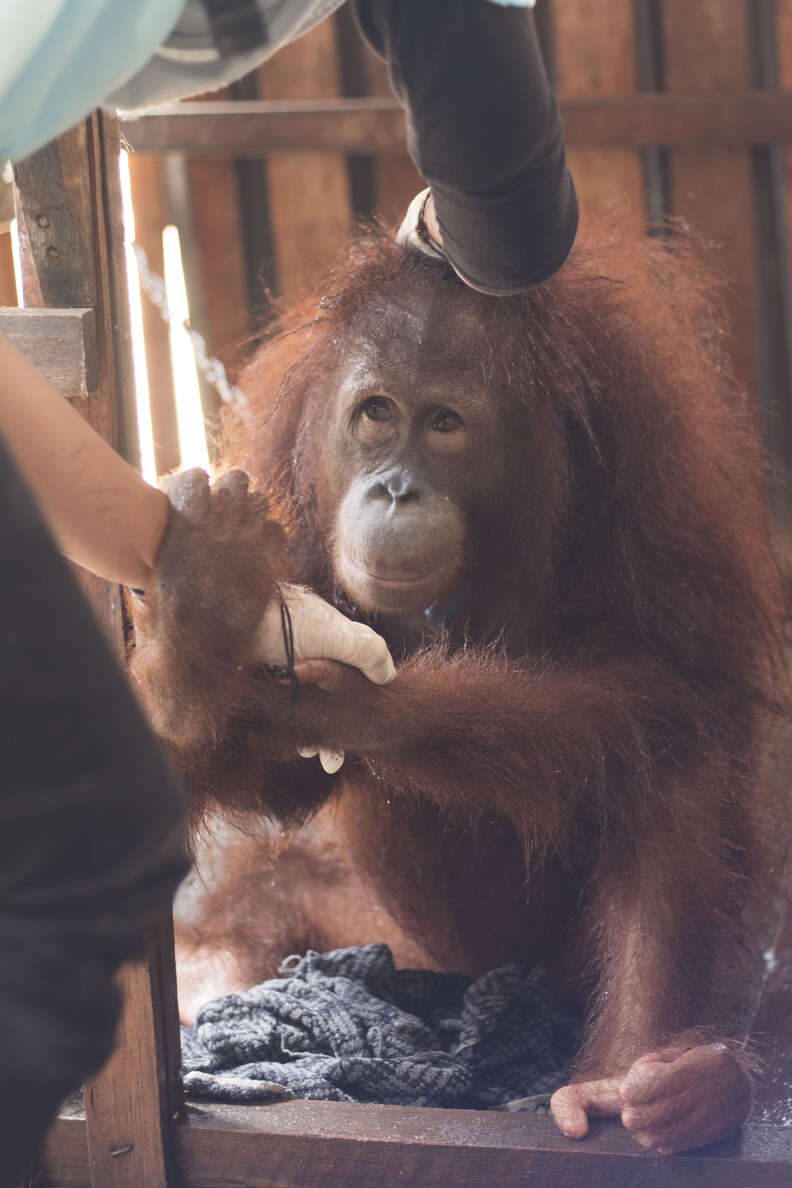 Unfortunately, what happened to Amy is what happens to many orangutans in Borneo. When people cut down the forest to build palm oil plantations, orangutan families are displaced from their homes. With no place to go, orangutans will often wander onto the plantations to look for food, and people will shoot and kill the animals. If a mother orangutan has a baby, it's common for people to keep the baby as a pet, or sell them in a wildlife market.
When the rescue team later examined Amy, they found a gun pellet lodged inside her armpit, suggesting that Amy had been wounded when villagers shot and killed her mother.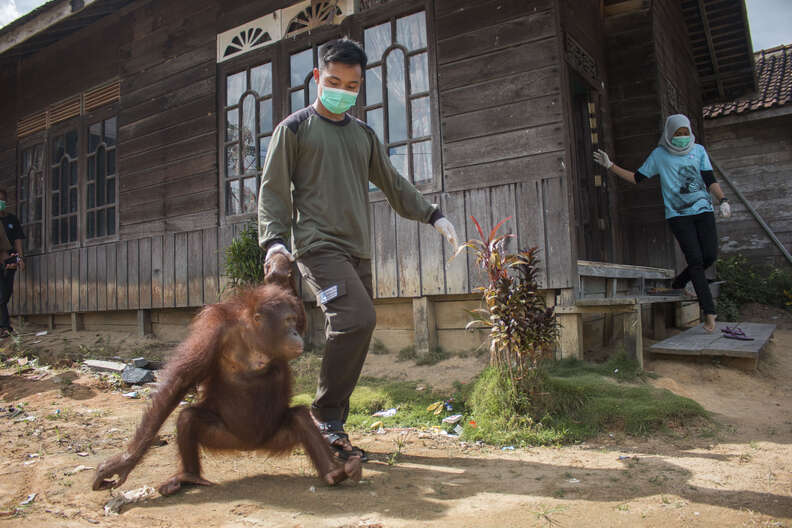 "This is a serious animal welfare problem," Karmele L Sanchez, program director for IAR Indonesia, said in a statement. "Many orangutans in this area are ... chained all their lives and living in deplorable conditions. You can see the sadness in Amy's eyes. If we hadn't rescued her, she would have suffered all her life, chained up until the day she died."
While the team at IAR can't change Amy's past, they're trying their best to help her recover. At first, Amy was quite depressed at the IAR rehabilitation center, and she spent several days just lying in a hammock, staring into space. But then she started to perk up, and she's now eating new foods like banana, orange and pineapple.
The IAR team hopes that Amy will be able to be released back into the wild someday, but she has to learn a lot of new skills to be able to survive in the forest. If she's unable to learn survival skills, she may need to live in an orangutan sanctuary for the rest of her life.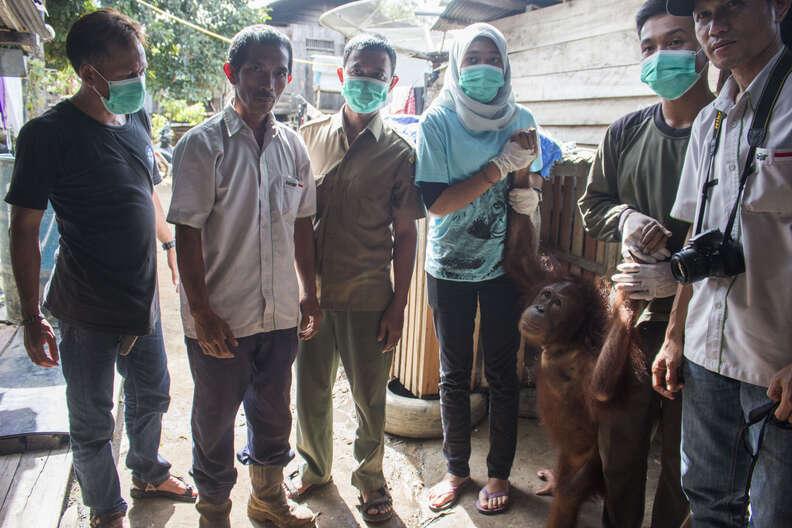 "This is a tragic tale of cruelty and neglect," Alan Knight, the CEO of IAR, said in a statement. "It will require plenty of time and patience for Amy to recover."
In any case, Amy's future is certainly looking brighter now that she's been rescued. To help give Amy a comfortable life, you can make a donation to IAR.