Opossum Who Got Stuck In Plastic Rings Is Growing Up Big And Strong
Those little hands.
It was late one night when Stephanie Oravetz got a call about an opossum with a six-pack holder wrapped around his neck. The opossum had been digging around the trash near a railroad track in Amarillo, Texas, before wandering into a man's driveway on a nearby property.
When the man spotted the opossum, he called animal control. Kara Pierce, an officer at Armarillo Animal Management and Welfare, then called Oravetz, the founder of Wild West Wildlife Rehabilitation Center, and drove the opossum to Orvetz's house.
The opossum - named Ringo for his predicament - was in bad shape when he arrived at Oravetz's. One of the rings from the six-pack holder was wrapped so tightly around the opossum's neck, his head and neck were badly swollen. Ringo was also cold, underweight and covered in fleas.
If the six-pack ring didn't come off, Ringo wouldn't have made it. Six-pack holders tend to injure and kill wildlife if people don't cut them apart and dispose of them properly.
"He may have died from infection or possibly starvation," Oravetz told The Dodo. "He most likely would have lost use of his right front arm as the ring was cutting into his muscle."
With Pierce's assistance, Orvatez used scissors to cut the six-pack ring from the opossum's neck. This must have brought some relief to Ringo, but his neck was badly infected and covered in maggots.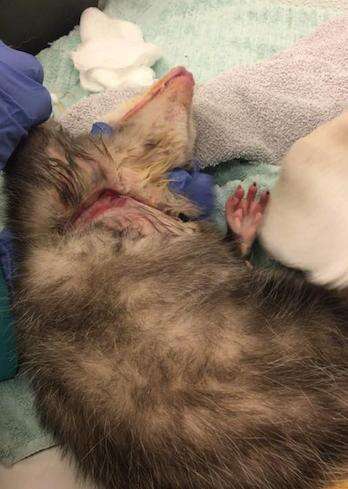 "We flushed out the maggots and cleaned the wounds with chlorhexidine solution, an antiseptic and antimicrobial disinfectant," Orvatez said. "We also treated him for fleas because he was covered in them. They were all over us as well."
After this initial treatment, Orvatez placed Ringo into a cage with a heating pad, soft bedding and plenty of water and food, which he devoured.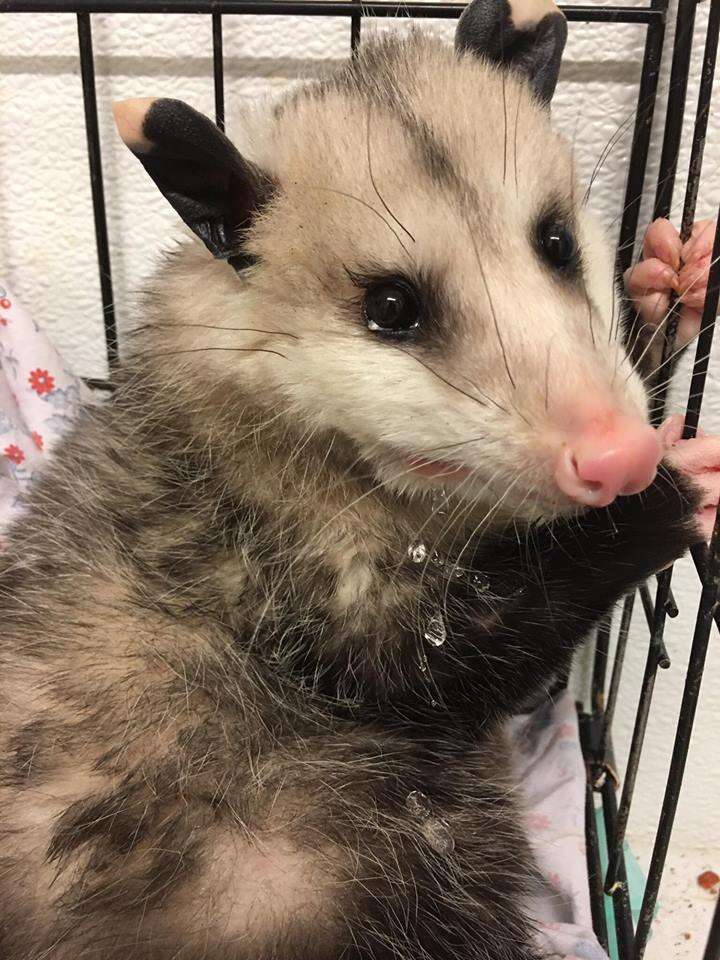 The next day, Orvatez took Ringo to the vet to get him antibiotics. The vet believed the ring had been around Ringo's neck for several weeks, and recommended hydrotherapy, a therapeutic treatment that uses water to heal wounds. "In Ringo's case, we gently spray running water over his wounds for 5 to 10 minutes twice a day," Orvatez explained.
Ringo has been in Orvatez's care for a little over a week now, and he's doing incredibly well. "He has a healthy appetite and has already gained 5 ounces of weight," Orvatez said. "His wounds are healing fast with hydrotherapy and antibiotics."
Ringo's also been trying to escape, which Orvatez says in an excellent sign. "During the last few hydrotherapy treatments he's gotten stronger and tries to make a run for it," she said. "Wanting to flee from us is a great sign but his wounds are not healed enough for him to be released yet."
"The other way we can tell he does not like getting his treatments or anytime we have to mess with him is that he drools profusely, which is a nervous defense," Orvatez explained.
"He really is good to work with for a 'wild' animal, but he is not like a sweet cuddly puppy," she added. "He is very much wild and sees us as a threat."
Oravetz will release Ringo in about three to four weeks.
"The best part of wildlife rehabilitation is releasing them back into the wild where they are intended to be," Oravetz said. "I get great joy knowing that his wounds are treatable and he will be able to be released."
To keep other animals from being injured like Ringo was, make sure you cut open six-pack holders before disposing of them, so there are no closed loops left.
You can also help support Ringo's recovery - as well as that of the foxes, skunks, lizards, ducks and other wildlife Wild West cares for - by making a donation here.