The cries of a black bear cub led my friend, Bill Lea, and me to find this orphaned cub crying out for his mother, shaking and cold from the rain and clinging to a tree limb. We notified the Great Smoky Mountains National Park staff and encouraged them to rescue this orphaned cub. The park officials felt the need to monitor the situation and see if the cub's mother would return within 24 hours before taking any action.
They allowed me to watch the cub from a distance, so I sat all day until dark in the forest with my binoculars. When I returned the next morning before sunrise, the cub was gone. Thinking he was still in the area, I encouraged a ranger to call the park's wildlife division to see if we could locate the cub.
A wildlife technician from the park arrived about an hour later and we both began our search through a ravine and several ridges for the cub. We split up and searched the densely wooded area for almost four hours - a lot of the time sitting in silence, hoping to hear the faint cries that could lead us to him.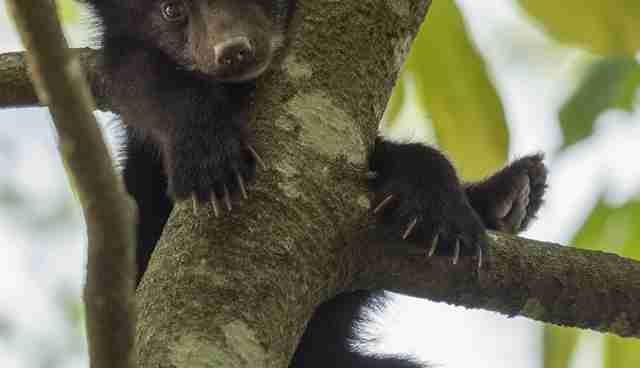 Just as I was losing faith, I turned to my left as I balanced myself on the edge of the ravine and saw two tiny ears and the top of this cub's head at the base of a large tree. He was silently watching me the whole time, hoping (while thinking I may be a predator) that I would fail to find him.
The only way to reach him before he would climb up that tree and out of sight was for me to crawl on my stomach under the forest debris. When I was within 10 feet of the cub, I began speaking softly to him. I realized he was giving up and tired after his time alone in the forest without his mother or any food. He made one half-hearted leap to escape my grasp and fell over next to me. I've never seen such a beautiful animal so scared. He was shaking, his tiny blue eyes nervously sizing up his new guest. I spoke softly to him and gently pet him on the head, and within a minute he relaxed and maybe realized I wasn't such a bad guy after all. It was time to pick him up and make our way out of the forest together.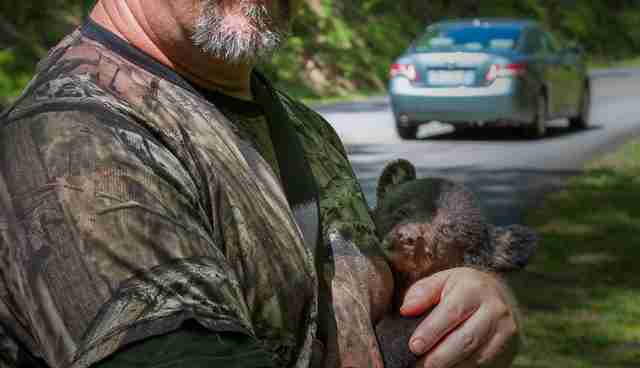 The steep, rough climb spooked the cub at times as he clung to me with all his strength. Back up on the road, the park's wildlife technician placed him into a cage and brought the cub to the Appalachian Bear Rescue (ABR), where they named him Fergus and prepared to keep him under their care until releasing him later this year.
He weighed just over 3 pounds, but this little guy was a fighter. I prayed he would live a long life after his release, but within several days it was clear that Fergus had an infection from an old cut that his tiny body could not fight. He was rushed to The University of Tennessee College of Veterinary Medicine , where he received care and antibiotics.
Sadly, the infection was far too advanced for his fragile body to fight, and vets made the difficult decision to put him to sleep.
There were plans to pair Fergus with another 3-month old-orphan named Finnegan so they would both have some company. Finnegan continues his rehabilitation alone for the time being.
The Appalachian Bear Rescue has been overwhelmed with orphaned bears since late last summer, when the natural food sources the black bears need for survival - like berries, acorns, hickory and walnuts - started drying up. This food shortage has been devastating to the area's black bear population, leaving many bears starving and unable to care for their babies. Normally ABR doesn't have to take in any orphans, and last winter they took in 30.
You can follow the progress of the orphaned black bears and donate to help the Appalachian Bear Rescue care for bears like Finnegan and other orphans through their Facebook page.
You can follow my black bear/wildlife photography here.