Shelter Wants To Kill 21 Dogs — Even Though Someone Is Begging To Take Them
For 31 hurting, traumatized dogs hauled out of an underground fighting operation, it must have seemed like the most merciful of interventions.
In all, three people would face hundreds of charges after police uncovered the sophisticated, sadistic animal fighting ring in Tilbury, Ontario. One dog was found dead on the property.
But for the others, at least, there was a reprieve from the bloodsport they seemed born into.
They were taken to a shelter run by the Ontario Society for the Prevention of Cruelty to Animals (OSPCA).
But their reprieve turned out to be tragically fleeting.
Among the 31 dogs seized, three have already been put down on the advice of veterinarians. Another seven will remain with the shelter in hopes of finding them a home. And the OSPCA has asked a court to have the remaining 21 dogs euthanized.
"This is not something that is taken lightly," Alison Cross of the OSPCA tells The Dodo. "Euthanasia is always something that is taken very seriously. We feel it is the most humane option."
Cross says the OSPCA came to that conclusion after spending months assessing the dogs, ultimately deciding they could not be rehabilitated. To make that determination the agency brought in dog fighting experts, including the American Society Society for the Prevention of Cruelty to Animals (ASPCA).
But just a 10-minute drive from that shelter, there is a kind of paradise - an animal sanctuary boasting some 50 acres of hills and woods and fields. And that refuge, Dog Tales Rescue and Sanctuary, thinks otherwise.
Dog Tales has written twice to the OSPCA offering to take every last one of these dogs.
"What has really captured our attention about this story is that it seems these dogs are being punished for the abuse they have suffered at the hands of three very horrible people," Clare Forndran, the sanctuary's media director, tells The Dodo. "Any behavioral issues they have right now are a direct result of that abuse. They didn't ask to be brought into that life."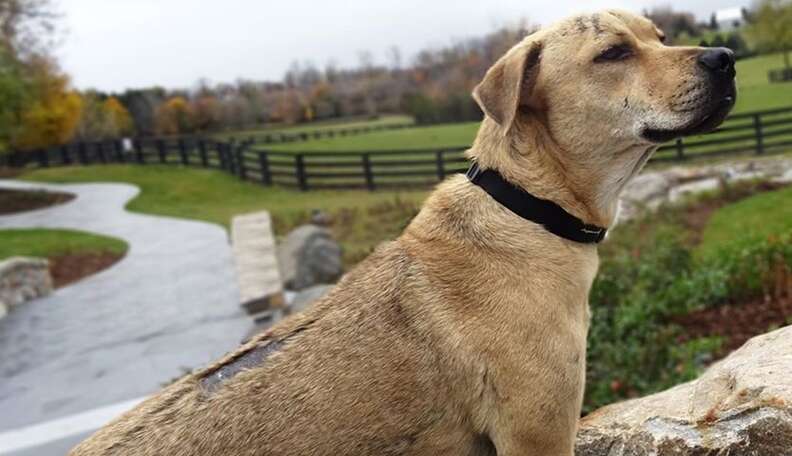 But the sanctuary's second offer, sent last week, isn't likely to change anything for these animals.
"I think one of the problems here is that they don't really have a clear way to take the animals and give them to someone else before the trial," Camille Labchuk, a lawyer and executive director of advocacy group Animal Justice, tells The Dodo.
In a sense, the dogs are also being victimized by the province's much-criticized and woefully ineffective breed ban.
"They can't just give them to any rescue or any foster home that might want to care for them," Labchuk says. "They do have to comply with the law."
In this case, the sanctuary would have to get an exemption from the province before it could take these dogs - a province that has remained steadfast in its commitment to breed-specific legislation.
Another snag?
Legally, the dogs still belong to the owners facing charges, which is why the dogs' fate, one way or the other, won't be determined until the trial ends.
Unless, of course, a dog is deemed to be in medical distress - like the three already put down.
Animal Justice is preparing to intervene in this case, in an "attempt to find a solution that doesn't involve having them destroyed."
"The dogs are in a bit of a legal limbo," says Labchuk, a practicing lawyer. "They're in the custody of the OSPCA, which can't just send them off to another facility."
"But either the provincial government or the local municipal council could grant an exemption to Dog Tales and give them a special designation. This would allow them help the dogs and save them from being punished for crimes they didn't commit."
At the moment, it seems an unlikely scenario with the OSPCA petitioning for the animals to be euthanized immediately after the trial ends.
"They're not owned by the Ontario SPCA," Cross says. "They're just staying in our care. The law doesn't allow us to relocate them to wherever we want.
And that may be the ultimate tragedy in this case. It's far from uncommon for dogs to not only leave behind the bloodsport they were forced into, but enjoy long, loving lives. Even, in some cases, forging profound friendships with children.
"It think it's pretty shocking to a lot of people that the agency that's tasked with protecting animals in Ontario is actually trying to get them executed," Labchuk says. "If they were any other animals, they wouldn't be able to do that."
If they were any other animals, they would also be pretty much home already. The animal shelter where the dogs face their final days is just a few excruciating minutes away from the sanctuary.
"If you take a left out of our property, you just drive straight down the road about 10 minutes and you get there," Forndran says. "Realistically, we could probably even walk the dogs back to our property. That's how close we are."
So close. And yet, miles to go.
If you would like to join the fight to keep these dogs from being put down, you can sign a petition here.