Pit Bull Who Cried When He Was Rescued Is Now All Smiles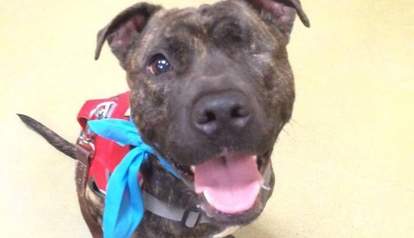 A sweet pit bull has had an incredibly rough start to live, and now all he wants is a home to finally feel safe in.
Drew, thought to be around 2 years old, was brought to the New York ACC in November 2014 with a horrendous injury. His left eye was bulging out of his head, and the pain was so bad that he kept crying out. The shelter assumed he had probably been hit by a car. Due to the severity of his injuries Drew was put on the list to be put down.
Facebook/Urgent Death Row Dogs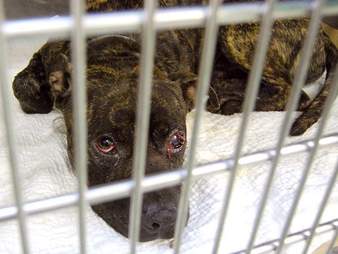 Facebook/Urgent Death Row Dogs
Drew was pulled from the ACC by Ready For Rescue. Cecelia Blake, who volunteers with Second Chance Rescue NYC, heard about Drew's plight and stepped up to foster him. Drew was rushed to the ER, where his left eye had to be removed. He has had to adjust to a life with limited sight, which has been a challenge. "He definitely gets nervous with his vision loss," Blake told The Dodo.
Cecelia Blake
Cecelia Blake
Despite his anxiety from only having one eye, his foster mom says Drew is truly a joy to have around. "Drew is a happy, loving dog who would love to have children in his home," Blake said. "He takes treats gently and loves to snuggle."
Drew is fantastic with kids, and likes other dogs too as long as they are not too rambunctious. He doesn't really understand cats, so a home without them would be best. After all that Drew has been through, he just wants a home with people who will love him, and who he can love right back.
Cecelia Blake
Cecelia Blake
"I cannot think of anything this dog does not enjoy as long as he is by your side," Blake said.
If you would be interested in adopting Drew, you can check out his adoption page to get the process started. You can also visit his Facebook page to learn more.