Rescue Dog Loses Her Eye — And Gains A Baby Tortoise
When Alicia Wishart met her dog, Beans, at the shelter in November 2009, she fell in love as soon as her eyes met Beans' "big cow eyes."
Little did Wishart know that Beans wouldn't always have two eyes.
Alicia Wishart
"Beans is what happens when I tell my husband not to take me to the shelter 'just 'cause,'" Wishart told The Dodo. "[But] I had to bring her home."
Beans now lives in Ontario, Canada, with her adopted siblings, two dachshunds named Bailey and Molly.
From right to left: Molly, Bailey and Beans

| Alicia Wishart
"Molly is a bit strange and up until more recently she hasn't always been sure of Beans," Wishart said. "One day, they had a minor scuffle and Beans got a small cut under her eye. We realized a few hours later that the cut went through and injured her retina. We took her to the vet and they said it was still intact, but just barely."
A couple of days later, Beans' eye ruptured and she went blind. The vet said it was in Beans' best interest to have her eye removed and so it was - leaving her with a perpetual wink.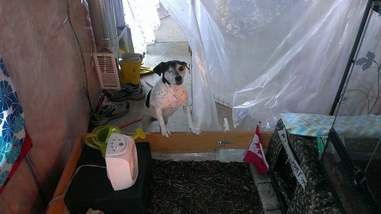 Alicia Wishart
One month after Beans lost her eye, Wishart found herself at a reptile expo, where she was selling her art. "I've never had a reptile before but had considered the possibility of getting a tortoise at some point," she said. "I saw Waffles and he ended up coming home with me that day."
Once Waffles, a sulcata tortoise, came home, Beans took an immediate interest in him, though for Waffles' safety (since he was so small) Wishart kept the two separated.
Alicia Wishart
"One day, I was getting out of the shower and Beans came trotting in with what I thought was a pinecone in her mouth," Wishart said.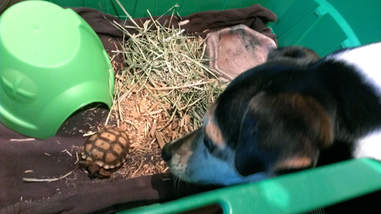 Alicia Wishart
"She placed it on the floor and it turned out to be Waffles. I lost my mind and freaked out that he would be injured, but he wasn't. Beans went into Waffles' pen, picked him up and brought him to me because she wanted to play with him," she said.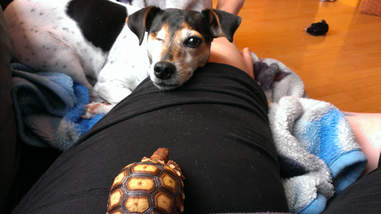 Alicia Wishart
After gating off Waffles' pen for safety, Wishart allowed Beans to interact a little more with the tortoise under careful supervision.
Alicia Wishart
Waffles never once showed an ounce of fear toward Beans, while Beans appreciated the fact that Waffles was a messy eater (all the more scraps to lick away).
Alicia Wishart
The two have been the best of friends ever since.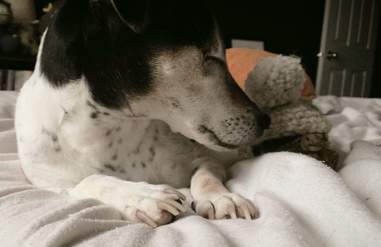 Alicia Wishart
Beans is 10 years old now, while Waffles is only 3, and the biggest difference between them now is Waffles' size.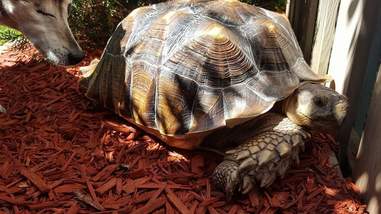 Alicia Wishart
While Waffles can no longer take rides on Beans like the majestic steed she is, the two of them enjoy doing plenty of other activities together.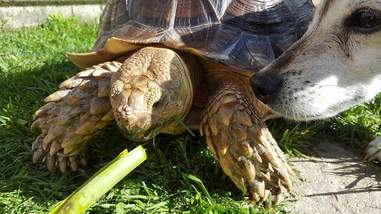 Alicia Wishart
Their hobbies include spending time out in the backyard basking in the sun, eating dandelions together and mooching off of their mom whenever they see her preparing a salad (or any kind of meal for that matter).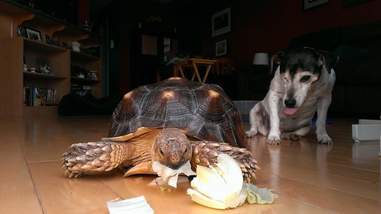 Alicia Wishart
"My dachshunds have no interest in Waffles and usually get out of his way when he comes near," Wishart said. "But to Beans, he's just another dog like her."
Alicia Wishart
You can keep up with Waffles and Beans' adventures on Facebook.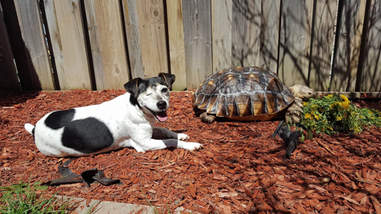 Alicia Wishart
There are plenty of reptiles (and dogs) available for adoption. If you're interested in bringing one home, get started at Adopt-a-Pet.com.
Alicia Wishart
Watch this video about tortoise who helps out his friend in the sweetest way: