Five-year-old Iris Grace Halmshaw of Market Harborough, Leicestershire was diagnosed with autism in December 2011. Since that time, her parents, Arabella Carter-Johnson and Peter-Jon Halmshaw, have been navigating the process of helping their daughter flourish and live her life to the fullest. One of the more remarkable discoveries in this journey has been the blossoming friendship between Iris and her cat, Thula.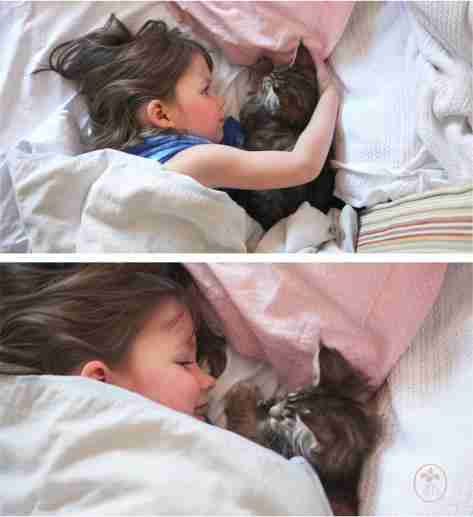 Arabella tells The Dodo that she and her husband had been considering a therapy animal for Iris after reading several articles about animals having positive effects on children with autism. After an unsuccessful look at Equine Therapy (Iris had little interest in horses), the family thought about a therapy dog. However, Iris and the prospective therapy dog didn't really click, as Iris didn't enjoy being licked and found the dog's hyperactivity to be upsetting. The family even spoke to various cat rehoming centers and tried out a therapy cat instead, but Iris didn't have much interest in any of the cats.
Since Thula came into Iris' life, Arabella says that Iris' paintings have indeed altered a bit. "We do see cat faces, imagery of cats in her paintings now, it is subtle but noticeable."
Below is one of many dreamy, impressionistic pieces painted by Iris.
When the two aren't painting, Thula and Iris enjoy spending time together playing on the family iPad ...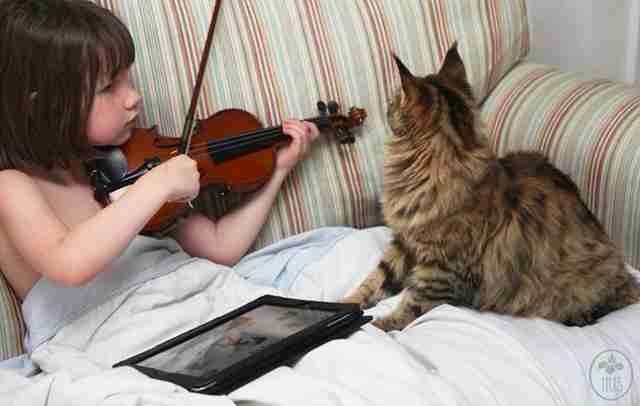 ... relaxing during car rides ...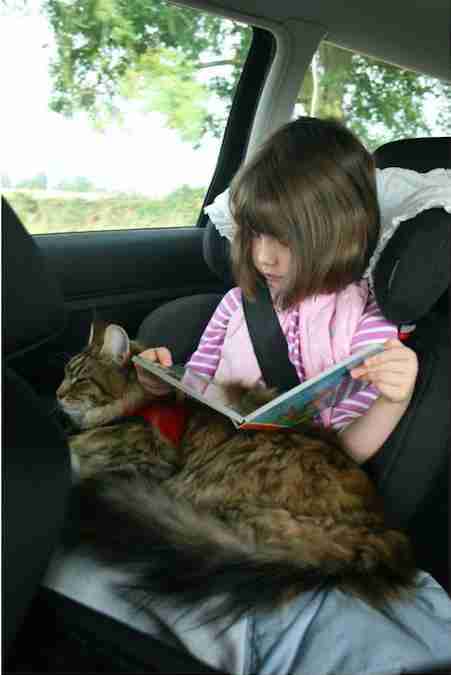 ... and even taking the occasional bubble bath!
But Thula is more than just a playmate. The cat is a source of stability and comfort for Iris during some of her darker moods. An excerpt from Arabella's blog describes one touching instance where Iris, a bit gloomy about practicing her speech, found comfort in Thula's presence:
Thula brings a square piece of bubble wrap in her mouth and jumps up onto the sofa beside Iris and drops it in her lap. Iris who was withdrawn and looking exhausted smiles and says "Hi Cat." She picks the bubble wrap up and starts playing and then offers it to Thula. Unusually Thula doesn't want it throwing or dangling, she nudges it back to Iris and lies down and purrs loudly. I watch her from the doorway, amazed at what I am seeing, I was just hunting for something to take Iris's mind off running through her words, a distraction from her current goal. How is Thula doing this? I understand she must be reading Iris's body language but to have the intelligence to find a sensory toy that isn't for her, but for Iris to play with to pull her out of this darker space, is incredible.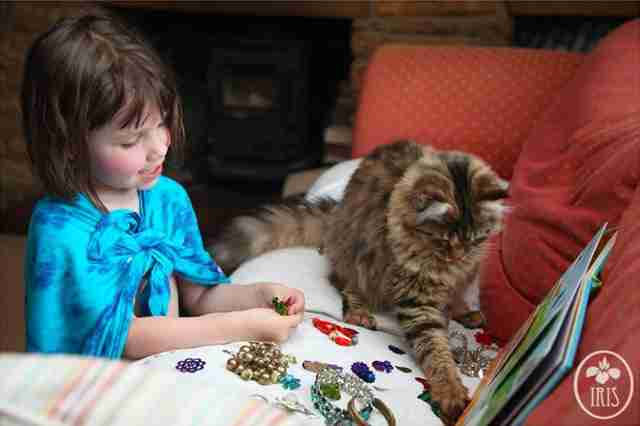 It's pretty clear that, regardless of what new skills Iris may acquire (she has recently taken interest in the violin), Thula will be there as a comforting presence, offering the silent understanding that Iris needs.
Here's to the dynamic duo's future adventures - there will surely be many.
You can read more about Iris' life on her website and Facebook page, and can view and purchase prints of her unique artwork here.
See the latest photos of Thula and Iris on Instagram.