Woman Saves 1 Abandoned 'Teacup' Pig — And Soon Ends Up With 30
"Not everyone understands that having pigs is like having a 4-year-old toddler for 20 years."
Last May, Alesja Daehnrich got a phone call from Harnett County Animal Control in North Carolina. Officers had picked up 15 pigs from a hoarder's property, and they wanted to know if Daehnrich, who runs The Blind Spot Animal Sanctuary with her husband, Alex, would take the pigs.
If not, the pigs would be sold to the highest bidder at a county auction, and the buyer would be able to do whatever they liked with them — including kill them for food.
The problem was, Daehnrich and her husband already had 21 pigs at their sanctuary, three of whom — Larry, Curly and Moe, also called the "Stooges" — had come from the same hoarder's property (and were most likely related to the 15 pigs captured in May). The couple didn't have enough enclosures on their property for more pigs, and providing veterinary care for 15 more rescues was a stressful thought.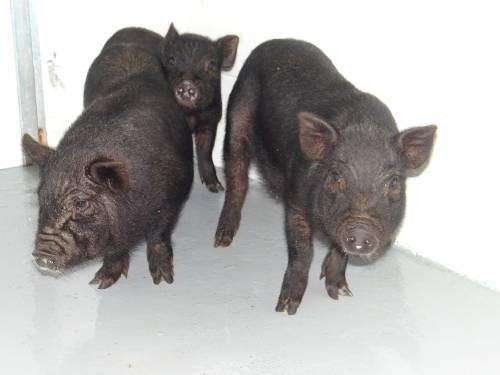 But Daehnrich knew she had to do something. "I just can't look away," Daehnrich told The Dodo. "If these pigs are anything like our Stooges, these are really nice animals. They just need vet care and time to trust people again."
Daehnrich and her husband didn't waste a minute. They quickly built extra enclosures and fences on their property, and also reached out to numerous rescue partners and organizations — including Pig Pals of North Carolina, Triangle Chicken Advocates and Saving Grace Animals — to get help with foster care and veterinary bills. With so many people pitching in, they managed to rescue all 15 pigs.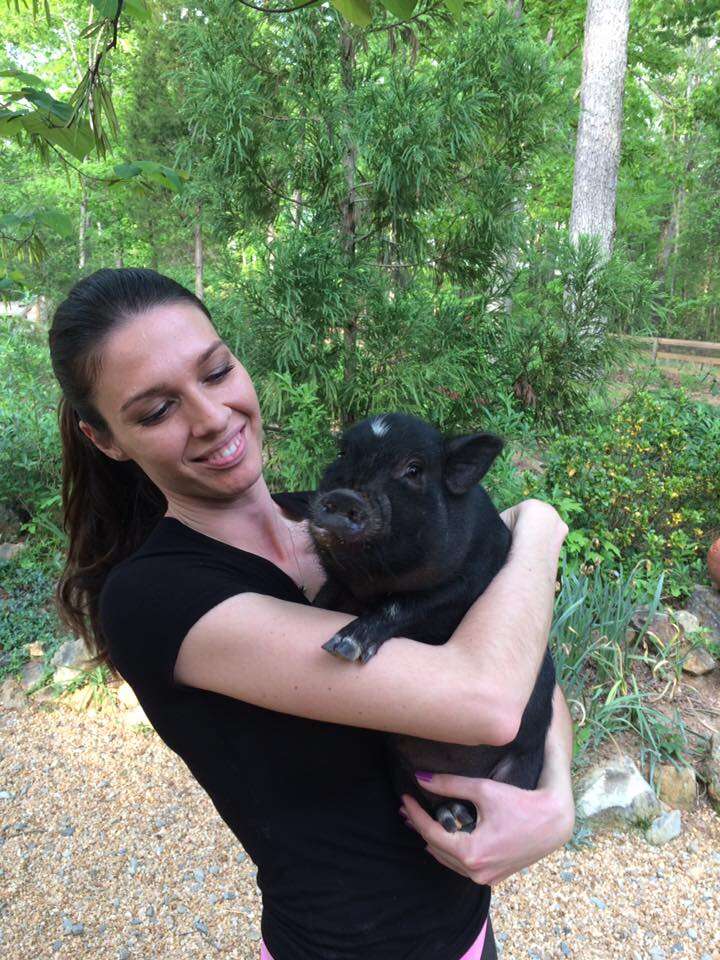 Daehnrich and her husband, both originally from Germany, began rescuing farm animals four years ago after they purchased a 13-acre property in Durham, North Carolina. They started out with several rescue dogs, ducks and horses, and a rooster. But last year, they got their first rescue pig, Kevin, who'd been surrendered by his original family after he became "too much" for them to handle.
"His first family purchased him from a backyard breeder who promised that Kevin wouldn't get bigger than 40 pounds," Daehnrich said. "He is 120 pounds today and still growing."
A few months later, the Daehnriches adopted Piggeldy, who'd arrived at a county shelter after being picked up as a stray. After that, a badly scarred 5-year-old pig named Holly arrived at the sanctuary after someone found her wandering along a road.
They didn't stop at three — Daehnrich and her husband have ended up rescuing many, many more.
One reason so many pigs need rescuing is because of the "teacup pig" myth. Pig breeders often falsely advertise "teacup pigs" — pigs that supposedly remain small their entire lives. But in reality, teacup pigs are just juveniles who are underfed and malnourished. When the pigs do eventually get bigger, people no longer want them as pets — and they'll dump them.
"A fellow sanctuary director, Dr. Penny Jeffrey with Pig Pals of NC, who has done pig rescue for over 20 years and become a dear friend to our family, told me one day as we started to help pigs that we would go from one, two and three pigs to 10, 20, 30 in no time," Daehnrich said. "I laughed and said, 'No way. We've been in rescue long enough to say no.' But she was right. There is rarely a single pig in need of help."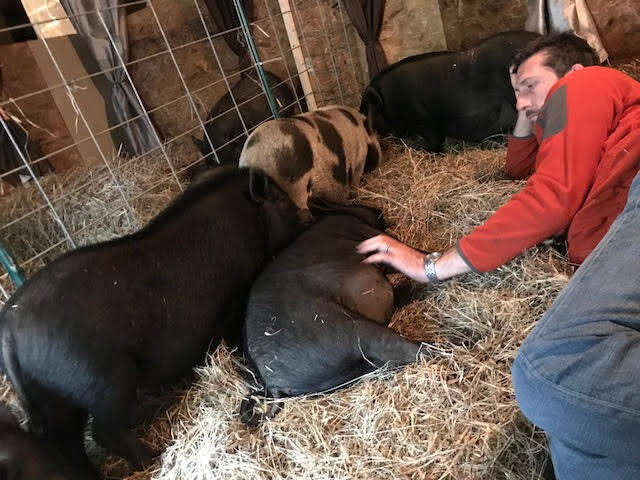 This year alone, the Daehnriches have rescued 35 pigs, in addition to four goats and a donkey. And they currently have 27 pigs living at the sanctuary — Kevin, Piggeldy, Holly, Fern, Edgar, Charlotte, Peaches, Tom, Jerry, Curly, Moe, Sam, Larry, Wilson, Betty, Blue, Milka, Josie, Tina, Oliver, Norbie, Andy, Griffin, Doogan, Duncan, Arnold and Norman.
"You can say they are our children," Daehnrich said. "We care for each of them as if they were our kids."
"Alex is very particular about providing the best care possible," she added. "When we prepare breakfast or dinner, Alex doesn't trust anyone to prepare because he wants each meal to be prepared individually. He cuts up fruits and veggies for each bowl, and measures feed for each pig. There is no room for mistakes."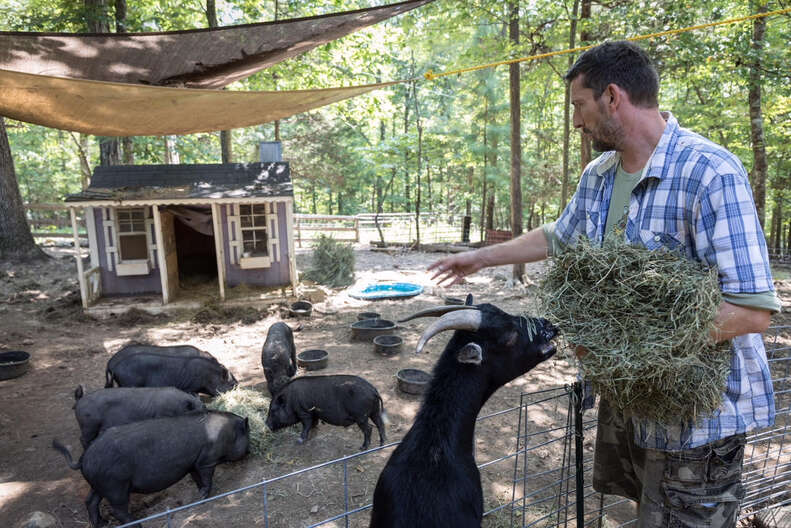 But the Daehnriches don't aim to keep every pig they rescue — instead, they try to rehome them so they have room to rescue more. Finding homes for the pigs, however, isn't easy.
"Not everyone is set up to house pigs, and not everyone understands that having pigs is like having a 4-year-old toddler for 20 years," Daehnrich said. "While pigs are amazing and intelligent animals, they are not easy pets and are quite mischievous. We have child locks throughout the house because Kevin can open any drawer, raid the pantry and counter surf better than any dog."
"Many people come to us to meet pigs and see whether they would be a good fit for them, and after we share accurate and truthful information ... many people walk out, thanking us for our honesty," Daehnrich added. "If these people had gone to the backyard breeders, they would have heard everything they wanted to hear and would have been in for a surprise after their purchase."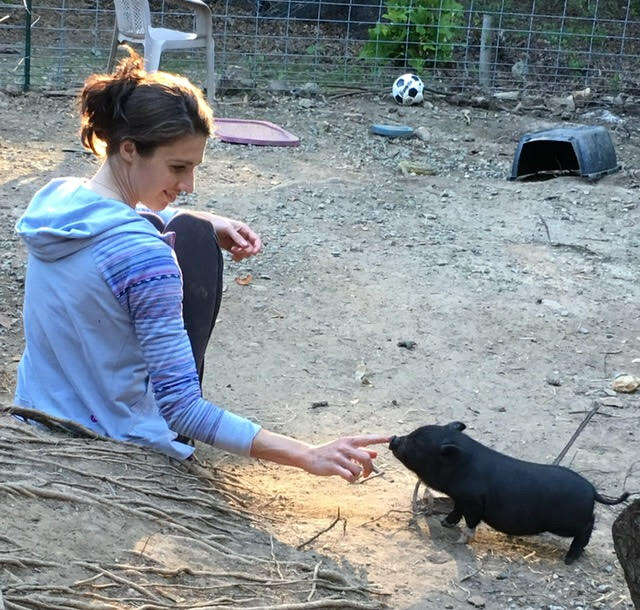 Luckily, some of the pigs that the Daehnriches helped rescue have found the perfect forever families.
"We couldn't have imagined better homes for these wonderful animals," Daehnrich said. "All of the adopted pigs are thriving and the families are so very happy. Some even say we have completed their family. We shared tears after every adoption but receiving heartwarming updates and pictures is priceless. Most importantly, these adoptions created space for animals in need."
But the Daehnriches are always prepared to provide a forever home for any rescued pig themselves — just in case another home can't be found.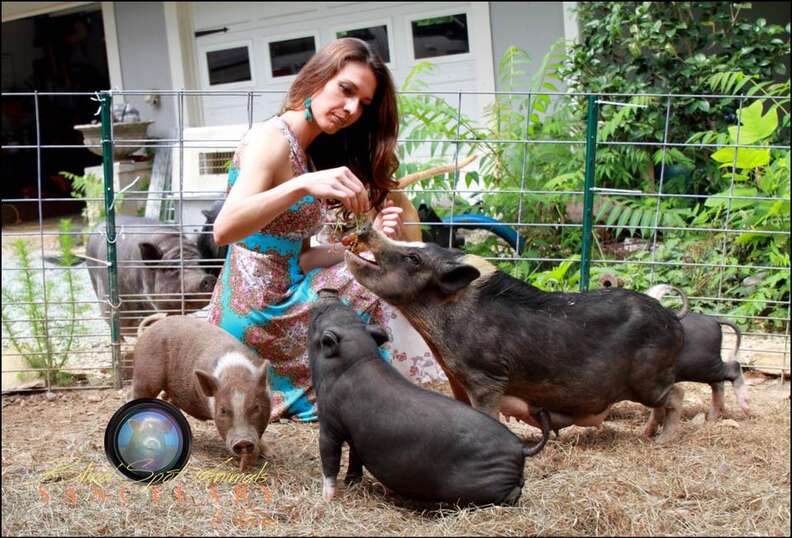 "We cannot imagine our lives without these amazing creatures anymore," Daehnrich said. "They bring us so much joy and laughter. They may be mischievous, dramatic and sometimes stubborn, but we cannot imagine our life without the laughs, and the grunts and squeals. I should not forget to mention the snout prints on our clothes."