Woman Walks Out Into Her Tiny, Walled-In Backyard — And Finds A Pony
He was just as shocked as she was 😱
A woman in England walked out into her very small enclosed yard one morning, ready to greet the day — and was shocked to discover a pony standing in the yard, looking just as bewildered as she was.
The woman had absolutely no idea how the pony had ended up in her yard, until her granddaughter admitted it had been her doing. She had seen an ad online about the pony and decided she had to help him right away, without really thinking about what that would entail.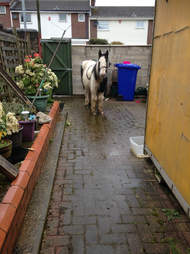 RSPCA
"You couldn't make this up," Charlotte Melvin, an inspector with the RSPCA, said in a press release. "A 13-year-old girl responded to a plea on an online free ads site where a lady said she didn't want the pony anymore and that he would be put to sleep if no one had him. She gave her nan's address and the next thing that happened was a man just came along and dumped the pony there, no words of advice or anything like that — and leaving a very shocked nan."
The poor pony was incredibly skinny and covered in mites, and the woman who found him in her backyard knew he needed help as quickly as possible. She contacted World Horse Welfare to come and rescue him, but when Rachel Andrews, a field officer with the rescue, realized she wouldn't be able to get there right away, she asked the RSPCA to go and collect the pony first and care for him until he could be taken in by World Horse Welfare. 
Since Melvin and Andrews were the ones to help rescue the sick pony, they decided to name him Mr. Melvin Andrews.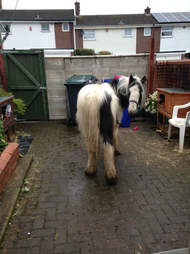 RSPCA
"We don't know where this poor pony came from but he clearly was not treated well before being abandoned," Melvin said. "We have come to a dead end in trying to find out further information so we are appealing for anybody who can help us to get in touch."
After being checked over and cared for temporarily by the RSPCA, Mr. Melvin Andrews was taken in by World Horse Welfare and is now being cared for at one of its private boarding facilities. He seems to be doing well, and his rescuers are hopeful that he will make a full recovery.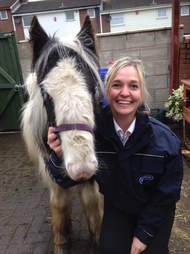 RSPCA
Unfortunately, both the RSPCA and World Horse Welfare have seen a trend lately of sick or young ponies being abandoned because their owners no longer want or are able to care for them, and it seems that Mr. Melvin Andrews was the latest victim of this trend.
"Every horse and pony deserves responsible ownership, which includes responsible breeding, selling and rehoming," Andrews said in a press release. "We're just glad that Melvin the pony has settled in well at our Penny Farm Rescue and Rehoming Centre and has already shown himself to be a lovely little pony and we hope in time we can find him a good home."