Heartbroken Wild Horse Transforms When She Meets Orphaned Foals
"They lost their mamas and she lost her baby — and tonight they're a family."
Just over a year ago, a wild horse was rounded up with her herd in Wyoming and put in a federal holding facility.
The wild mare was pregnant. After just a few days in the facility, she gave birth to a baby boy foal.
The first time Clare Staples saw the beautiful cremello mare was just a few days after she had had her baby.
Staples, founder of Skydog Sanctuary, was visiting the private Bureau of Land Management (BLM) facility to help rescue wild horses who had been rounded up by the government to clear the land. If horses like this aren't adopted out, they can end up spending their whole lives in holding facilities — or, worse, they can be sold and end up in slaughterhouses in Canada or Mexico.
"I posted some photographs of horses," Staples told The Dodo. "Nobody could see them and I wanted to try and get them adopted out of there."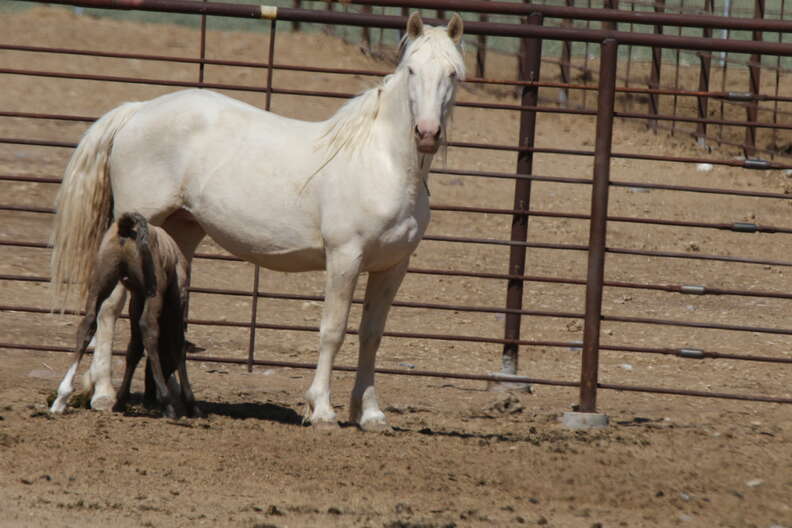 "One photograph seemed to get all the attention," Staples said.
People fell in love with the cream-colored mother horse and her newborn. "Everybody seemed to be asking for someone to save them and a couple of people even said they would take them," Staples remembered.
It seemed like the horse, who became known as Magnolia, was about to have an incredible stroke of luck so few others have. Unlike the many wild horses who end up separated from their families during roundups, Magnolia would be able to raise her baby at a new home.
But things didn't go according to plan.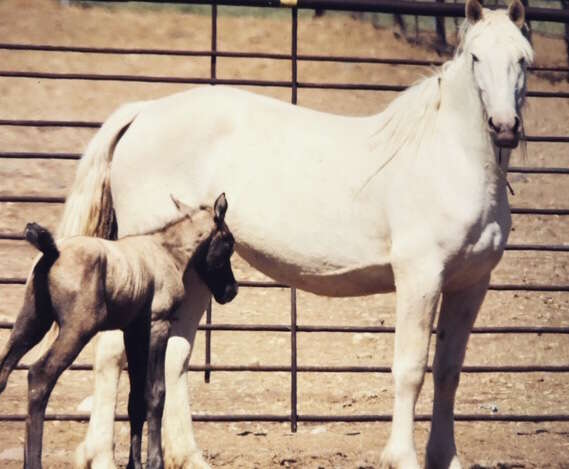 "I contacted the facility to ask and they located the pair," Staples said. "Next I got an email from the BLM saying they had an outbreak of a very contagious virus called strangles and a lot of the foals were at risk."
Staples said she wanted to pull Magnolia and her baby right then. By the time BLM got back to her, it was too late. "Sadly, the foal passed away," she said.
The people who had offered to adopt both Magnolia and her baby decided not to go through with just adopting Magnolia. So Staples decided to bring the heartbroken mother horse to her own sanctuary.
"I wanted her to come here and be free again and heal her heart and run on grass again," she said.
Magnolia came to live at Skydog earlier this month.
Staples and her crew have been mindful of all that Magnolia has gone through. They wanted to give her some time to adjust to her new surroundings.
Meanwhile, there was a group of individuals who happened to come to the sanctuary just before Magnolia arrived: Four baby horses who had all lost their moms.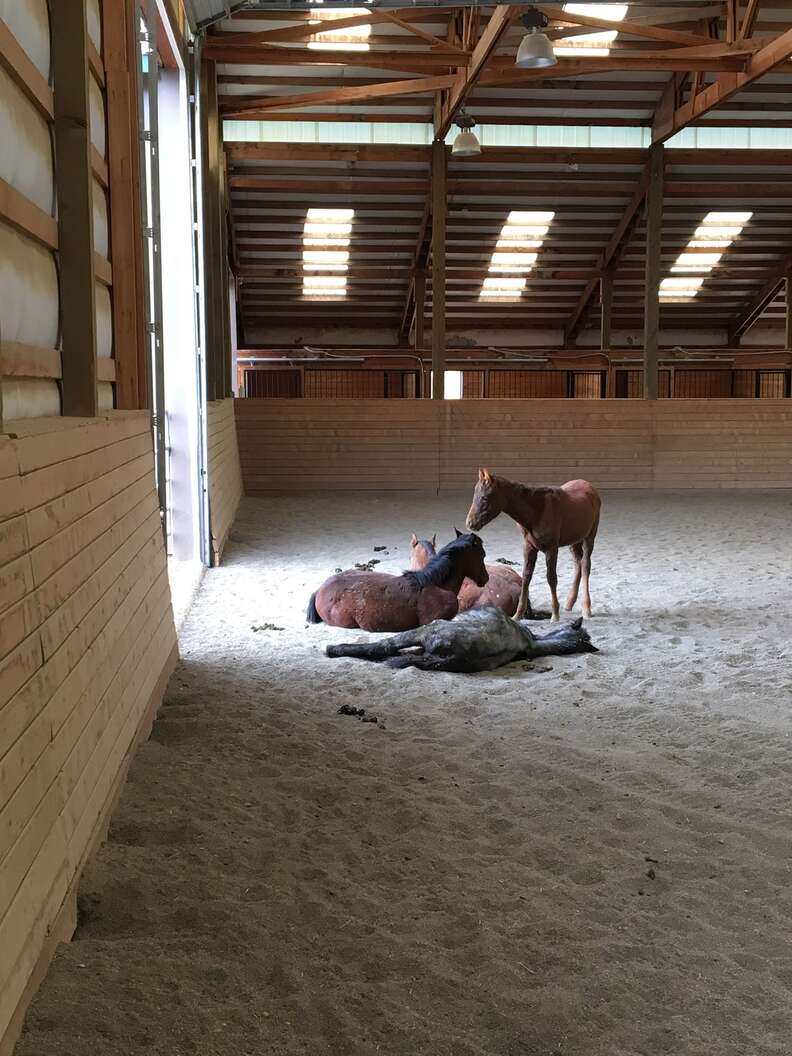 "The BLM at our local corrals in Burns, Oregon, asked us to take some foals who had been orphaned during a roundup here," Staples said. "We took four babies, all of whom had just lost their mamas. We named them Coco, Willow, Sugar and Two Spots."
Magnolia hadn't met any other horses yet at the sanctuary when her rescuers decided she should at least meet the four new babies, whom sanctuary workers had been nursing back to health since they arrived.
"We kept looking at her having lost her baby and then looking at the foals who had lost their mamas and after a week we just said, 'Let's give it a try,'" Staples said.
Staples wanted to be careful — wild horses can be territorial and unpredictable, especially when they've been through as much as Magnolia has.
"We brought Magnolia down to our barn ... and we let her into the sand arena with the babies," Staples said. "It was so beautiful. She immediately took to them."
Staples choked back tears as Magnolia started to groom the babies and act protective toward them.
"She shared hay with them," she said. "They followed her around like little ducklings and a couple even tried to nurse from her."
The babies — especially Coco — love to nuzzle up to Magnolia, as if adopting her as their mom.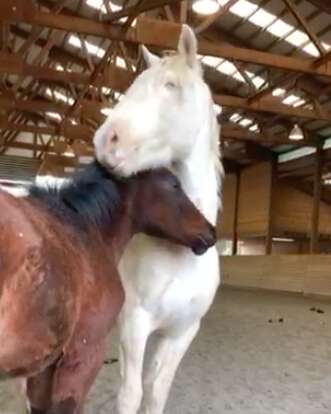 "I am so excited for this family, for their hearts to heal," Staples said. "I am grateful to the BLM in this case for reaching out to us and asking us to take the babies to give them the extra care and attention they need."
And Magnolia has made no secret of her love for the four foals. Only after meeting the group of orphans and spending time with them did Magnolia show just how full of joy she was, rolling around on her back like a foal herself while her adopted family watched.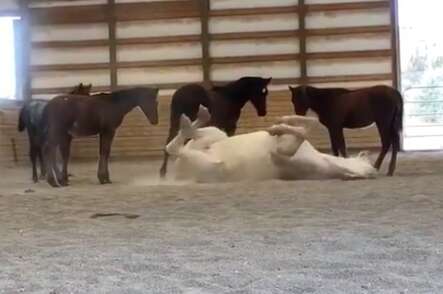 "She rolled for the first time since she got here two weeks ago," Staples said. "They all lost their loved ones but in the end they have each other and I couldn't be happier."
Now that she's constantly surrounded by her four adopted babies, it's almost hard to believe that Magnolia was all alone until very recently.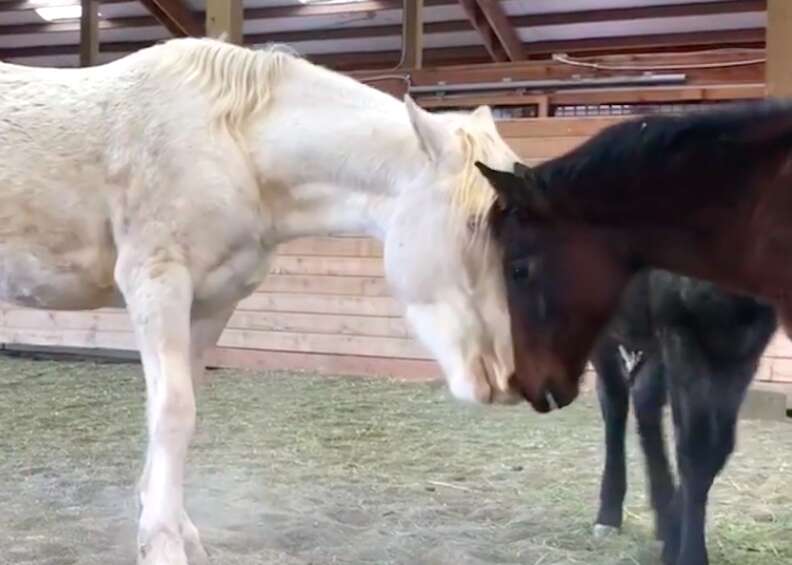 Staples recently watched the group eating dinner together in a field as the sun was setting on the distant hills. It seemed at that moment like the pain of the past was truly behind them.
"They lost their mamas and she lost her baby," Staples said. "And tonight they're a family."