Live Turkeys Are Thrown Off Plane In Bizarre 'Festival'
Some of them don't make it — and it's totally legal.
Almost every October for the past 50 years, the small town of Yellville, Arkansas, has celebrated the harvest season unlike any other: by tossing live turkeys out of airplanes.
After being thrown by an anonymous pilot, the flightless birds plummet nearly 1,000 feet and crash into buildings, cars or the pavement. Many die an instant death, though others die later after suffering injuries. But according to the Federal Aviation Administration, it's completely legal.
The "turkey drop" is considered part of the town's popular fall Turkey Trot festival that promotes local businesses — and over the past few years, it's been blasted by animal lovers across the country who are outraged by the cruelty. Official numbers aren't released, but roughly a dozen turkeys are used in the drops each year.
In addition to the turkeys being thrown from planes, other turkeys are also tossed from rooftops and from stages into crowds. Last year, four of the surviving turkeys were rescued by Farm Sanctuary, which later adopted them out to loving homes.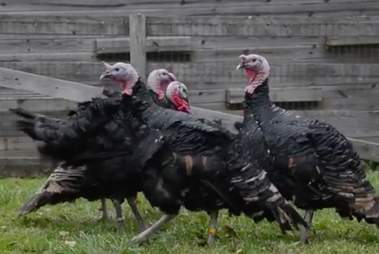 Farm Sanctuary
"We took in four males, all dropped from different locations, including one thrown from a stage into a crowd," Susie Coston, the sanctuary's national shelter director, told The Dodo. "They sustained injuries, including open wounds, that had to be treated for months."
The Federal Aviation Administration has investigated the event in the past, but determined it's legal as long as the plane is flying at least 500 feet high and the birds aren't dropped directly onto a crowd.
"The event is barbaric," Coston said. "To take a living being and throw them from a building, a plane or into a crowd of people from a stage is not only dangerous to the health of the bird, but is psychologically traumatizing."
The anonymous pilot involved, nicknamed "the phantom pilot," reportedly manages a Facebook page which posts derogatory messages toward animal advocates.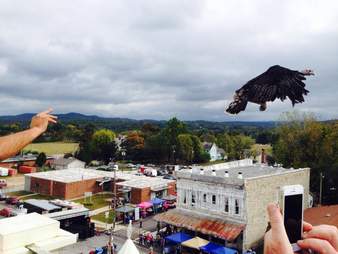 An onlooker films as a resident throws a turkey off a building

| Facebook/The Phantom Pilot
The fair was previously sponsored by the town's chamber of commerce for years — but last week, the group announced it would no longer host it due to financial and safety concerns. It's unclear whether another sponsor will step in or if the turkey drops will continue without the actual street fair.
A resident at the fair posing for a photo with a turkey

| Facebook/The Phantom Pilot
Coston hopes the loss of sponsorship will mean an end for the cruel spectacle.
"Turkeys are smart, curious, emotional animals who enjoy receiving affection from humans just as much as dogs and cats do," she said. "They deserve the same respect and consideration."
A rescued turkey named Tibbott who lives at Farm Sanctuary's California campus

| Farm Sanctuary