Pig Who Ran For Hours To Save His Life Falls In Love With Man Who Helped Him
"He ran up to Alex as if they were old friends. I had tears in my eyes."
All he could do was run for his life.
The 500-pound pig bolted down a busy highway in Rougemont, North Carolina, trying to outrun the large dogs trailing behind him. Eventually, he collapsed in the middle of the road from heat exhaustion — and the dogs closed in on him.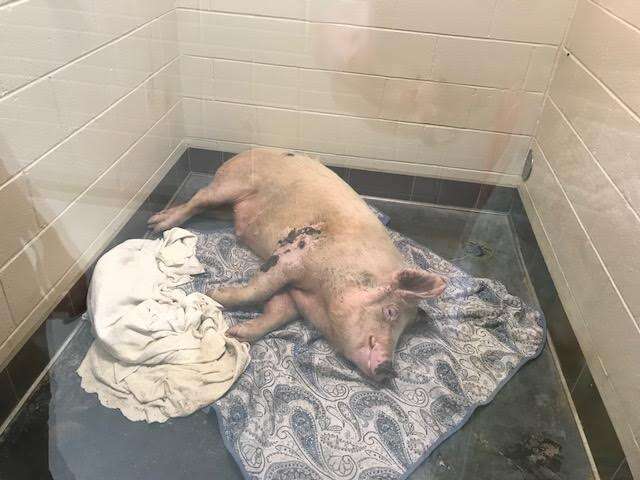 This could have been the end for the pig if a kind stranger hadn't stopped and called 911. By the time the police arrived, the dogs were gone, but the pig, who was about 6 months old, was badly injured and bleeding.
The police stopped traffic on both sides of the highway until animal control officers arrived and helped the pig move safely into a vehicle. Then the officers drove the pig to Orange County Animal Shelter.
The shelter staff did what they could to tend to the pig's wounds, but they had limited resources to treat a large farm animal like him. So they contacted Alesja and Alex Daehnrich, who run Blind Spot Animal Sanctuary, and asked for their help.
When the Daehnriches arrived at the public shelter, they found Toby lying inside a large dog kennel. Alex asked to go inside.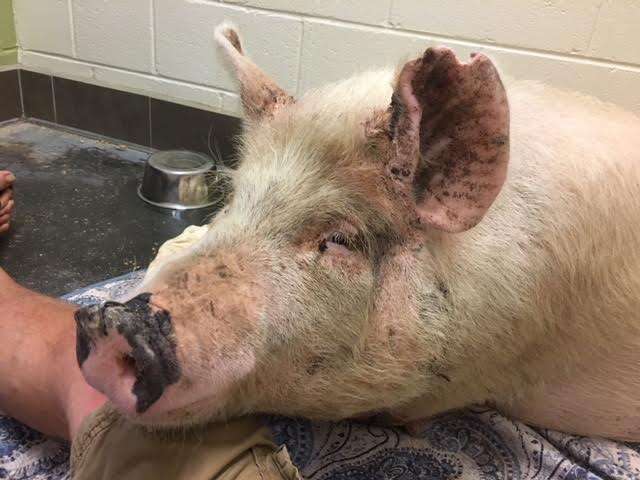 "The minute Alex sat in the dog kennel with Toby … he [Toby] laid his giant head on Alex's leg," Alesja said. This was the moment, Alesja explained, that the Daehnriches knew they would keep Toby.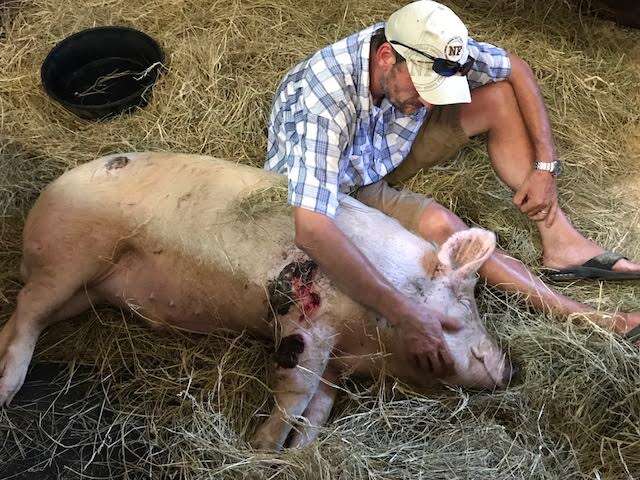 But unfortunately, the Daehnriches couldn't adopt Toby right away. According to North Carolina law, farm animals who arrive at public shelters need to be put up for auction, and anyone — including people who want the animals for meat — can buy them. However, the shelter staff wanted the best for Toby, so they arranged for the Daehnriches to take Toby into foster care in the meantime, so the Daehnriches could get Toby the urgent medical care he needed.
Toby was covered in wounds, and it even looked like his leg was fractured. But upon closer inspection, Toby's leg was just badly infected.
"We were more worried about his wounds and infection settling in," Alesja said. "The sight was horrific, the wounds were deep and serious. The shelter [had] stitched him up the best that they could."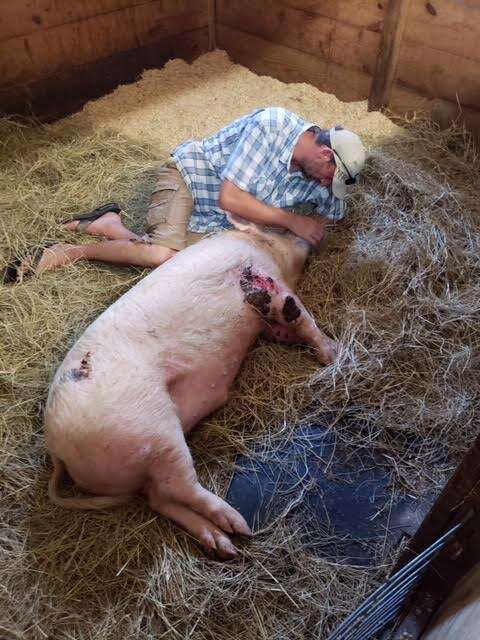 Alesja also noticed that Toby had been castrated and had a ring in his nose, which suggested that he'd probably escaped from a farm.
"He must have belonged to someone and [was] likely raised for meat," Alesja said. "Pigs are castrated at a young age so that their meat tastes better."
Toby was probably in a lot of pain, but he acted like a "perfect gentleman," according to Alesja.
"He was clearly in pain and allowed the vet to examine him, touch the legs, the wounds and give him a shot," Alesja said. "The vet and us were complete strangers to him … [and] he had no idea what was going to happen to him but yet he was so sweet and gentle."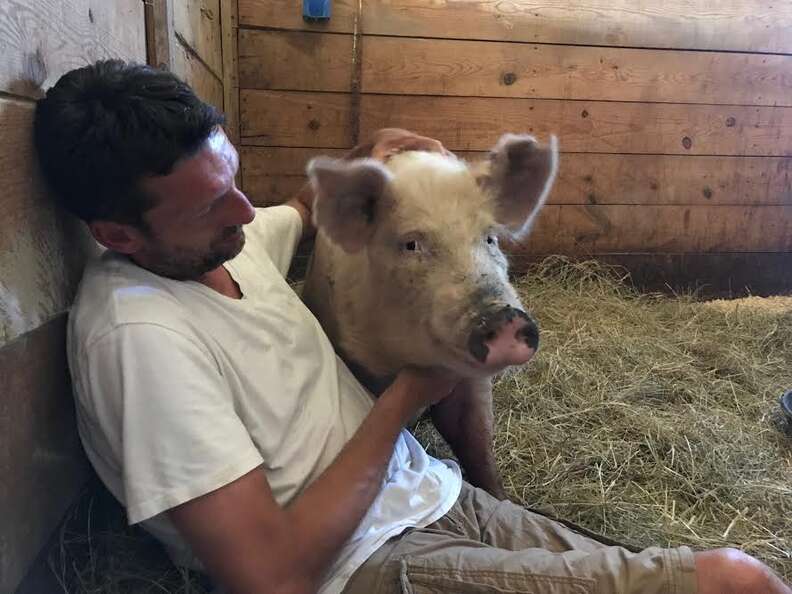 Toby was put on heavy medication while the Daehnriches monitored his health closely — and he eventually started to feel better.
"His wounds are healing, the swelling and infection are going down and he now has a routine," Alesja said. "As he walks out of his stall, he goes straight to a baby pool, which is way too small for him, but he loves it. He lays there with his butt hanging out. We hose him down — he probably thinks there is an automatic sprinkler system that hoses him down every time he plunges in his pool. He also loves the pond we have, and you would often see him bathe in there."
Toby also had much better manners than many of the other rescued pigs at their sanctuary, including Emma and Baby, the Daehnrichs noticed.
"Toby takes treats incredibly gently, much better than our potbellies," Alesja said. "He follows us around the sanctuary and, despite his size, he is very careful and gentle. If we stop or sit down, he lays down close to us asking for a belly rub. He makes funny grunts when we call his name as if he's talking back."
Toby has formed a particularly close bond with Alex.
"The other day he [Toby] was out in the pasture grazing when he saw Alex come up," Alesja said. "He got so happy that he ran across the pasture, with a speed I didn't realize he had, with ears flopping in the air and all. He ran up to Alex as if they were old friends. I had tears in my eyes."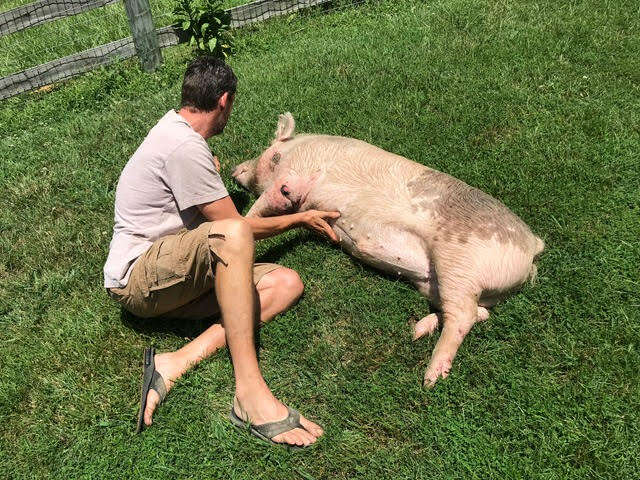 "He is slowly meeting the rest of the residents and you can see how interesting everything is to him," Alesja added. "He wasn't sure about our resident cats, but he met the pigs, including a farm piglet that fell off a truck. We cannot wait for him to feel better so that he can have his own herd that he can bond with."
Then Toby's auction day arrived. Based on his medical condition, the staff at Orange County Animal Shelter allowed Toby to remain at the sanctuary during the auction — and, thankfully, no one showed up to bid on Toby except Alex himself.
"We told Toby yesterday that he is now home," Alesja wrote in an Instagram post. "The minute Toby arrived at the sanctuary, Alex said, 'This boy is not going anywhere. He is home here with us. He can join Emma and Baby in their shenanigans and plunge in the pond as much as his heart desires.'"