Sheep Who Joined Wild Kangaroo Family Was So Fluffy He Could Barely Walk
When he lay down to nap one day, even his kangaroo friends couldn't help him get up again 😱
When this stray sheep lay down for a nap earlier this month, it was almost for the last time.
No one knows exactly how long the rogue sheep was wandering the forests of Australia without human care, but it was long enough for him to grow a coat of wool so massive that he could barely move.
Edgar's Mission
The sheep had also befriended a group of wild kangaroos in the woods, who apparently accepted him as one of their own — but when he lay down and got stuck on his side due to his huge hair, his buddies couldn't help him. Luckily, a concerned citizen saw the sheep struggling to stand, and called Edgar's Mission farm sanctuary for help.
"This was urgent, and we needed to act fast," Pam Ahern, founder of Edgar's Mission, told The Dodo. "He was stuck on his side and couldn't right himself — if we hadn't come along when we did, he would have most certainly died not long thereafter."
Edgar's Mission
When rescuers arrived, they couldn't believe their eyes. The homeless sheep's fleece was enormous — and it was causing him a lot of stress.
When overgrown fleece becomes wet, it becomes a breeding ground for flies, which can be life-threatening to the animal as they can lay eggs that cause infection. "His fleece was heavily soiled with urine as well, again posing another health risk to him," Ahern added.
Edgar's Mission
Rescuers helped the wayward sheep back to his feet and over to their sanctuary, where the team began to work through his horribly matted fleece. Not only was his hair filthy, but it was also covered in needlegrass — a dense plant containing sharp spikes.
They decided to name the sheep "Better," after his newfound fate.
Edgar's Mission
"We picked the name Better for a couple of reasons, one because we were going to get a better outcome for him," Ahern said. "And that he deserved better than the circumstances the humans who had been responsible for him had afforded him."
Edgar's Mission
In all, rescuers sheared over 30 pounds' worth of fleece from Better's body. After that, they started the painstaking task of removing the small needlegrass seeds that had attached to his skin.
Better was a bit stressed at first, but he soon noticed that his caretakers were only there to help him.
Edgar's Mission
Now with a brand-new buzz cut and clean skin, Better is well on his way to getting healthy and starting a whole new life at the sanctuary.
After this, it's safe to say he'll become quite used to routine haircuts from here on out.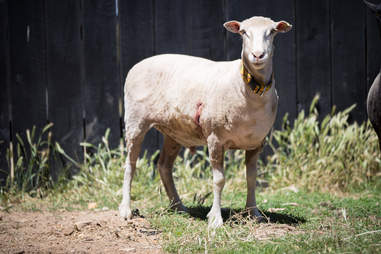 Edgar's Mission
"He understands what we are doing is actually helping him," Ahern said. "He is feeling very much relieved."