Pig Who Spent Month In A Shelter Can't Believe Her Brand-New Life
"Okja walked around the sanctuary, checked everything out and met other residents through the fence when she saw a spot by the pond and she took off."
Okja was not an easy pig to catch.
The pig — a Meishan, a breed with long, droopy ears and wrinkly skin — had been wandering around rural North Carolina for weeks before animal control officers managed to track her down and coax her into their vehicle.
Okja exploring her new home at Blind Spot Animal Sanctuary

| BSAS
"We think she was used for breeding," Alesja Daehnrich, cofounder of Blind Spot Animal Sanctuary (BSAS), told The Dodo. "She was also covered in scars and scratches. Her tail was docked, too. Not knowing her age, it's hard to tell if she was no longer producing litters successfully and was thrown away or what happened."
Animal control transported Okja to a local shelter — but unfortunately, the shelter wasn't equipped to house farm animals, and the staff didn't know how to take care of her. So Okja was forced to spend a month in a small, unheated dog run without proper bedding.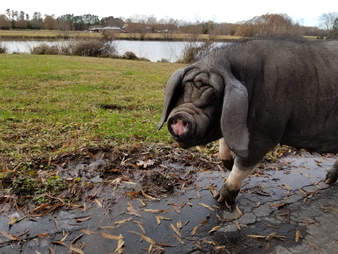 BSAS
The shelter staff eventually reached out to BSAS to see if they'd take Okja.
"Blind Spot was quite full on pigs, but the situation seemed dire as the pig had been there for so long already and so we agreed to admitting her," Daehnrich said.
BSAS
On Monday, Daehnrich's husband, Alex, drove to the shelter with a horse trailer to pick up Okja so she could begin her new life at the sanctuary.
"As she came off the horse trailer, Alex and volunteers wanted to give her a chance to walk around and exercise," Daehnrich said. "Okja walked around the sanctuary, checked everything out and met other residents through the fence when she saw a spot by the pond and she took off."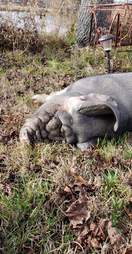 Okja rolling in the grass on her first day at the sanctuary

| BSAS
Okja immediately started to root, digging her snout into the soil to search for food, which is a natural pig behavior she wouldn't have been able to express at the shelter. Then Okja flopped onto the grass for a well-deserved rest.
"Alex joined her and gave her a belly rub, which she thoroughly enjoyed and fell asleep," Daehnrich said. "It likely was the happiest day of her life as after being cooped up in a tiny kennel."
She even got her own room.
"For the first time in over a month, Okja had a stall filled with soft shavings and a bed made of hay," Daehnrich said. "She was so excited that she dove right in. Kim, one of the volunteers, even covered her with a blanket for the night. We could only see a snout sticking out."
After a good night's sleep, Okja resumed her exploration of the sanctuary. She also met the other residents, including two pigs who'd been rescued from a research facility.
"They are not only about the same size but their temperaments and needs are quite similar," Daehnrich said. "We hope they become best friends."
Okja napping in her new room

| BSAS
Daehnrich also hopes that Okja — who was named after the charismatic "super pig" in the film of the same name — can help people view pigs as the gentle and loving creatures they are.
"Oftentimes when people see pigs, they just see a food animal, something that is considered dirty and there to use," Daehnrich said. "We see them with different eyes — we see their soul, we see how brave they are, we see how emotional, loyal and intelligent they are."
BSAS
Okja may have had a rough start to life, but Daehnrich and the BSAS volunteers are doing everything they can to make up for it — and Okja seems to appreciate it all.
"Okja will be forever safe and lead a carefree life," Daehnrich said. "She will never have to worry about cold temperatures or homelessness again. She will have a meaningful relationship with other porcine friends and spend her days doing whatever her heart desires."