People Rush To Rescue Steer From Neck-Deep Mud During Hurricane
"He just knew we were there to help him, not to hurt him. We're so glad he's part of our community."
When Hurricane Harvey unleashed days of rain in Houston, Texas, last week, this giant steer got stuck in the mud, and an entire community came to help.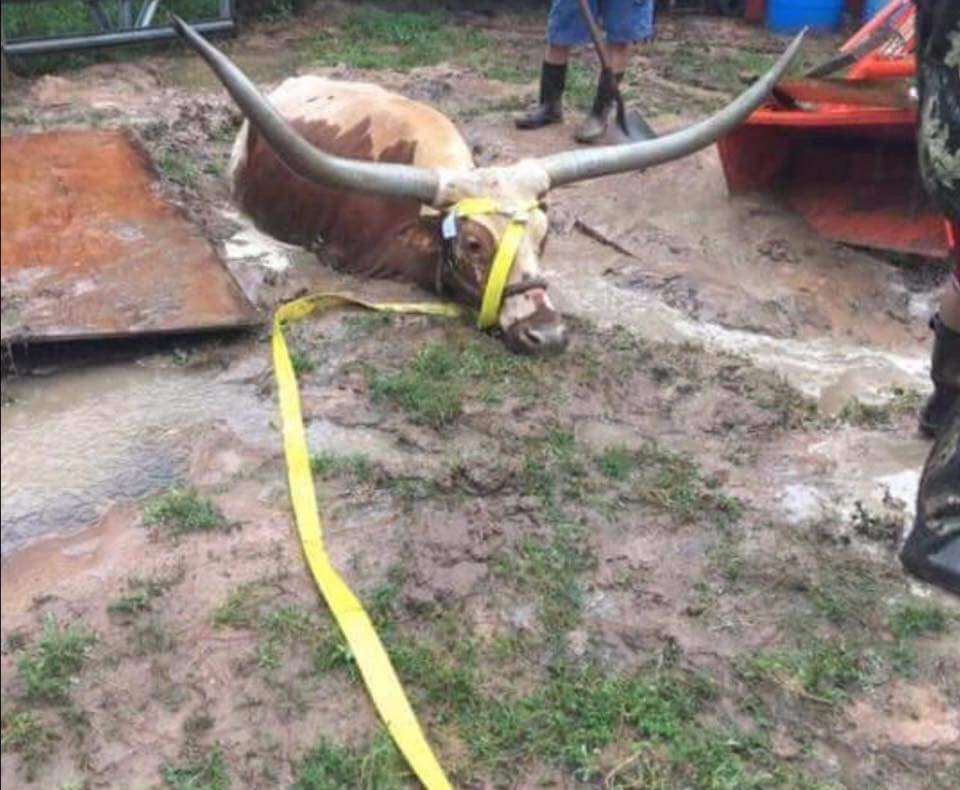 Almost everyone in the Rayford Road area of Spring, Texas, knows Samson. The 15 year-old steer is hard to miss. His longhorns span several feet and he's been a part of the community for years.
"His owners have had him since he was a calf. He's very much loved by them, and everyone in the community. He's a gentle giant," Amanda Sheridan, who lives in the area, told The Dodo.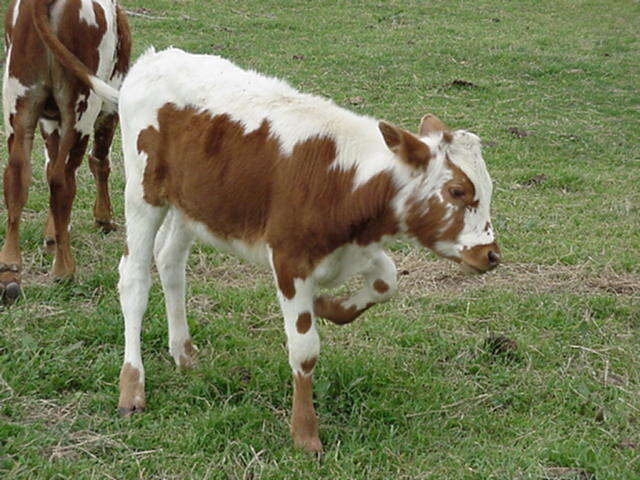 When the rain started collecting in Samson's yard, he started sinking into the mud. His owners, Kenneth and Margaret Tann, were very worried, "He weighs about 1800 pounds. The ground became like quicksand," Kenneth Tann told The Dodo. "He's a member of our family, and we started asking neighbors for help to get him out."
When Kaeleigh Jordan, the administrator of the neighborhood's Facebook page, heard about Samson she put out an urgent plea: "Can anybody help? A longhorn stuck in the mud!! Please? This is a beg!!"
Sheridan saw the post, and quickly grabbed her kids and her husband, who just happens to be a big Longhorns fan, and told them, "Come on! We are going to help rescue Samson," said Sheridan.
The Facebook post didn't just reach Sheridan, however. It reached nearly two dozen people who threw on their boots and raincoats, and rushed over to help the massive animal.
Like Christopher Miller. He was staying with his friend in the Rayford Road area after evacuating his own home because of the storm. Miller told The Dodo that his friend yelled out: "Y'all want to go get a cow out of the mud?"
"No one hesitated," Miller said. "Everyone got up and immediately grabbed shovels and we hopped in the car." He said fate, not just floodwaters, must have brought him to help Samson that day.
When Miller arrived at Samson's home, he saw a small army of people trying to help. "Armed with shovels and the clothes on our backs, not a one of us cared what we were getting into," said Miller. "Trucks were pulling up left and right. People were coming through neighboring yards like ants."
When Sheridan and her family arrived, she assessed the situation, and decided it was grim. "It had been raining for hours. It was right when the hurricane was in its prime point," said Sheridan. "Samson was in a hole. He could not get up. He needed help or he was going to drown."
The Tann's were thrilled with all the help. "All of a sudden I looked up and saw more than 20 people I never saw in my life wanting to help," said Kenneth Tann.
First, the all-volunteer crew put boards down so Samson had a landing spot when he got out of the mud.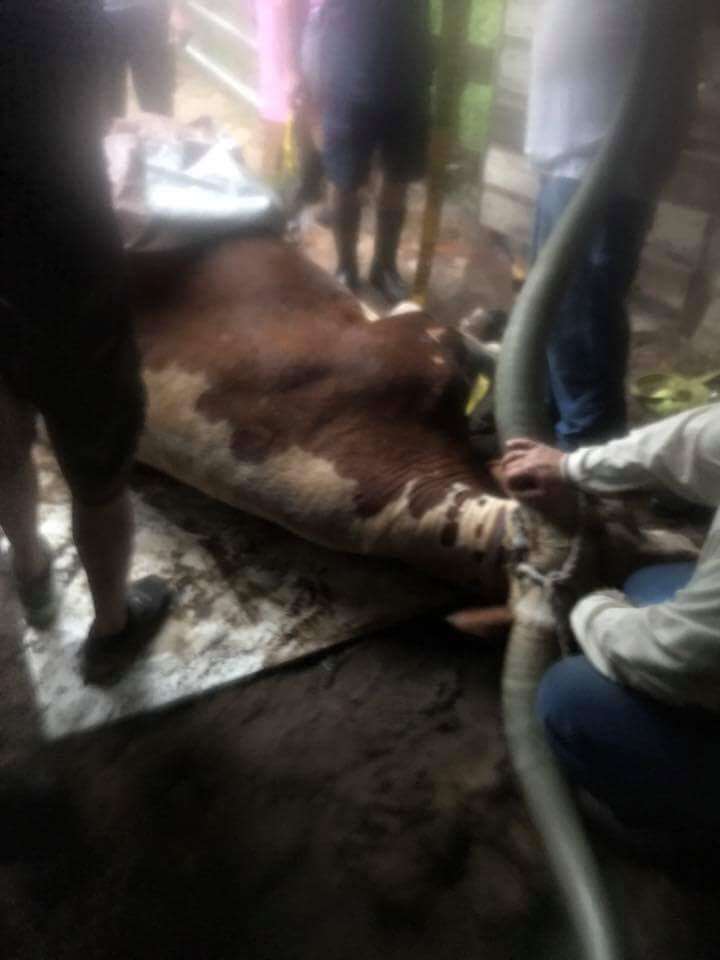 Then, they put straps around the longhorn's body and tried pulling him out with a tractor. But the tractor got stuck.
The volunteers began to worry. Samson looked like he was going into shock, according to Sheridan.
So, rescuers hooked the straps to an SUV, and started trying to pull out Samson themselves. "Next thing I know a good bunch of us were working on a Jeep, just using good, old-fashioned manpower," said Miller.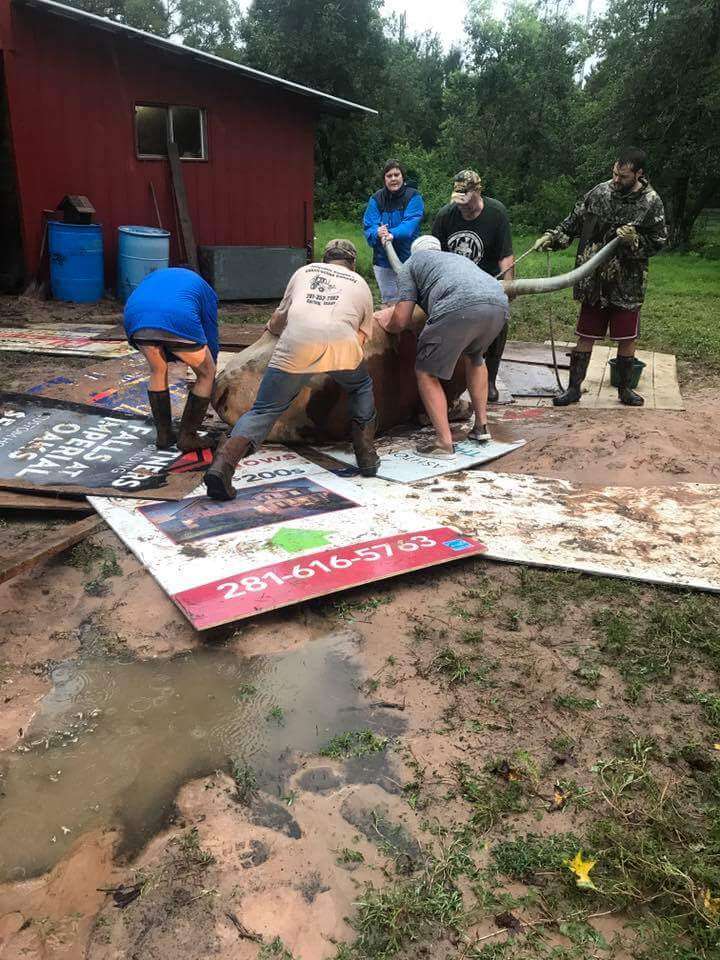 They managed to hoist Samson out of the mud and onto the boards.
Unfortunately, the celebration was short lived. Samson was in bad shape. "He didn't want to move. His eyes were rolling in the back of his head. We didn't think he was going to make it," said Sheridan.
Rescuers sent out new pleas, begging for a veterinarian. People came with blankets and a tarp.
When vet tech Tammy Adkins, who also lives in the area, caught the story on Facebook, she rushed over and gave Samson IV fluids. "I saw the post and was very worried," Adkins told The Dodo. "Once [an animal is] stuck in the mud, their blood supply goes to their vital organs, so having those cold legs makes it really hard for him to get up and stand."
That's when Sheridan's family got down on their hands and knees. "We started moving and massaging his legs, trying to get circulation going," said Sheridan. "My kids were cheering for him saying, 'Come on Samson!'"
The longhorn started responding to all the love, care and cheers. "Samson kept looking for his 'mom' [one of his owners]," said Sheridan. "She would get down on her hands and knees and call to him, and tell him she loved him. You could see him respond."
Within a half hour: victory! Samson was up and eating. The neighborhood Facebook page shared the update:
All the rescuers were soaked, cold and covered in mud, but were thrilled to see the giant longhorn safe. "This was love in its purest form. I don't know anyone I met there," said Miller. "We exchanged hardly any small talk while we worked, but we all knew each other on a deeper level."
Sheridan said participating in Samson's rescue was life-changing for her family; her daughter now wants to be a veterinarian. And they were thrilled to help Samson's family. "He is like their dog. They love him very much. He has a barn, a huge pasture and a beautiful home. He is very tame, but intimidating looking," said Sheridan. "He looks cautiously before he turns his head — he has those big horns! But he just knew we were there to help him, not to hurt him. We're so glad he's part of our community."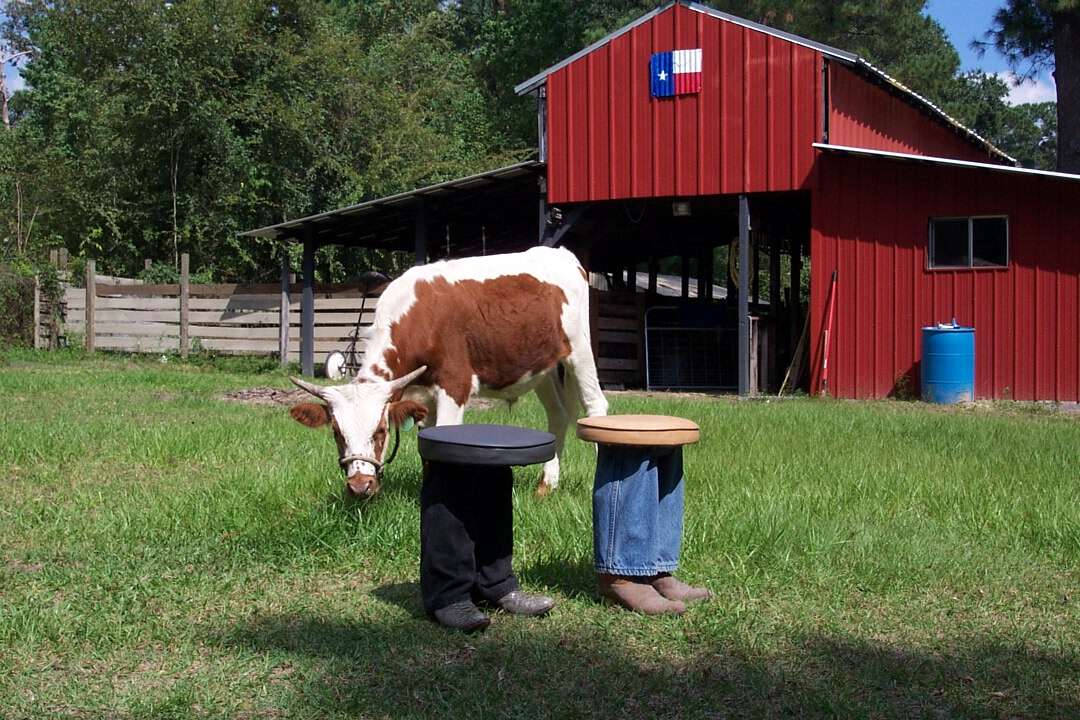 "Margaret and I are thankful we live in an area that cares and watches out for another when challenges arrive, no matter how big or small," said Kenneth Tann.