Starving Pig Saved His Food To Give To His Only Friend
"When pigs love, they love deeply. And that's just how he felt about her."
When rescuers peered into Gavin's filthy makeshift pen at the New Paltz, New York, farm he was found at last summer, they noticed something strange: Compared to the other pig he was living with, a mother with several young piglets, Gavin was skin and bones.
Gavin and his pen-mate at the farm

| Indraloka Animal Sanctuary
They'd both been left without food and water, so it didn't make sense that they looked so different. "Gavin was the skinniest and sickest animal there that day," Indra Lahiri, founder of Indraloka Animal Sanctuary, told The Dodo. "But the female pig he was with had obviously been eating."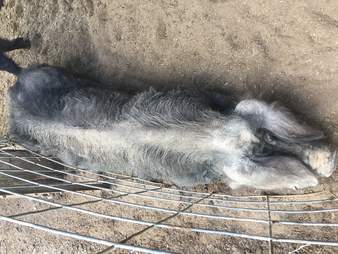 Gavin before he was rescued

| Indraloka Animal Sanctuary
Since Gavin was in the worst shape, he went home with Lahiri to Indraloka Animal Sanctuary for around-the-clock care. Some other pigs on the property, including another mother pig and her babies, went to Woodstock Farm Sanctuary.
Each pig on the farm was checked over by a vet and tested positive for all the same parasites — so rescuers were even more puzzled as to how Gavin had gotten so much skinnier than the others.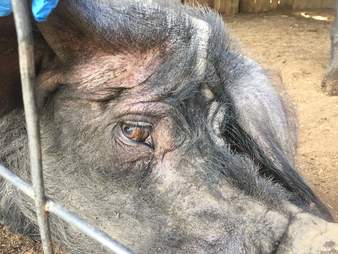 Gavin at the farm before being rescued

| Indraloka Animal Sanctuary
"You could tell that he was really depressed," Lahiri said. "But as he got healthier, his spirits really improved."
But it wasn't only the food and medicine that helped Gavin feel better. Through the fence, he met Miss Lily Pie, a 3-year-old pig whom the sanctuary had taken in as a baby after she had escaped a slaughterhouse transport truck.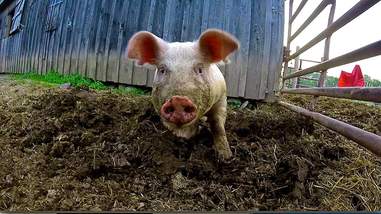 Lily when she first got to the sanctuary

| Indraloka Animal Sanctuary
"As soon as they met, they hit it off beautifully," Lahiri said. "They would kiss through the fence every day."
By fall, Gavin was healthy enough to be introduced to Lily out in her pasture — and they quickly became the best of friends.
"They cuddle all of the time and Gavin shares his food with her," Lahiri said. "They especially like eating pineapple together."
Gavin getting a kiss from Lily

| Indraloka Animal Sanctuary
But they began to notice something unusual — even though Gavin loves to eat, he was saving some of his favorite treats to give to Lily.
It was then that his rescuers realized why he had gotten so skinny at his old home: He was likely saving any food that did show up for the mother pig and her babies.
"He had quite a dominant personality, so he easily could've taken all of the food for himself," Lahiri said. "But he was giving it up to his friend instead."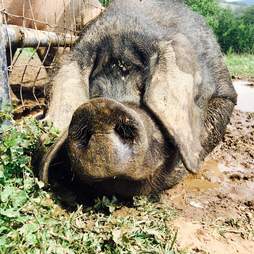 Gavin relaxing in the mud

| Indraloka Animal Sanctuary
Lahiri was touched by Gavin's efforts, but explained that she wasn't surprised. "When pigs love, they love deeply," Lahiri said. "And that's just how he felt about her."
Now, Gavin lives alongside Lily and another pig named Dominic. All of the animals rescued the same day as Gavin now have forever homes, too — including his former pen-mate, Molly, who lives at Woodstock Farm Sanctuary.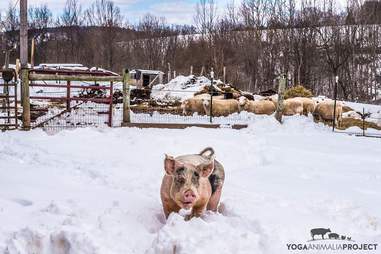 Dominic in the snow

| Facebook/Cameron O'Steen
"When we first met Gavin, we weren't even sure he was going to live," Lahiri said. "But now he's living a free and healthy life with his friends. It's such a blessing."
Each night, Gavin, Lily and Dominic settle into one big pig pile to sleep. They spend their days grazing and playing in the pasture together.
Lily and Gavin (front) napping with Dominic

| Indraloka Animal Sanctuary
"Each one of them came from such terrible circumstances," Lahiri said. "It's been really special to watch them become so close."
To support the continued care of Gavin and his friends, you can
make a donation
to Indraloka Animal Sanctuary.