Starving Horse Was Too Scared To Look Her Rescuers In The Eye
"She was like a house with the curtains pulled across all the windows."
Sue Weeding, cofounder of a sanctuary for horses in Spain, has seen it over and over again: the light completely gone from the eyes of horses who have been neglected or abused.
This was the case with one of the latest rescues to arrive at Easy Horse Care Rescue Center (EHCRC) in Alicante.
"When she came in, she was like a house with the curtains pulled across all the windows," Weeding told The Dodo. "It's like that with so many rescued horses: There's nothing there, they give nothing away, they give no eye contact. They won't reveal anything about themselves."
Now named Tamarisk, the mare came in with another younger horse last month after police seized them from an owner who was basically starving them. Tamarisk was in such bad shape, rescuers estimated that she was about 20 years old. Then they found out she was only 9.
"When she was rescued she was in such a weak state she could have died," Weeding said. "It was very touch-and-go."
Tamarisk couldn't even lie down in her new stable — rescuers were concerned that if she tried to, her hip bones might puncture her skin. She was also covered in scars and showed the physical deterioration of a mare who has been used for breeding her whole life.
"She was severely dehydrated, severely malnourished," Weeding said. "She'd been completely beaten into the ground. There's scarring all over her. God knows what she's had to do. We've never seen a young horse so broken down."
That Tamarisk wouldn't look anyone in the eye was particularly worrisome, since one of the ways she sorely needed to recover was emotionally.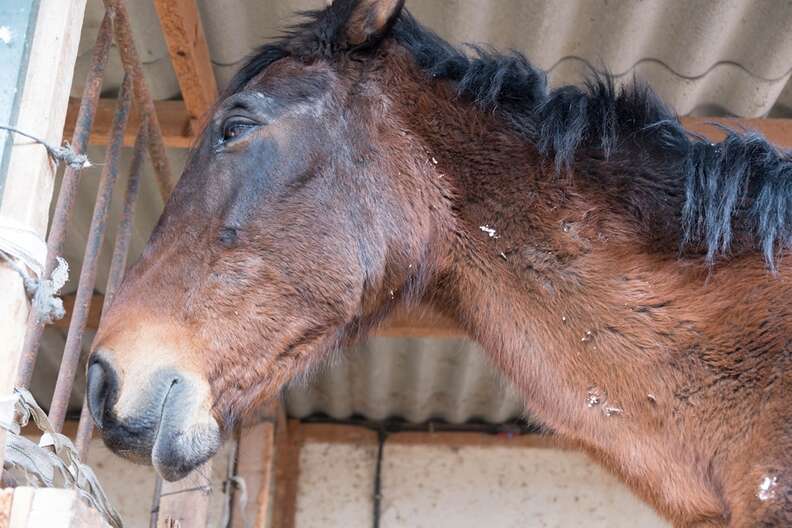 This is where patience and time, once again, came in. Weeding is used to waiting months and months for horses to finally trust her. She spent time just standing next to Tamarisk, stroking her hair, which had turned white along the places where she had scars.
Soon, the starving horse relaxed a bit. She even started eating again — and she refused to stop.
"Now we can really really get food into her," Weeding said. "She is eating and we're giving her as much as she can eat. And she just doesn't stop eating. It's so heartwarming to see them come back like this."
Then something truly beautiful happened: Tamarisk started to lift her head enough to look at the woman who had saved her in the eye.
"She's bright-eyed now, her ears are up, she's alert," Weeding said. "It's like the veil is lifted and she's actually looking at things ... I'm getting a bit of eye contact."
Weeding decided to name the mare Tamarisk, which is a particularly personal name for Weeding.
"Her face reminds me of Tamarisk, a horse I had years ago in England," Weeding said. "When you name these animals, you don't rush into it; you sort of lie there at night thinking, 'Should we call her this, should we call her that?' More often than not, it's when you're actually with them, doing something with them, that the name suddenly pops in your brain and you know exactly what you're going to call her."
Weeding had expected it to take much longer for Tamarisk to perk up. She's pleased that after just a few weeks she's made so much progress. "I suspect she's always going to be worried of new people," she said, "but to me the most wonderful thing is that the curtains are open and you see their eyes alive again."
The people at EHCRC have rescued over 100 abused and neglected horses and donkeys from all across Spain — and they've been working for years with police to help law enforcement understand how to spot animal abuse and save lives like Tamarisk's.
"You can tell so much from a horse's demeanor, how they look at you and how they act around you," Weeding added. "She so deserves everything we're going to give her."
You can help welcome Tamarisk to her new home by
making a donation to EHCRC
, which helps support all the care rescuers give these beautiful animals. Even just a few dollars helps.