Baby Donkey Falls In Love With The Woman Who Rescued Him
"His nose is like velvet — you can't help but to kiss it constantly."
A mother donkey and her baby huddled together in a small metal corral. In less than 24 hours, they were set to be shipped to Mexico and slaughtered for their meat.
Laureen Bartfield, a USDA-certified veterinarian and director of Spay Neuter Assistance Program of North Carolina (SNAP-NC), was looking on the Facebook page for Bastrop Louisiana Ship Pen, which features photos of animals about to be sold for slaughter, when she came across photos of the two donkeys.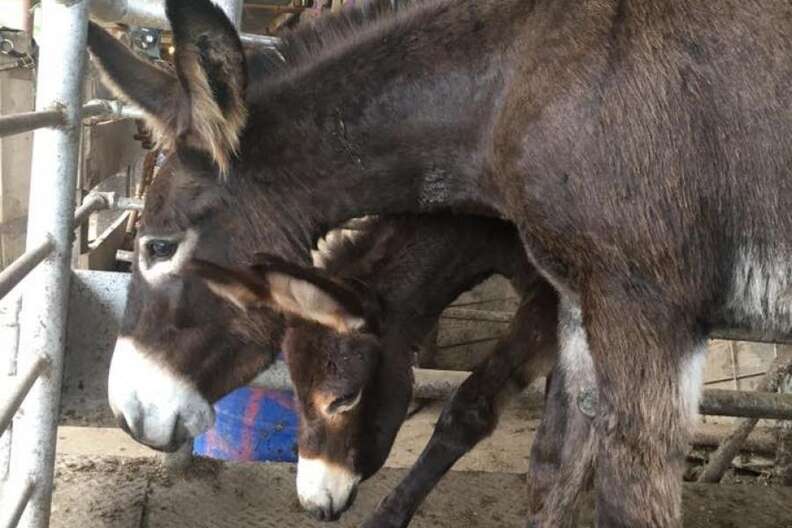 "This poor donkey mom and her little baby somehow found their way into the slaughter pipeline," Bartfield told The Dodo. "How they got there or who dumped them is not known."
Bartfield got into her car and drove two hours to the ship pen near Greensboro, North Carolina. She'd been before — last year she'd rescued another donkey named Marigold and an injured Haflinger horse. She remembered the place being loud and hectic and incredibly distressing.
This visit was no different.
"[It] was nothing short of heartbreaking," Bartfield said. "I watched as 46 horses and mules were loaded onto an 18-wheeler, headed for Arkansas and then Mexico. There was no rhyme or reason for what order they were loaded onto the truck, and there was some kicking and banging when they were getting crammed in there. The men loading them had ropes and would smack them on the rump and yell, until they ran up the narrow wooden ramp that resembled a cattle chute."
Thankfully, Bartfield had gotten there before the donkey mom and her baby were loaded onto the truck. But Bartfield had another big concern — the baby donkey had diarrhea and the mom had a severe case of pneumonia. Still, the mother donkey was doing everything she could to protect her baby, keeping him on the far side of her.
"We suspected they were already ill ... because they were due to ship the next day," Bartfield said. "Often the kill buyers will post some horses for sale at a profit to see if they can get people like me to buy them for more than they paid for them. They turn a profit that way."
But at this point, Bartfield didn't care who might be making a profit — she just wanted to rescue the mom and baby, whom she named Blossom and Huckleberry. So she paid $400 for the pair, and organized for them to be transported back to her home immediately.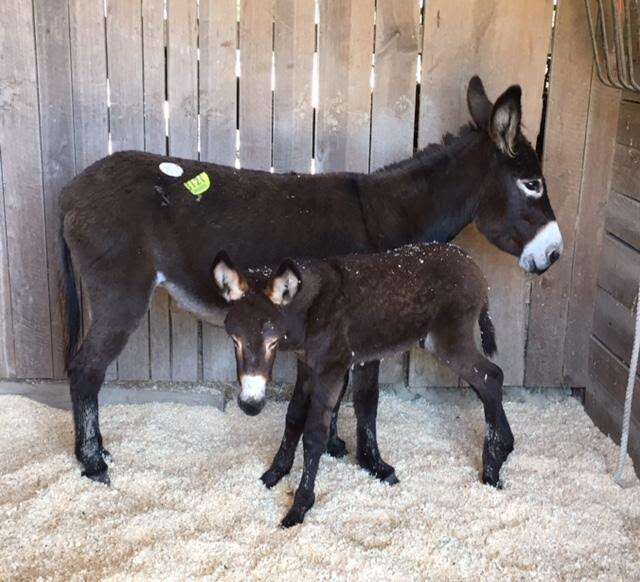 The donkeys were safe now, but the whole ordeal took a toll on Bartfield. "I had to pull over shortly after leaving with Blossom and Huckleberry to dry my tears so that I could drive on," Bartfield said.
When they arrived at Bartfield's home, she immediately got Blossom and Huckleberry into a clean, dry stall with fresh food and water.
"I gave them some antibiotics and just let them be for the rest of the day — they had been though a lot," Bartfield said. "The next day we started IV fluids and administered other medications."
Huckleberry, who was only about 5 weeks old at the time, started to relax. But his mom, Blossom, was still a bit shellshocked.
"She was very sick but still ate pretty well," Bartfield said. "It was a good feeling to see them both lay down that night in the clean dry sawdust. The first time or two that I needed to take her by the halter, she would not let me get close, but I think she quickly realized we were just trying to help."
Despite being sick, Blossom did her best to care for her baby.
"She was an excellent mom," Bartfield said. "At first, she would put herself between me and the baby, but again, I think she quickly realized we were not a threat. She had milk and she let Huck nurse as much as he wanted. And if he wanted to pick at her food, she let him share."
Bartfield tried to help Blossom get better, but she kept getting worse and worse.
"It was sort of me and Huck fighting against the world to try to save Blossom," Bartfield said. "I spent so much time in the stall with them both that we really bonded. And sometimes I locked him out of the stall if he was getting in the way, and it was so funny to watch his temper tantrums."
Sadly, Blossom passed away a week later.
"Poor Huck seemed to be at a loss," Bartfield said. "He wasn't calling for her, but he knew she was gone. He kept wanting to go back into the stall where they both lived together for that week. The first day, he just stood in one place, staring blankly like he did not understand. And he probably didn't."
Now Bartfield was worried sick about Huckleberry — would he die, too, either out of grief or sickness?
"We watched him closely for days, assuming he would get sick, too, but he never did," Bartfield said. "We fought severe diarrhea for many days, but other than that, he stayed healthy."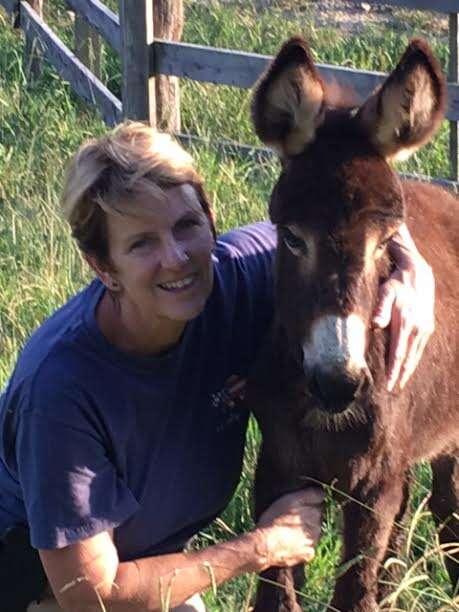 And with each passing day, Huckleberry got healthier and stronger.
He's also started hanging out with Marigold, the other donkey Bartfield rescued from the same shipping pen. "I can't say that she really likes him yet, but she does put up with his baby antics," Bartfield said.
Besides following Marigold around, Huckleberry loves to eat, sleep and get into mischief, according to Bartfield.
"His nose is like velvet — you can't help but to kiss it constantly," Bartfield said. "And he is always up for a good scratch — anywhere. But you have to watch out. Horses groom one another and give nibbles as they do so, but Huck has not learned to nibble yet — he bites!"
But Bartfield doesn't mind the occasional nip from Huckleberry. She adores everything about him.
"I love his resilience and ability to go with the flow," Bartfield said. "He is an amazing creature."
To help Huckleberry keep growing big and strong, you can
make a donation
. You can also help
support SNAP-NC
, which helps address pet overpopulation through a low cost spay-neuter program.