Mom Sheep Who Had Baby In Worst Place Possible Is So Grateful To Be Safe
"It is so special that we could do this and we can't wait to see how they settle into their new lives."
As they drove two hours away from their home to a slaughterhouse in Corona, California, Hillary Hendrickson and Sophia Deluz had one goal: rescue as many animals as could fit in their small SUV.
Unsure how they would fare that day, the young women and two of their friends entered the property and asked the owner to surrender six animals into their care — including a bonded mother and baby pair.
After a little negotiation, to their surprise, the owner surrendered two turkeys, two ducks, and a duo who immediately captured their hearts: a sheep and her tiny baby.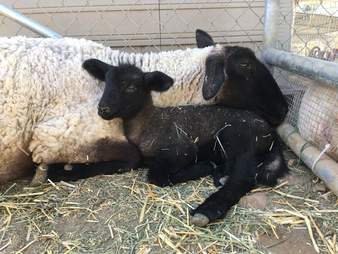 New Life Animal Sanctuary
"It's set up like a kill market where customers can come in to choose their pig or goat or duck and they're slaughtered right there in front of the other animals," Hendrickson told The Dodo. "We had no idea whether we would actually be able to save anyone."
The friends soon realized that the sheep had given birth at the slaughterhouse merely days before — and the baby still had dried remnants of her umbilical cord attached to her. They loaded all six animals into the SUV, with plenty of blankets for them to lie on, and left as quickly as they could.
"Both the sheep and lamb were very nervous, but I think the mom witnessed and had been through a lot," Hendrickson said. "I don't know if she had other babies taken from her previously, or had seen other animals killed in front of her ... I'm just glad they won't ever have to live like that again. It would've been a matter of time before they were separated from one another."
While the rescued birds were placed into forever homes at sanctuaries, the mother sheep and her baby stayed at a small independent sanctuary before going to their new home at New Life Animal Sanctuary. Founder Gina Lynn and her team decided to name the pair after their rescuers: the mom was named Hillary, and her baby, Sophia.
New Life Animal Sanctuary
Although they've only been there for about two weeks, the duo have been enjoying their life of freedom — and they've even started to show their own sassy personalities.
It's a classic case of "like mother, like daughter," Hendrickson said.
"They're in an individual pen with each other right now, which is right next to the pig enclosure," Hendrickson explained. "Whenever a pig comes over to check them out, the mom chases them off. And now, the baby has started doing it too! She's copying everything her mom does."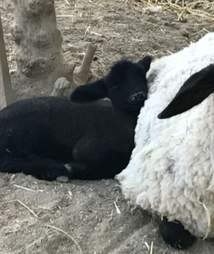 New Life Animal Sanctuary
While the pair are very attached to one another, they've been showing more and more interest in people — and are learning a little more each day that their carers aren't there to hurt them.
"Mom is pretty sweet, much sweeter than expected," Lynn told The Dodo. "They're both a little nervous around people, and understandably so, since they saw people killing animals all around them. But they're incredibly resilient and have gotten very trusting of us."
Although both of the sheep need to be treated for worms, Lynn said they are in generally good health and that the baby is nursing well.
New Life Animal Sanctuary
For now, Hillary and Sophia will continue to live in their own pen together until the baby grows a bit more, and then they'll be introduced to the sanctuary's other hooved residents, including goats, a donkey, a llama and a pony.
While the friends who saved the pair live over an hour away from the sanctuary, they plan to visit them at least once a month to see how young Sophia is growing, and eventually see them live peacefully alongside the other animals.
New Life Animal Sanctuary
"It is so special that we could do this and we can't wait to see how they settle into their new lives," Hendrickson said. "It's such a blessing that they're able to be there — together."
To support the continued care of Hillary, Sophia and other animal residents at New Life Animal Sanctuary, you can
become a sponsor
.