Two horses trotted up to a stoplight on 8th Avenue in Manhattan — a white horse at the front, and a dark brown horse named Billy behind him. They were headed to Central Park to give tourists private horseback rides. But sadly, the horses never made it.
As the animals waited in traffic, the engine of a tractor trailer rumbled by them, and a man pulled a vendor cart at their rear. Suddenly, Billy got scared, and he darted backwards and started jolting around in the rush-hour traffic.
"It was very obviously a spooked horse," Jill Carnegie, a spokesperson for NYCLASS, an advocacy group that campaigns against the use of carriage horses in New York City, told The Dodo. "Seemingly out of nowhere, the horse started to thrash his head around and run and stumble over his own legs. It was pretty horrific."
Billy ended up collapsing into a yellow taxi van, wedging his head in an awkward position beneath the panel of the car. Billy could have gotten seriously injured, according to Carnegie.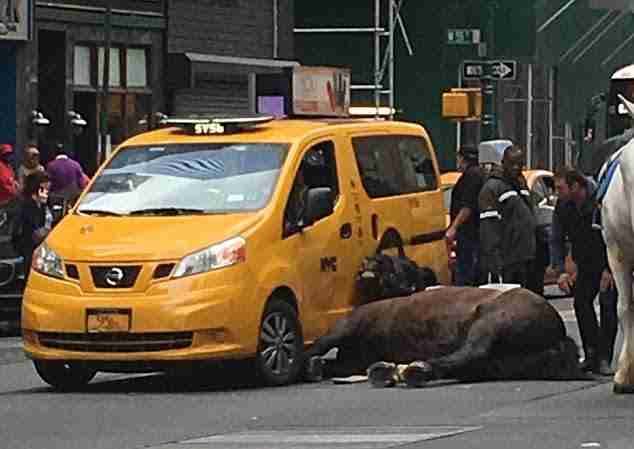 "The images really speak for themselves," Carnegie said. "It was a bad fall. The rider was likely thrown in the process as well."
Billy couldn't get himself up, and passersby had to help lift him, Carnegie said.
"He was down for several minutes in the middle of 8th Avenue, which indicates that he was hurt quite badly, because any horse would try and right themselves in that kind of environment," Carnegie said.
"This horse had at least a leg injury," she added. "Witnesses reported that the horse was limping after he was righted. And the angle of his head really suggests that he should be assessed for a possible head injury."
An industry vet evaluated Billy after the event and gave him a clear bill of health, according to CBS News. Carnegie questions whether the check was thorough enough.
"There's no way the vet did a proper head examination," Carnegie said. "This was just a physical assessment based on the appearance of the horse, and perhaps a little walking around."
Unfortunately, horses have accidents in New York City far too often. A few months ago, a carriage horse named Max collapsed from exhaustion at the beginning of his shift. The year prior, witnesses watched a driver scream at a 14-year-old draft horse who had also fallen onto the street.
And these incidents are just the ones that are documented. Carnegie believes that horses fall in traffic much more frequently than the public knows, but the events slip under the radar.
While Billy wasn't pulling a carriage when the accident happened, Carnegie — and a growing portion of the public — believes that horses shouldn't be on roads in New York City at all.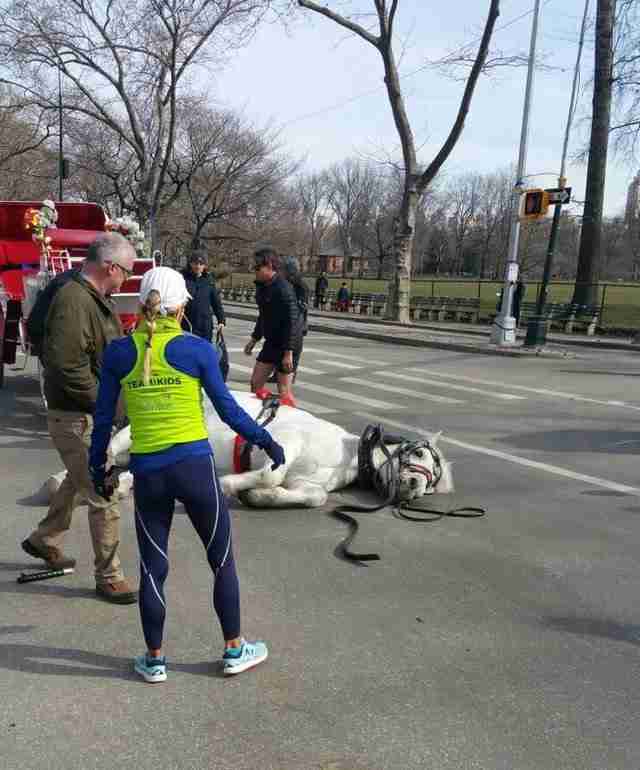 "At NYClass, we firmly stand strong in the logical assertion that horses do not belong in traffic, especially for long distances and especially all day long, as with the carriage horses," Carnegie said.
While it is not clear who owns Billy, Carnegie explained that he lives at Chateau Stables, a company that offers carriage rides and private horseback riding experiences, and rents out ponies for special events. If the company continues to offer horseback rides, Carnegie thinks that the animals should be safely transported in a trailer.
"Chateau Stables does possess trailers," Carnegie said. "Riding these horses in chaotic traffic in rush hour, this is absurd and incredibly dangerous."
Chateau Stables could not immediately be reached for comment.
Carnegie also said she suspects Billy might have a similar accident again, especially if he's so easily spooked by city traffic. She said she hopes that the horse's owner will allow him to retire.
At least one rescue group, Woodstock Sanctuary in New York, has offered to give Billy a new home, where he'd live with another rescue horse, Trident.
"Billy will just be put back to work and if he's unable to work, he'll go to auction," Rachel McCrystal, executive director of Woodstock Sanctuary, said in a statement. "We'd like to provide a compassionate alternative to that. At Woodstock Sanctuary, every animal is an individual treated with respect and dignity. If he is released to us, he will get to live out his life with a horse companion and get the best quality of care."