Turkey Loves To Snuggle With Her Rescuers
Antoinette is living her best life now 💞
Three days before Thanksgiving 2016, a lucky turkey named Antoinette was among hundreds of birds and rabbits awaiting their fate at a live-kill market in New York City. Found wandering just outside, rescuers knew the baby turkey wouldn't survive for long if they didn't take matters into their own hands.
Antoinette was rushed to Woodstock Farm Sanctuary's medical building, just a few hours outside the city, where staff could give her around-the-clock care. "When she was first found, she was a bit dehydrated and needed to be placed on a special diet since turkeys are bred and raised to grow so large in a short period of time," Ashley Nester, communications manager at Woodstock Animal Sanctuary, told The Dodo.
Safe for the first time in her young life, caregivers were impressed with the rescued bird's friendly and outgoing personality. As she recuperated, Antoinette quickly won over the hearts of humans and animals alike.
"Antoinette has definitely become more friendly and affectionate since she was rescued and she loves attention!" Nester said. "When she first arrived as a baby, our caregivers kept a close watch on her, but so did Sergio the rooster, who 'showed her the ropes' around the sanctuary."
One year later, Antoinette has a full social calendar. She divides her time between all her favorite activities: spending days outside with her best friend and fellow rescue turkey Tony pecking at the grass, and chatting up visitors and staff.
"Antoinette is very friendly and inquisitive," Nester noted. "She is always very vocal and talkative, and loves to cuddle up to you, sit in your lap, and get pet, especially under her feathers!"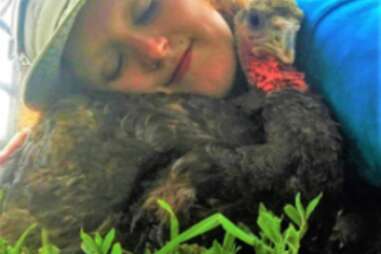 Curious, loving and gentle, Antoinette is constantly subverting the expectations sanctuary visitors have of turkeys. Named after the author of the beloved children's book, "The Little Prince," Nester believes Antoinette's rescue story exemplifies the book's main theme of love and devotion — emotions typically associated with our pets at home.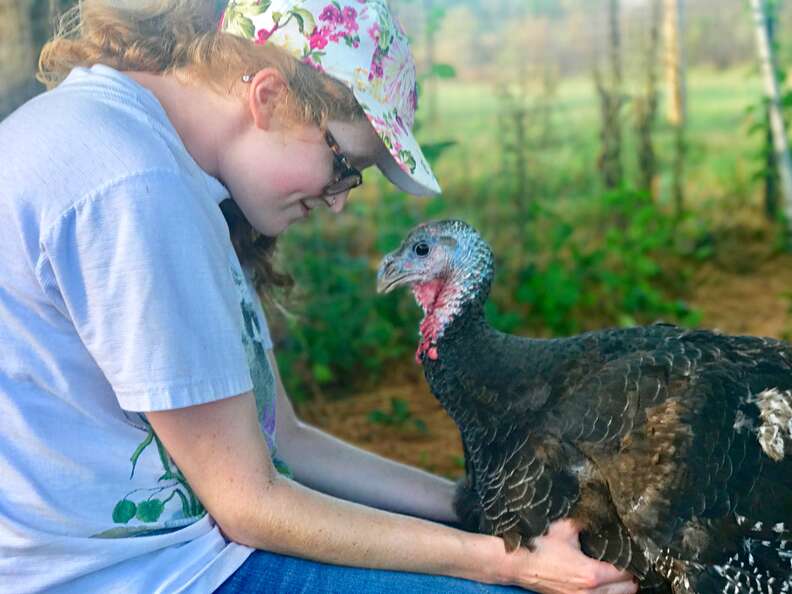 "Many visitors are blown away by her cheery personality and come to realize that, though she has feathers instead of fur, she is just like the dogs and cats who we love and care for," Nester added. "She is a beautiful individual deserving of life and happiness."
To sponsor a turkey this Thanksgiving and provide a bird in need with food, shelter and care, visit
Woodstock Farm Sanctuary
.