Turkey Who Hurt His Legs Snuggles With Rescuers Until He Recovers
"He's our human son in a turkey suit."
When the vet examined the turkey's injured feet, he laid out two options — he could perform surgery, or the turkey could die a slow, painful death.
Kristin Hartness, who adopted Toby the turkey earlier this year, knew there was only one real option. "He's our human son in a turkey suit so we went with surgery," Hartness, cofounder of Ziggy's Refuge Farm Sanctuary, told The Dodo.
Toby had originally been rescued by Red Dog Farm Animal Rescue Network before being adopted by Hartness' friend. When Hartness and her fiancé Jay Yontz went to visit their friend, they met Toby, who was about 5 years old at the time.
"He followed us with his slow limp all over the farm, and we fell in love with him," Hartness said.
When Hartness investigated the source of Toby's limp, she found something very wrong with both of his feet — Toby had bumblefoot, a bacterial infection that creates painful foot sores.
"We think his infection was due to his weight," said Hartness, who believes Toby originally came from a factory farm before being rescued by Red Dog Farm. "He had it for quite a while, well before we ever met him."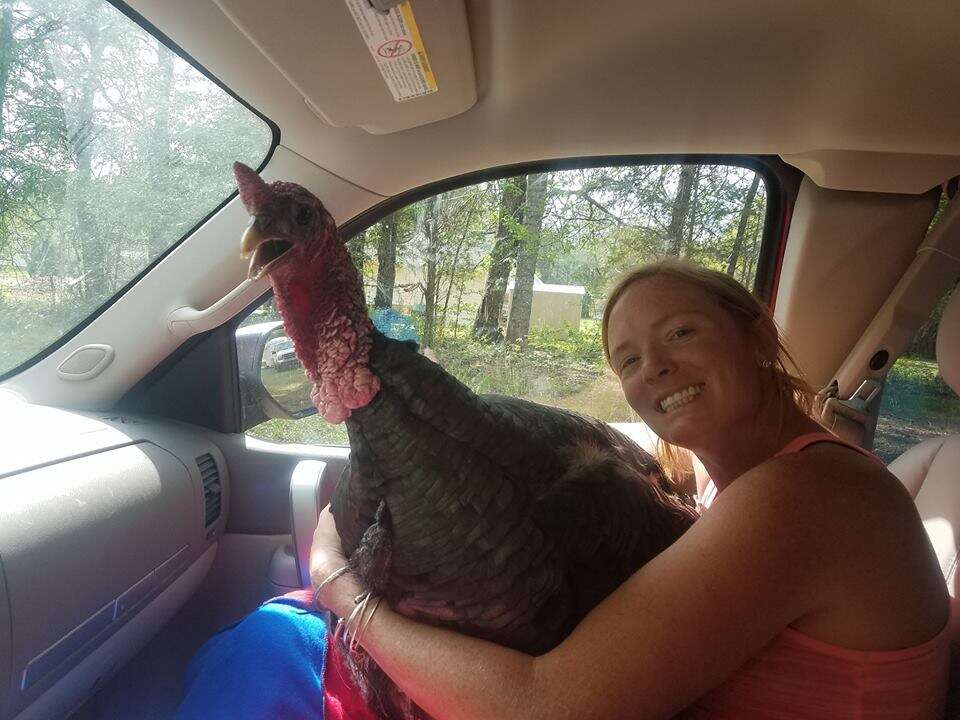 Hartness offered to adopt Toby from her friend, and get him the medical treatment he needed. Her friend agreed so, in April 2017, Toby moved to Ziggy's Refuge Farm Sanctuary, which Hartness runs with Yontz.
But when Hartness took Toby to the vet, his issues turned out to be more serious than she imagined. Not only did Toby have bumblefoot, but both of his legs had infections. He also had developed a chest infection from lying down when he found it difficult to walk.
Surgery was his only chance, according to Hartness, but the recovery process was hard — for both Toby and Hartness. "Seeing Toby come out of this surgery was so sad," Hartness said. "He was lifeless and in tremendous pain. I literally cried for a week."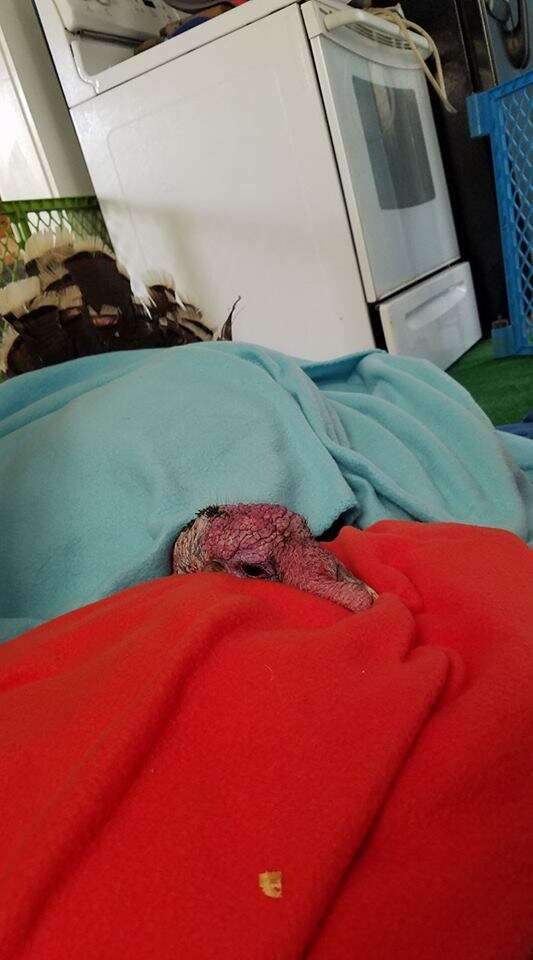 Unfortunately, this wasn't Toby's only surgery — he needed two more operations to heal his feet, legs and chest.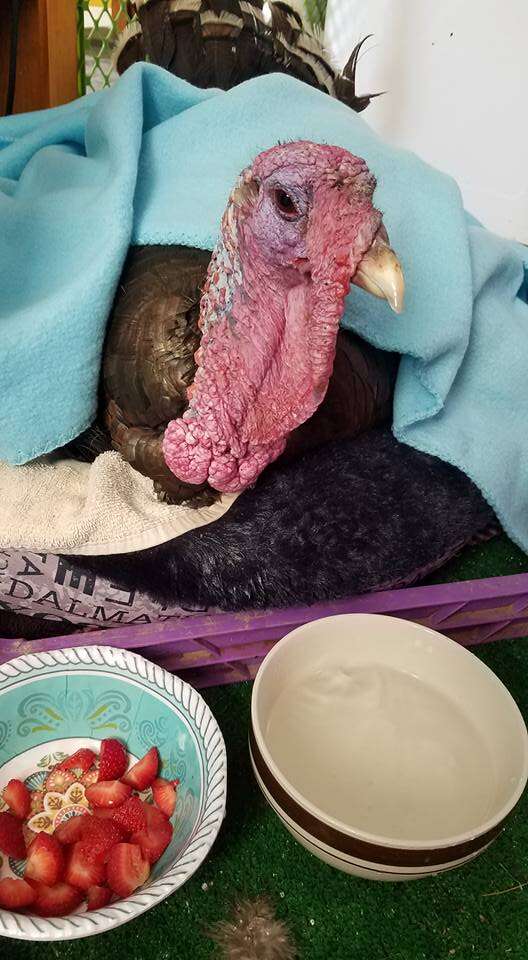 After the third surgery, Hartness had a different problem — how to keep a 60-pound turkey from putting any pressure on his chest or legs while he healed.
"Everyone, including the vet, thought it was crazy when I suggested sitting him upright in our laps," Hartness said. "We got home that night, flipped him on his back in Jay's lap and Toby absolutely loved this position. Now Toby sits [on his] back part of the day, and to give these parts of his body a break, we also have a pillow bed he lays on his stomach with."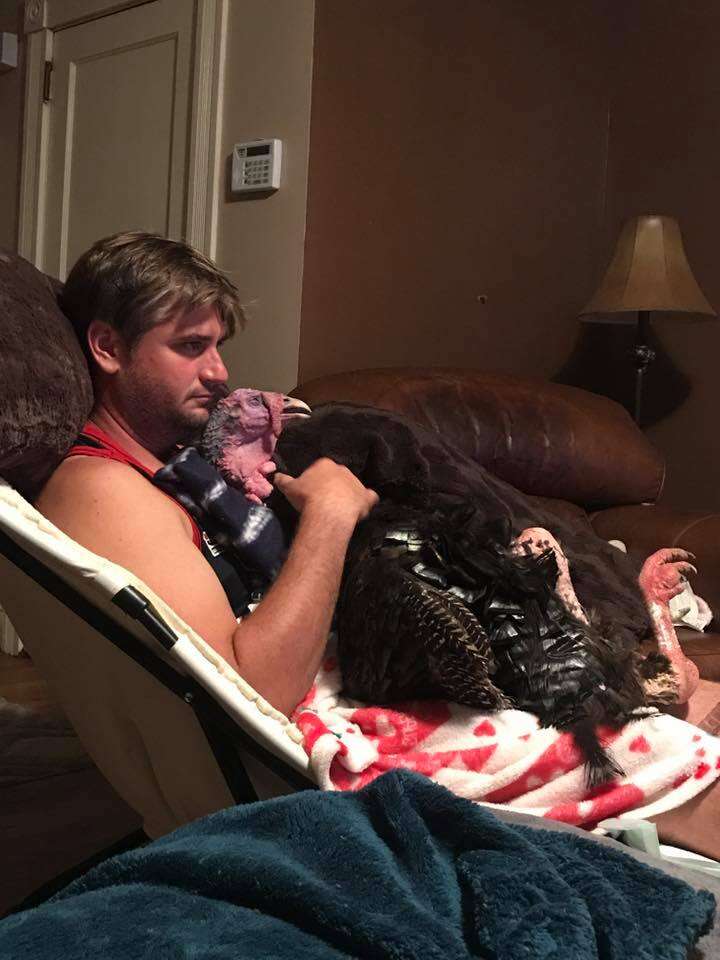 "You can see in pictures, this boy is in total chill mode on his back," Hartness added. "When you try to turn him back over he buries his head in the chair so you can't reach behind it. He is the funniest boy."
While Toby lounges on his rescuers' laps, he watches TV.
"Jay will tell you Toby's favorite show are the Chicago Cubs games when they're on," Hartness said with a laugh. "I always put cartoon movies on for him from Netflix."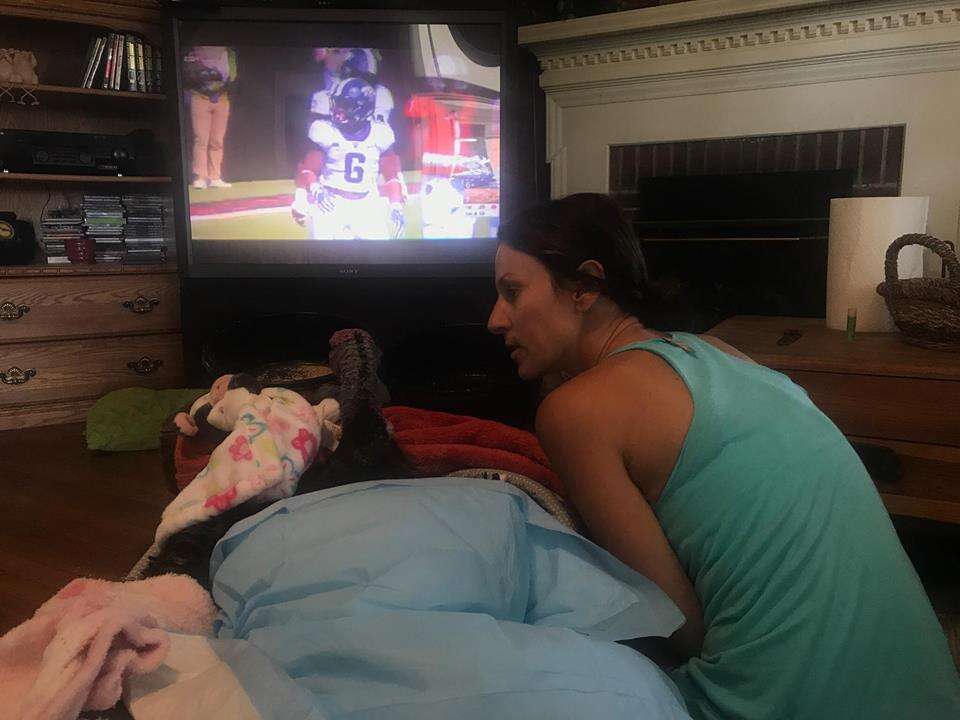 For the moment, Toby still can't walk, although Hartness and Yontz give him daily physical therapy sessions to help him regain mobility.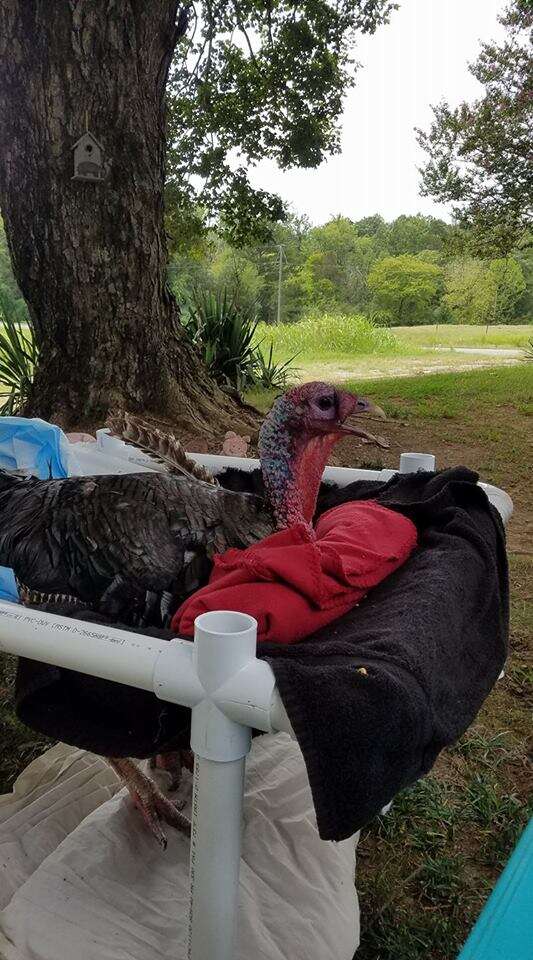 "We hope in the coming weeks we will start to see signs of him taking steps," Hartness said.
Taking care of Toby has been hard work, but for Hartness, it's worth every drop of sweat.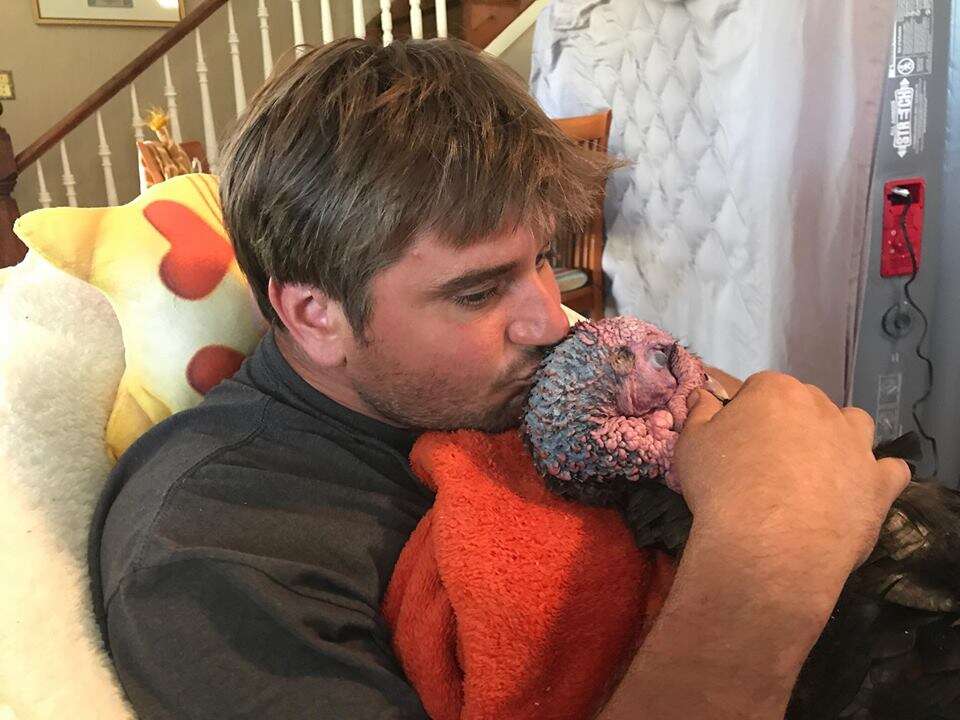 "This boy has been through it, yet he's never shown any sign of aggression," Hartness said. "Even in pain he truly trusts us, and that what we're putting him through is what's best for him. He's the most beautiful soul I've ever met. He's always happy, loves to be held … and loves being loved. I can't say enough about this special boy. He's perfect."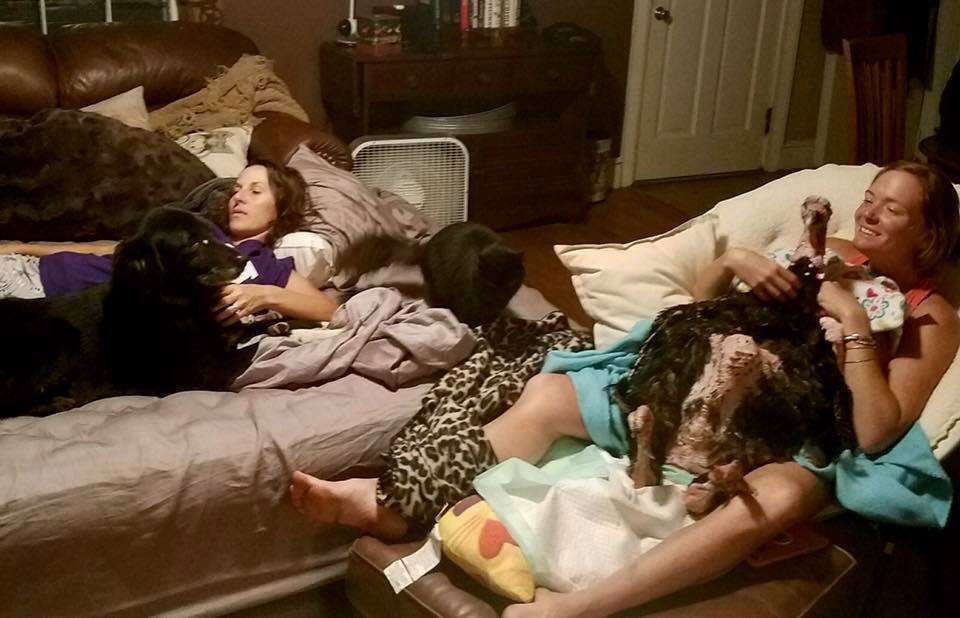 Ziggy's Refuge Farm Sanctuary is the home to 18 pigs, two cows, one donkey, five chickens, four goats, two ducks, eight horses and, of course, one turkey. To help the sanctuary rescue more animals like Toby, you can
make a donation
.