Rescued Piglet Decides Every Soft Thing He Finds Belongs To Him
"Within a week he had multiple stuffed animals, multiple blankies ... He took one of the dogs' beds. These are things that he chose."
Two blankies, four stuffed animals, two pillows and one dog bed. This is what a rescued piglet named Dragonlord claims as his own.
"One just wasn't enough for him," Caitlin Cimini, founder of Rancho Relaxo, a farm sanctuary in New Jersey, told The Dodo. "He loves his blankie, so then he would root for more things. We'd be like, 'Alright bud, here's another blankie.' And he'd be satisfied for a day."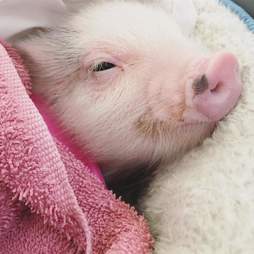 Rancho Relaxo
Before Dragonlord was the proud owner of blankies and stuffed animals, he was a scared piglet living with his three siblings in a dark, damp barn at a local farm.
"We were there [at the farm] to pick up this emaciated, dying goat, and while we were there, this farmer was scooping up 10-day-old piglets with a net and putting them in a box," Cimini said. "We were like, 'What are you doing?' And he said, 'They go to auction in the morning.' The mom was there and she was screaming for them. It was really devastating to watch."
Cimini, along with volunteers from Rancho Relaxo and Freedom Farm, talked the farmer into giving them the four piglets, although they couldn't convince him to give up the mom.
Dragonlord and his siblings after being rescued

| Rancho Relaxo
"We tried so hard to get the mom," Cimini said. "We begged him. We did whatever we could. We were there for quite a long time to try and get the mother from him. But he said, 'No.'"
The rescuers loaded the four piglets into a crate and drove them to safety. Dragonlord went to Rancho Relaxo, while his siblings went into homes with rescue partners.
"They were all feral — they didn't want you to touch them," Cimini said. "They screamed. They had never been touched by another human being."
Dragonlord after his arrival at the farm sanctuary

| Rancho Relaxo
While Dragonlord was probably frightened to be separated from his siblings, he quickly adjusted to life at Rancho Relaxo and made new friends.
"It didn't take very long for him to learn that human touch was good," Cimini said. "It didn't take long for him to want to cuddle with us and cuddle with the cats. He became a little staple, because we'd have foster kittens come in, and he'd take care of our foster kittens before they got adopted out."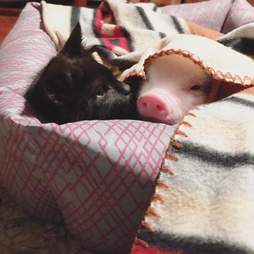 Dragonlord snuggling with one of the kittens

| Rancho Relaxo
"He's a baby, but we call him an old soul because he's just a nurturing little piglet," Cimini added.
If Dragonlord had arrived in the warmth of summer, he probably would have lived in the outside barn. "He'd have a nice little setup in the barn, and we'd go out there 12 times per day and give him his food and wean him off the milk and all that," Cimini said.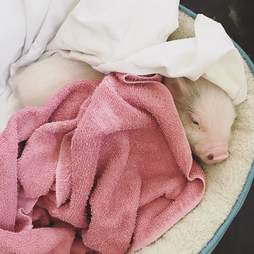 Rancho Relaxo
But since he arrived at the end of August, when the nights were getting cooler, Dragonlord came inside the house.
Rancho Relaxo
"In the beginning, he had a playpen in the living room, and he would cuddle with his blankets and his bunny and his teddy," Cimini said. "But there's no such thing as a mini pig, and every day, he was growing more and more. So we were like, 'This playpen is not suitable for him anymore.' All he had to do was lean on the side of the playpen, and it would just tip over because he was so strong. He'll be 100 pounds when he's fully grown."
Cimini figured out a solution — Dragonlord would get his very own bedroom.
Dragonlord inside of his "Harry Potter" bedroom

| Rancho Relaxo
"We put him in the Harry Potter bedroom, which we put under the stairs," Cimini said. "It was just a closet that we used for medical stuff for the animals. It went back really far, so it was kind of perfect for him."
Dragonlord insisted on bringing all of his belongings into his bedroom. And since he'd moved into the house at Rancho Relaxo, he'd acquired a lot.
"Within a week he had multiple stuffed animals, multiple blankies," Cimini said. "He took one of the dogs' beds. These are things that he chose."
Rancho Relaxo
"I can't take them away from him," she added. "He just loves them. And pigs love to burrow, so it's natural for him to want to collect. He's like a little squirrel."
The Rancho Relaxo sanctuary recently moved to another property in New Jersey, so Dragonlord had to leave his Harry Potter bedroom behind. But he's got an even better setup now, according to Cimini.
"He's living with 10 rescue cats, and he loves it," Cimini said. Thankfully, the cats like him too, even though he's much bigger than any of them now.
Dragonlord has a particularly close friendship with a cat named Raisin.
"They play," Cimini said. "They literally roll around. If she goes to scratch him in a playful way, he just rolls over on his side because he thinks that she's going to give him a belly scratch. And I'm like, 'Dragonlord, it doesn't work that way. The cats don't know to scratch your belly.'"
When the weather does finally warm up, Cimini wants Dragonlord to experience the outside world. "We're hoping to introduce him to an outdoor space, just because pigs love rooting in the mud, and we don't want him to miss out on anything like that," she said.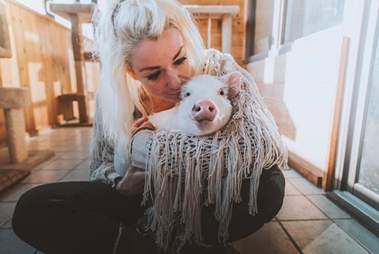 Cimini giving Dragonlord a hug and kiss

| Rancho Relaxo
But for now, everyone is happy to have Dragonlord as their housemate — even though he does own a lot of stuff.
"We love that he's teaching the world that pigs are so smart and so playful," Cimini said. "If you think your dog is hilarious, meet Dragonlord. He's educating the public about how amazing pigs are."