Very Friendly Turkey Decides She Has To Sit Up Front With Rescuer
"She slowly made her way up to the front ... She quietly sat there looking out the window, chirping in my ear."
Life has not been easy so far for a turkey now named Betty — but just the other day she basically hit the jackpot.
Betty was living on a small farm in Canada with two other turkeys when the family who owned the farm underwent a sudden change. "Due to a domestic situation the woman and child found themselves homeless," Carla Reilly Moore, cofounder of Happy Tails Farm Sanctuary, told The Dodo.
The family gave away all of the other farm animals, but they were especially attached to their turkeys. "They could not part with the three turkeys," Moore said. "They couldn't, however, keep the turkeys either." The woman found a temporary place for them in a stall at a shuttered dairy farm.
But this was far from ideal. "The turkeys sat for seven months in the stall," Moore said. "They were not allowed to come out and walk around, but it was the safest place that she could find for them. And she refused to give them away to someone she didn't trust."
That's when Moore stepped in. "When I reached out to her I explained that we are a sanctuary, and that we have other turkeys and are huge animal lovers," Moore said. "She was very grateful, and told me many times that she just couldn't give up her babies but that she felt comfortable with us."
So Moore went to pick up the turkeys — Betty, as well as her friends Penny and Tom — to bring them to the sanctuary where they will get to live their lives happily.
But Betty is one strong-willed bird, as Moore soon found out. She wants what she wants and she did not want to go into the traveling crate.
"We decided to allow her to just sit in the back of the car," Moore said. But the backseat wasn't quite cutting it for Betty, either. She's a curious and social bird.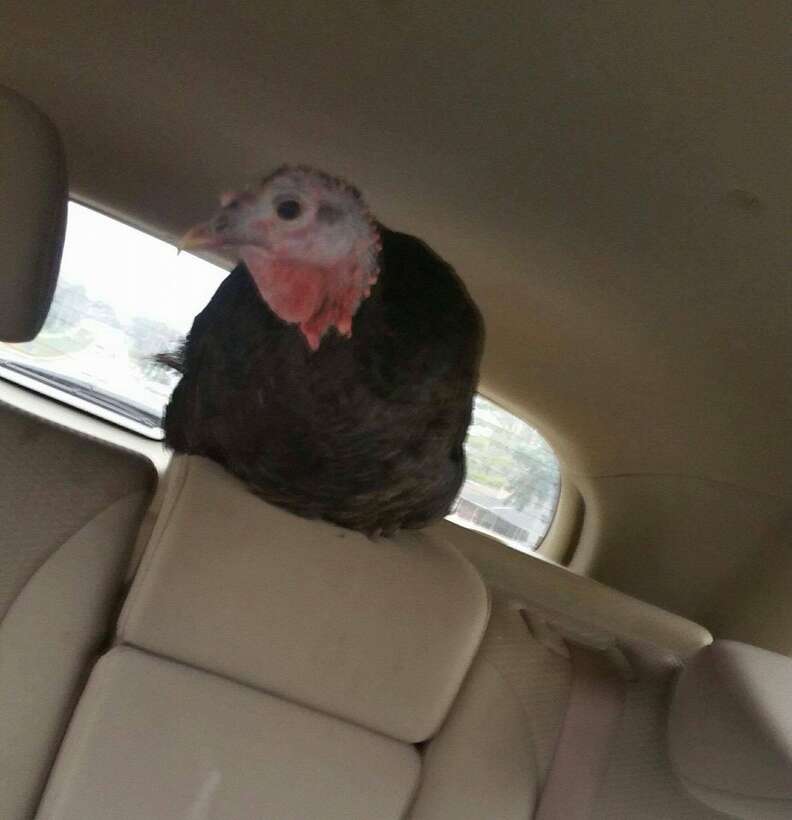 "Being the very social creature she is, she slowly made her way up to the front, first perching on the backseat, and then making her way all the way up to sit beside me for the drive home," Moore said. "She quietly sat there looking out the window, chirping in my ear. Like most turkeys, she is very interested in her surroundings and very affectionate!"
For a moment, Betty perched so that she could peer over Moore's shoulder as she drove. "I know I was getting some pretty weird looks," Moore said, adding that she was driving very slowly and carefully so that Betty was safe. "I guess it's not every day that someone looks into a car and sees a turkey almost perched on the driver's shoulder! To me, it was just another day in the life of an animal rescuer."
Once the trio set foot on the sanctuary grounds, they had friends to meet and food to eat. They gathered together and enjoyed a meal.
Then they went for a walk to explore the grounds. It almost looked like it finally dawned on the rescued turkeys just how lucky they were.
"We get asked to take animals all the time and unfortunately we can't take them all," Moore said. "I try to take animals in that are at a desperate point, that have nowhere else to go."