Skinny Pony Saved From Neglect Just Won A Famous Horse Show
"It's a true rags to riches tale."
Roy the pony was rescued by the RSPCA seven years ago from a life of abuse and neglect. He was found on a remote farm along with a bunch of other ponies, all terribly underweight and absolutely miserable. All of the ponies needed a lot of care and rehabilitation before they were finally ready to find their new forever homes.
A few years after being rescued, Roy was adopted by Zara Johnstone-Evans and her now 6-year-old son, Toby. From the moment she met Roy, Johnstone-Evans knew he was special, and had dreams of entering him in horse show competitions from the very beginning.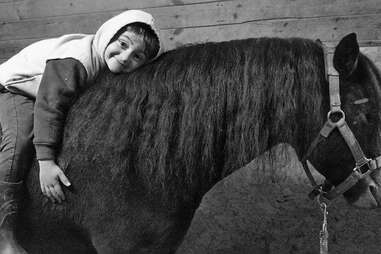 "Roy hadn't done much at all when I first saw him in need of a home, but there was something about him that I liked," Johnstone-Evans said in a press release. "I got him for me to show but he was so gentle with Toby and they have done so well together, Toby's now telling people Roy is his pony!"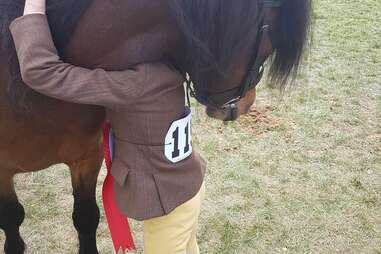 Despite his rough past, Roy took to his new life and training incredibly, and within only years of being adopted, he had already qualified for multiple prestigious horse shows. This year, Roy entered the Royal Windsor Horse Show, where the Queen of England was in attendance, and won his showing class as well as the title of Mini Champion.
"Royal Windsor is one of the big equine competitions that a lot of horse owners aspire to compete at and to win is an incredible achievement," Cathy Hyde, chief inspector and head of the equine team with the RSPCA, said in a press release. "I helped care for Roy when we rescued him so to watch his transformation back then was incredible, but to see him flourish in his new home now is wonderful. It's a true rags to riches tale."
During the Royal Windsor Horse Show, Roy was not only ridden by his mom, but also by his little brother Toby, who was so proud to show off Roy and all he has overcome and accomplished. Showing horses is a true family affair for this bunch, because while Roy may compete in horse shows, he is first and foremost a beloved friend and member of the family.

"I am so proud of Roy; he may be very successful in the show ring, but he's also our family pet," Johnstone-Evans said. "He actually does very little in between these amazing wins. I lunge him to keep him fit, but really he's very low maintenance. We adore him."
Roy came from a life of abuse and neglect, but now with his new family by his side, there's absolutely nothing he can't accomplish.