'Lifeless' Pony Had No Idea How Her Life Was About To Change
She looks so different now — and has the most incredible life 💞
They were almost certain she wasn't going to survive.
Extremely skinny and lying in the dirt, the young pony was so weak she could barely lift her own head to get a glance at the people who had come to save her. No one knew how long she and four other horses had been living at the run-down boarding facility — or how long it had been since their last meal.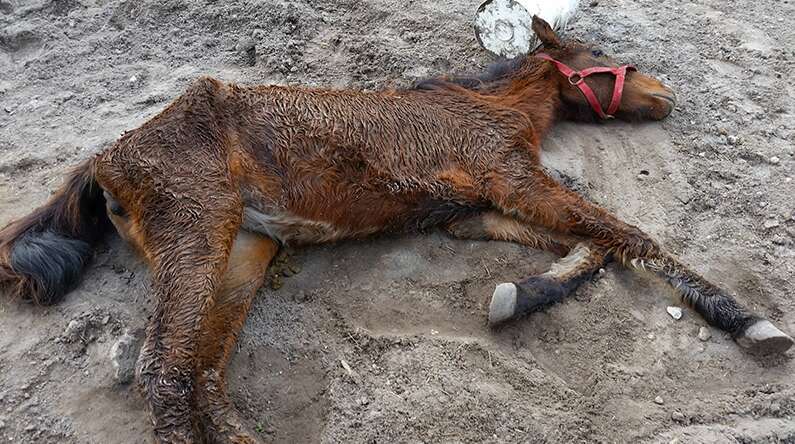 "The place was in no condition to keep horses," Grace Delanoy, communications coordinator for the South Florida SPCA Horse Rescue, told The Dodo. "You could tell that it was a very long, awful road to starvation for these horses. Something like this didn't just happen overnight."
Since she couldn't stand up on her own, first responders jumped into action to safely get the pony into a trailer. They got her to their ranch as soon as they could, but they knew it was likely her organs were failing.
Still, rescuers had hope, so they decided on the perfect name for her: Amazing Grace.
"When a horse is starved like that, everything starts to shut down," Delanoy explained. "Once they're down and can't get back up, it's a very hard thing to recover from."
But she was determined to survive. Grace soon went on to Palm Beach Equine Clinic, where she stayed for a week for around-the-clock care from a medical team.
"We showed up with this tiny little pony pulled out of the dirt and the clinic just rallied around her," Delanoy said. "It was so heartwarming to see."
And when Grace returned to the SPCA's rescue ranch one week later, she received the same warm welcome. Although she wasn't fully recovered yet, volunteers spent countless hours making sure she had everything she needed — including the love she'd went without in her former life.
"Julie Shelton, our board member, went to the ranch at 4:30 a.m. almost every day and would go straight to Amazing Grace's stall," Delanoy said. "She was always the first one there and would just feed her and hold her. Especially in those early days when she wasn't doing so well."
A few months into recovery, Amazing Grace was finally getting healthy again. She started showing off her personality — and, like many ponies, she had a sassy side.
Luckily, it didn't take long before the owner of a show barn in Ontario, Canada, Marilyn Lee, fell in love with her photo online.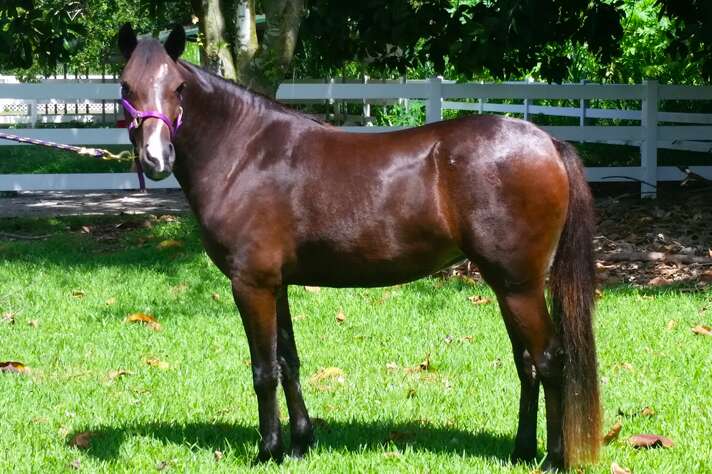 "Marilyn reached out to us and said, 'Wow, she's a beautiful pony,'" Delanoy said. "When she heard her story, that was it. It sealed the deal for her."
Lee is very familiar with rescue horses. In 2013, she adopted a horse named Prodigioso who was also found abandoned without food or water in the Florida area. In December 2016, she officially adopted Grace, too.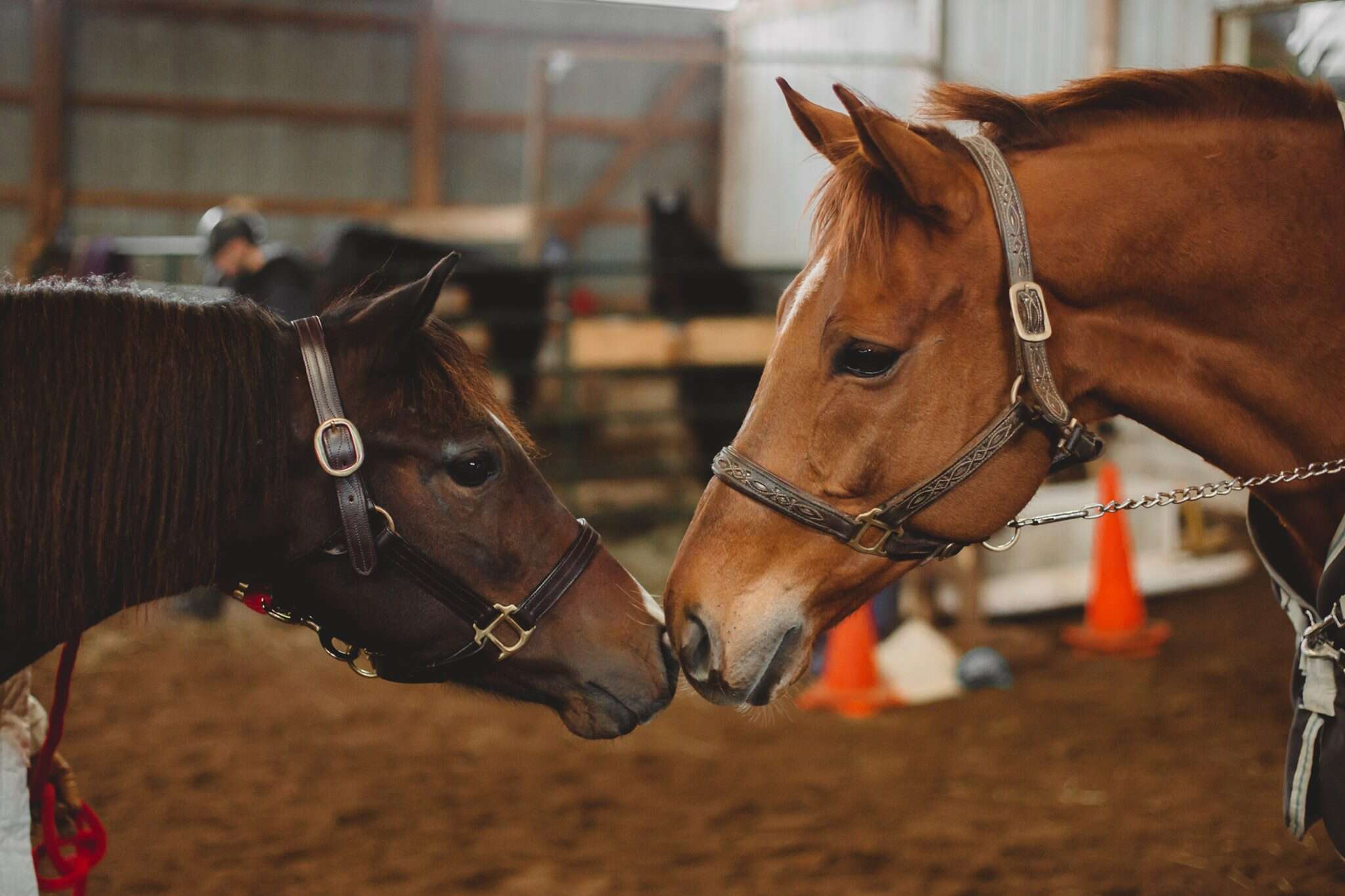 "The night Grace was set to arrive, the young girl who would eventually become her show partner, Abby Banis, spent the whole night in the barn waiting for her," Delanoy said. "She was the first to ride her, and they formed an amazing bond. There's this saying that every pony should know the love of a little girl — and that girl was definitely Abby."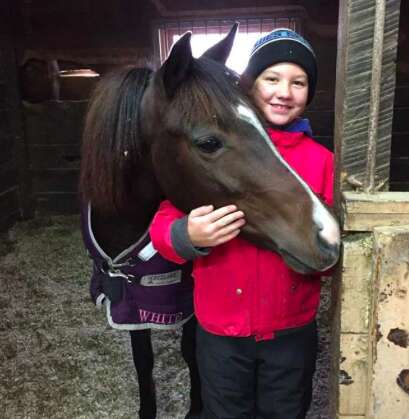 Grace settled in wonderfully to her new home and spent every day with Lee's daughter, Robin Hannah, to learn the ropes of riding. After she got the hang of jumping, too, it wasn't long before Grace and Abby were prepared to compete for the first time together.
In the show ring, Grace was barely recognizable from the emaciated pony who was found lying in the dirt in Florida. Her body was now healthy and strong, and her expression was bright and happy. She trotted and jumped with ease, and it was clear just how much she loved being there.
"She jumps like she's been doing this her whole life," Lee told The Dodo. "She's a natural."
The judges loved having her there, too. Grace and Abby were awarded several ribbons in their first show together — something that almost seemed unimaginable for a horse who was in such a dangerous situation just the year before.
"I have often said there's no greater joy than seeing one of these horses come back from all they've been through and not only compete, but compete at the top," Lee said. "You can't just beat the feeling you get. It gives you goosebumps."
That feeling is one Delanoy, too, knows well.
"I still have a picture of her on my desk. She inspires me every day," Delanoy said. "When you've done everything you can with medicine to heal an animal, at a certain point it's love that makes the difference."
To help save more horses like Amazing Grace, you can
make a donation
to South Florida SPCA Horse Rescue.