These Rescued Horses Just Fell In Love After Spending Their Lives All Alone
"They're a complete item now, they eat together, nap together and groom each other."
The beginning of happiness for a horse now named Diplomat came when someone spotted him tied up in a field in 2015.
"Called out by San Javier police, we arrived at the scene to find a skeletal and wild stallion tied inside a small yard," Koren Helbig, media manager with Easy Horse Care Rescue Center (EHCRC), a nonprofit in Spain that works to save neglected and abused horses and donkeys, wrote. "Under the guard of four armed officers, and with an ambulance on standby in case of violence from Diplomat's owners, we cut our way into his yard and set him free."
Easy Horse Care Rescue Center
Not only did Diplomat have health problems because of the neglect he suffered, he also was disoriented, temperamental and even dangerous.
"Diplomat was very malnourished and full of worms, and he drags one of his hind legs a little, meaning he will never be 100 percent sound," Helbig wrote. "He was also a big and strong stallion who had very likely never received any proper training. He was uncontrollable, a real handful who would rear if we tried to lead him past another horse."
EHCRC
The rescue center decided to neuter the stallion to help him calm down. But even so, he became territorial with the first friend the rescue center tried to pair him with. "We decided to try putting him with Conker, a naughty little pony who was living with some of our older horses and chasing them around a bit too much," Helbig wrote. "It all started very well, but pretty soon they were acting like macho men, each trying to be the boss of the field."
EHCRC
Rescuers couldn't let Diplomat live a life of solitude. "Equines are herd animals," Helbig wrote. "So ensuring they have the company of a companion is hugely important to their mental well-being."
Luckily, there was someone else at the rescue center who would change Diplomat's life.
EHCRC
Goldie came to the rescue center in 2014 after being severely malnourished and neglected. According to EHCRC, Goldie was kept in a small enclosure all alone for years.
Since her rescue, Goldie thrived. And there was just something about her that seemed to attract Diplomat — maybe it was her smile.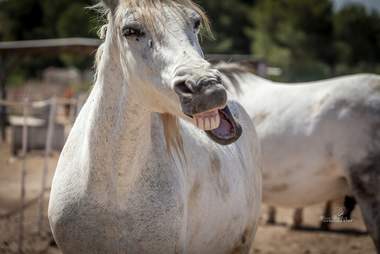 EHCRC
"In early 2017, we decided to try opening up Diplomat's gate to let him mingle with the group of mares (Bella, Goldie, Mystery and Nakita) he had been neighbors with for about a year," Helbig wrote. "Incredibly, within just a few short weeks, handsome Diplomat landed a girlfriend."
Because he'd spent his life alone, Diplomat had a lot of difficulty socializing with other horses and he didn't like to share. But with Goldie it was different.
EHCRC
EHCRC
"They're a complete item now, they eat together, nap together and groom each other," EHCRC wrote on Facebook.
EHCRC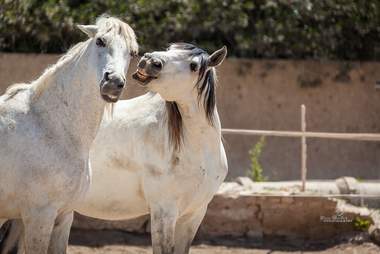 EHCRC
Something about Goldie helped Diplomat become totally relaxed. And he seemed to have the same impact on her.
"What an absolutely wonderful sight — Diplomat laying flat out in the field with his new girlfriend Goldie," the rescue center wrote after seeing the couple lounging in a field together recently. "I've never seen Diplomat relaxed enough to lay flat out like this before. It really is just lovely."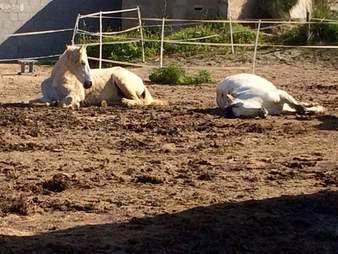 EHCRC