Sweetest Horse Loves Giving Baths To His New Goat Friend
"That horse gets nothing out of grooming that goat. It is purely just a kindness. Love. It's love."
A couple of months ago, when Cupcake the horse was still new to Betsy Saul's North Carolina farm, he leaned up against her for the first time.
"And I just started bawling," Saul tells The Dodo. "I said to myself, 'I needed a friend like you.'"
The horse needed Saul, too.
Over the summer, Saul got a call from a friend about a horse. He was a teenaged Haflinger up for sale at a local auction. 
It was looking likely that the horse would end up being sold for slaughter — one of the estimated 100,000 or so horses trucked out of the United States and into Mexico and Canada to be killed and sold for meat.
Betsy Saul
Saul, a cofounder of the sites Petfinder and 911 Foster Pets, was going to be in meetings all day but told her friend to buy the horse on her behalf. 
Soon after, Saul got a text: "Congratulations," it read. "You're the proud owner of a new Haflinger. And a donkey."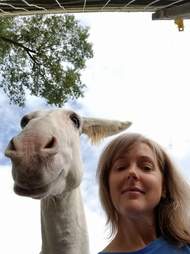 Betsy Saul
Saul's farm is home to a whole crowd of mostly elderly rescue animals, around 40 in all, including goats, cows, horses, dogs, cats, chickens and even a turtle.
Many come in with serious health problems. Adding two more animals wasn't a problem.
Betsy Saul
Saul's husband Ed died just under a year ago after a long battle with brain cancer, and "I'm learning to be without him," she says. "Our world was turned upside down."
But having two new "souls" — as Saul puts it — on the farm made it start to feel rejuvenated in a way.
"They are the sweetest, kindest animals you've ever met," she says.
Betsy Saul
Cupcake — who got his name because of his charming personality — came in with some health issues. Sylvester the donkey — named for a favorite book — was wearing a specialized collar, indicating that he'd likely been tethered to a young horse as part of the horse's training.
Whatever these two had been through before coming to Saul's farm, they came out with loving and trusting personalities. Saul got the benefit of this right from the start.
"[They] immediately leaned on us like they'd been needing a big hug," Saul says. "We just got so dang lucky."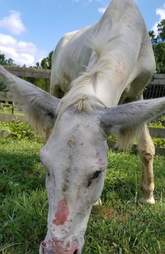 Betsy Saul
Because of some illnesses they came in with, the animals had to be quarantined until about three weeks ago.
Their first encounters with the other animals involved Cupcake leaning down to lick a goat named Spiffy, and Spiffy enjoying every second of his bath.
Saul finds comfort in being a part of these animal's emotional relationships.
"That horse gets nothing out of grooming that goat. It is purely just a kindness," she says. "Love. It's love."
Betsy Saul