A Young Horse Just Died At This Racetrack — And No One's Talking About It
His was the third death in just two months.
A 3-year-old thoroughbred horse named Wanztbwicked was euthanized on the Saratoga racetrack on Saturday after breaking down during training — he's the third horse to die at the New York track in just two months — and no one's really even talking about it.
That's because casualties like this are the norm for horse racing. Hundreds of horses die on tracks in the U.S. every year.
In just New York state so far this year, over 50 horses have died at racetracks and many more have been injured. Last year, at Saratoga alone, 17 horses died from racing-related injuries.
Part of the reason so many young racehorses die is because of a lack of regulation on drugs administered to the animals, according to Vivian Grant Farrell, founder and president of The Horse Fund, an organization that promotes horse welfare. Farrell said that horses are commonly given drugs to mask preexisting injuries so that they can "run through the pain," and this compromises their safety.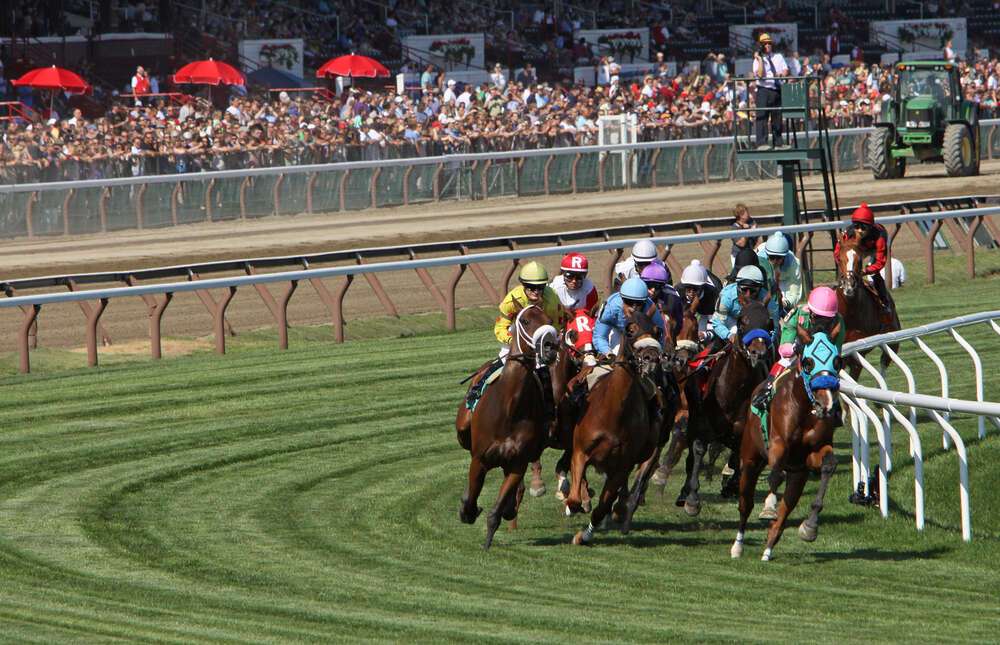 "Man and animal alike love to do what they were created to. Racehorses love to run. But some even go so far as to believe that racehorses love to compete. Perhaps, but not in the way a human being does. In the instance of horse racing, too often humans project insatiable appetites for money and glory onto the performance of these magnificent animals," Farrell told The Dodo after a young horse died at the Belmont Stakes in 2015. And little has changed since that death, and so many others.
"Horses continue to die unnecessarily on America's racetracks," Jane Allin, research writer for The Horse Fund, told The Dodo.
One of the most memorable deaths on the track was a horse named Eight Belles, who was euthanized at the Kentucky Derby after getting injured on May 3, 2008. "It was her tragic death that spurred a major undertaking to address the pervasive use of drugs — both therapeutic and performance-enhancing — in every division of horse racing occurring on the tracks across the U.S.," Allin said. "Since this time, has anything really changed?"
In terms of drug use, nothing has changed, according to Allin. "Year after year, the racing industry meets to discuss and argue about developing new regulations ... but the industry itself is divided and so the ideas of many well-intentioned individuals are mired in disagreement," she said.
The New York Racing Association, which operates the Belmont and Saratoga racetracks, supports a bill that some hope will help regulate drug use in the industry.
"The breakdowns and horse deaths caused by doping are unacceptable," Marty Irby, senior advisor at the Humane Society of the United States (HSUS) and Humane Society Legislative Fund, told The Dodo. Irby is advocating for The Horseracing Integrity Act, which he hopes "will clean up an industry that has proven it cannot and will not regulate itself."
But others wonder whether a measure like this will be enough to save horses in the long run.
"What they don't want you to know is that there are far more deaths than they report and that drug use continues," Allin said. "Databases that were once easy to access regarding drug infractions seem to be much more difficult to find or are nonexistent last I looked — at least to those not employed in the industry."
Allin pointed out that Saratoga, like other tracks across the nation, has a history of death. "With the rampant use of drugs in North America, unlike other jurisdictions in the world, there is certainty that horses are compromised, leading to a greater number of fatalities on the track, reported or not," Allin said. "It seems no horse is immune to these abhorrent practices … Horse racing in North America is a sham. Until real changes [take place], racing here will continue down the ugly path of deceit and death."
Even if better regulations pass, there are other problems that cast a dark cloud over the industry. "There are some horse racing jurisdictions that are highly praised such as Hong Kong where drug abuse is virtually nonexistent. However, gambling is the heartbeat of horse racing and it has much more to do with running 'clean' races which bettors in their culture demand than any consideration for the racehorse," Farrell told The Dodo. For instance, it is not uncommon for ex-racehorses to be shipped to slaughter or die of neglect. "How can you make an industry humane that for decades has been dumping racehorses of no further use to them in slaughterhouses?" Farrell said.
"I hate to say it because I was brought up in horse racing," Farrell added, "but I do not see how you can make it humane."