Woman Discovers The Pig She Saved Came With 8 Tiny Surprises
They just got their very first mud bath — but weren't quite sure what they were supposed to do.
Kaley Zappini has loved animals as long as she can remember — and finally she's been able to put that lifelong love into action.
Three years ago, she and her husband bought a piece of property in northern Florida. "I was in heaven having my horses in my backyard. Then I started to do research," she told The Dodo. Zappini found out about "kill pens," places unwanted horses, donkeys and other farm animals get auctioned off for slaughter.
She also learned about the problem with "mini" pigs — pigs sold as little pets who end up homeless once they grow up and their owners realize there's no such thing as a mini pig at all. 
So Zappini decided to start Bentley's Barnyard Rescue, a home for animals in desperate need of love and safety. About a year into running the sanctuary, she came across the story of Kahlua, a pig being raised by a backyard breeder who realized he didn't want her anymore and put an ad up on Craigslist.
"I found her on Craigslist advertised as a 'good BBQ' pig," Zappini said. "Of course, seeing her little face I had to reach out."
Bentley's Barnyard
The man told Zappini that Kahlua was too small to be his breeding pig and so he was selling her. "I went and picked her up the next day so she would not become someone's next meal!" she said. Little did Zappini realize what she just did.
After a few weeks at the sanctuary, on March 1, Zappini went to check on Kahlua — and she was shocked at what she found.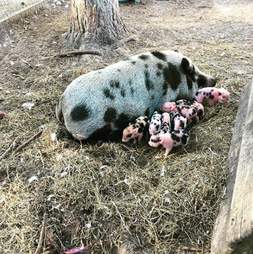 Bentley's Barnyard
Eight tiny piglets were nursing at Kahlua's belly. Zappini's act of kindness had saved not one, but nine lives.
Bentley's Barnyard
"I walked out to an AMAZING surprise," Zappini said. "They are all healthy and happy!"
Bentley's Barnyard
It was almost as if Kahlua made sure she was safe before giving birth.
"She was really skittish the first week or so, but finally realized that I was not the bad person — in fact, I was the nice lady brining the fruit salad every morning," Zappini said. "She absolutely loves belly rubs!"
Bentley's Barnyard
The whole family will stay together, growing up in the safety of the sanctuary.
Bentley's Barnyard
And Zappini isn't the only one who is so glad to have them there. The sanctuary's first rescue pig, Blue, was so happy when Kahlua came to live at the sanctuary — and now that she has babies, he's over the moon.
Bentley's Barnyard
"Blue was beyond excited to have another one of his kind and they have been inseparable since!" Zappini said. "Blue is such a good daddy to these babies."
Bentley's Barnyard
Blue was saved by Zappini after his owner, who bought him as a mini pig, realized that he kept growing, so he ended up at a local shelter.
"He loves the babies," Zappini said. "He treats them as his own and helps keep them close to Mom. He even lays next to their little nest."
Bentley's Barnyard
Just about a week old now, the piglets got their first taste of a favorite piggy pastime: playing in the mud.
They're learning quickly how to be as piggy as possible — and thankfully, since their mom was saved before they were born, they can grow up without a care in the world.
Bentley's Barnyard
You can help Bentley's Barnyard Rescue care for this family of pigs and all its other animals by
making a donation
.