Cow Takes Brave Leap From Truck Onto Highway To Save Herself
Then something amazing happened.
A cow who was crammed onto the second floor of a truck hurtling down the highway must have realized it was her last chance to survive.
The next moment, she was jumping.
The cow, now named Brianna, managed to survive the fall.
But she was still in danger. She was on the run on I-80, outside of Paterson, New Jersey, and police chased her for hours.
But someone else arrived who was determined to catch her, too: Mike Stura, who runs Skylands Animal Sanctuary and Rescue in Wantage, New Jersey.
Brianna was finally cornered and harnessed. And Stura approached her, trying to calm her down and convince her everything would be OK.
"We have her," the sanctuary updated its followers on Facebook. "[We] are on our way to the vet."
Not only was Brianna healthy — she had a little surprise for her rescuers, who brought her back to the sanctuary and let her out onto the fresh grass of her new home for the first time.
Brianna immediately started smelling the ground and looking around her pen.
"You look pretty good for someone who fell out of a truck," her rescuer observed, encouraging her to get comfortable. "Good girl, good girl."
It was important that she feel at home — because just two days later she was giving birth.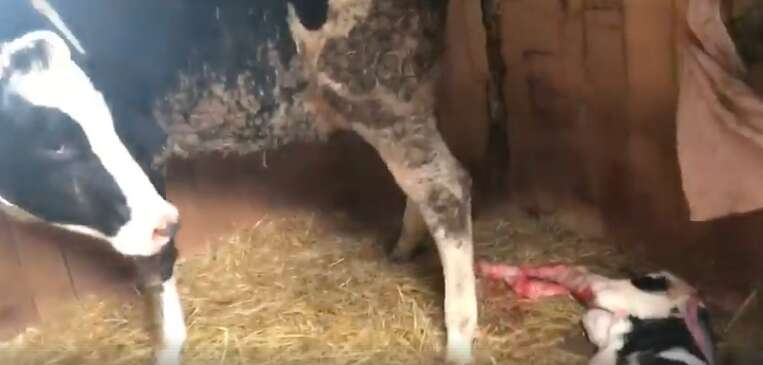 Her rescuers surrounded her on December 29 and helped her — and as it turned out, the doctor was late, so they had to help her even more than they anticipated.
A baby girl calf was born healthy and happy to be near her mother.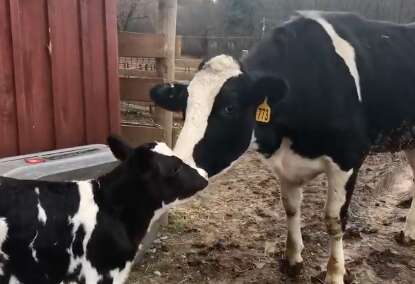 "Brianna is now the proud mother of a beautiful baby girl named, Winter," Skylands wrote in a Facebook post of the birth, reflecting on the drastic turn in the young cow's life. "Brianna is a young girl, in great health, very far along in her pregnancy, and was on a transport truck that was taking her to slaughter. She was less than ten minutes away from that slaughterhouse when she flew out of the truck."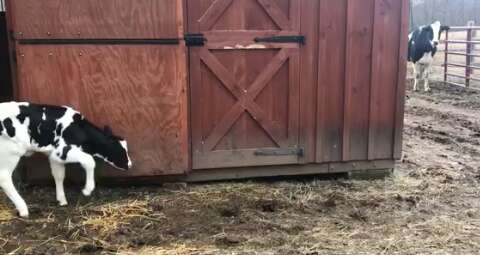 On New Year's Day, Winter took her first steps outside.
Brianna came over and proudly booped her baby's nose.
The little family will now have a lifelong home at the sanctuary — something that never would have happened without Brianna's leap from the truck.
"It's beautiful to watch them together," the sanctuary wrote.