People Are Rushing To Save Nearly 200 Potbellied Pigs Before It's Too Late
"The piglets are everywhere."
Wendy Lake, an animal rescuer from Ohio, cannot stop thinking about the potbellied pigs in Falmouth, Kentucky — there are nearly 200 of them on a property there and they desperately need help.
The images are haunting. Lake, founder of Red Oak Animal Rescue (ROAR) in New Richmond, Ohio, has never seen so many pregnant potbellied pigs in one pen before. "As soon as they're of age they're pregnant," Lake told The Dodo. "The piglets are everywhere. They nurse off whichever pig they can. Feed is thrown in and whoever is dominant gets it. It's a dire, heartbreaking scene."
ROAR
The owner of the pigs started out with good intentions. She was trying to rescue homeless pigs.
No one knows exactly how it got so out of control. When the pigs started wandering onto neighboring properties, the authorities got involved.
"The Fish and Wildlife officer was called out because they're not properly contained and some wandered onto neighboring property. She [the owner of the pigs] got cited," Lake said. "They agreed to let her keep 30."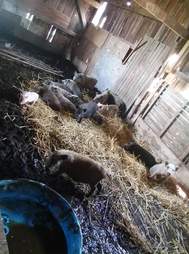 ROAR
Lake, who is currently out of the country, has been in touch with people from Atti's Acres, an animal rescue organization in Kentucky, who are on the scene trying to sort things out with the pigs — and time is of the essence. 
"Jodi [Vigar] from Atti's Acres ... knows the officer and pleaded to him to give us time to try to get them out," Lake said.
ROAR
Vigar and her team of volunteers have been working in the heat for nearly a week to build pens to contain and separate the male pigs from the females.
Meanwhile, rescuers have been hurrying to spread the word about the pigs who need fostering or forever homes. If they can't find even temporary shelter within days, they could be euthanized.
ROAR
"There has been some interest in fostering and adoption but not nearly enough. We've burned through the money donated to try to fix or build pens to separate the boys from the girls," ROAR wrote in an appeal on Facebook. "Share with your friends and family and groups. Reach out to everybody you know who has any compassion for animals."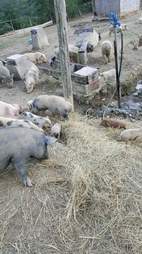 ROAR
For some of the pigs, rescue couldn't come soon enough.
"One gave birth within hours of pulling her out of there," Lake said. "It's heartbreaking. We need all the help we can get."
Correction: A previous version of this article misstated that Atti's Acres has already removed some pigs from the property. Rescuers are rather waiting for the approval of Fish and Wildlife officials before bringing any pigs to sanctuary.