Starving Ponies At Nightmare Farm Could Barely Walk To Greet Their Rescuers
"We have never seen a case that bad" 💔
Around every turn at the farm was a new, heartbreaking discovery.
In a barn, ponies were locked away in stalls with no food and water, forced to stand in a swamp of mud and feces that was 4 feet deep. Others lived outside in a pasture full of overgrown weeds — and their only source of water was a small puddle in the ground. More ponies were trapped in a dusty, fenced-in lot with no food.
One of the ponies peeking out from a pen

| ARL
They were starving and so desperate to eat that some were eating hair that had shed from the backs of their pen-mates. Some had hooves so overgrown that they curled up into the front of their legs, painfully scraping them every time they took a step. The bodies of two others who didn't survive were found nearby.
On a farm in Earlham, Iowa, nearly 60 Welsh ponies lived this way, day in and day out.
A pony with protruding ribs and hip bones

| ARL
They had been suffering for so long — but last month, help came. The Animal Rescue League of Iowa (ARL) searched the property with local police and was allowed to take in the nine most severely neglected animals to their farm animal sanctuary, Second Chance Ranch.
The other ponies remaining on the property are still under the care of the owner, but are being monitored by ARL and local law enforcement to ensure they're getting the vet care and attention they went so long without. So far, he has complied with their care standards.
"They clearly did not get this way overnight," Tom Colvin, CEO of ARL, said in a statement. "There is absolutely no excuse for what these ponies have gone through."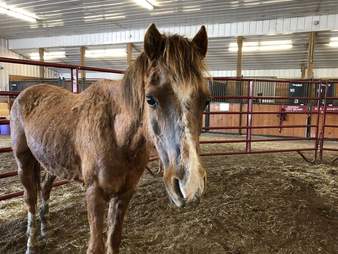 ARL
When the nine most sickly ponies first arrived at Second Chance Ranch, they barely had enough energy to eat or drink — and some were completely terrified of people.
"They were just so weak," Jessica Jorgenson, digital content coordinator for ARL, told The Dodo. "One pony named Rosie just stared at us with empty eyes for the first day or two. Two of the other ponies, Jax and Misty, obviously hadn't had much human contact before coming to us. They were extremely untrusting of people. We could barely touch them for the first several days. But thanks to our staff and volunteers working with them, they are now starting to understand that they are safe and we are helping them."
One of the ponies with severely overgrown hooves

| ARL
One pony in particular, Ariel, has made an amazing transformation since getting proper vet care. Her hooves were originally so overgrown that they dug into her legs and created sores — and from standing in her own waste, her feet were very infected.
Her hooves were 21 inches long and, in total, a farrier trimmed off nearly 12 pounds of excess hoof from her four feet.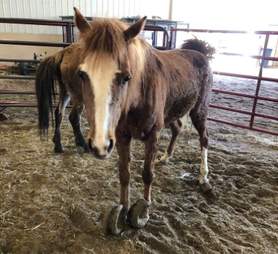 Ariel's horribly overgrown hooves

| ARL
"We'd never seen a case that bad at our shelter," Jorgenson said. "It was pretty shocking and heartbreaking to think of how much she had been suffering."
After carrying around the extra weight on her hooves, Ariel has tendon and ligament damage that will require specialized care to heal. Although she's still very sore, she's now able to walk somewhat freely for the first time in years.
Ariel taking some hay from a caretaker after having her hooves trimmed

| ARL
With plenty of hay, water and a clean place to live, the ponies are coming out of their shells more every day. Most of them are already so gentle and loving toward their caretakers — and have even made some other barnyard friends.
Esther the pony sharing some hay with a pig

| ARL
Multiple criminal charges have been filed against the ponies' owner, and now ARL is waiting for the trial so it can officially win custody of the ponies in the group's care. If this happens, the ponies will be available for adoption once they're fully rehabilitated.
The fight might be long — but the team is doing everything it can to make sure these ponies never have to live like that again.
Misty (left) and Rosie eating hay outside

| ARL
"While we are happy the nine ponies at our Second Chance Ranch will now be getting the help they need, we are still very concerned for the approximately 50 ponies that still remain on the property," Colvin said. "[We] hope that all of the ponies will soon have the outcome they need and deserve."